April 21, 2014, 9:30 a.m.
For those of us track­ing im­mig­ra­tion policy, the shift is un­deni­able. With Pres­id­ent Obama re­cently point­ing out just how grid­locked a once-prom­ising bi­par­tis­an Sen­ate im­mig­ra­tion pro­pos­al has be­come, cit­ies and states have be­come the new im­mig­ra­tion-policy in­nov­at­ors. They are filling the void.
U.S. im­mig­ra­tion policy has been the pur­view of the fed­er­al gov­ern­ment for more than a cen­tury. But it was not al­ways that way. In the 19th and early 20th cen­tur­ies, in­di­vidu­al states had their own im­mig­ra­tion laws. States typ­ic­ally sought to reg­u­late im­mig­rant in­fluxes with policies that re­flec­ted par­tic­u­lar con­cern about the ar­rival of poor European new­comers. Now, im­mig­ra­tion policy is, in some ways, re­turn­ing to its roots.
In­creas­ingly, places that want to put out the wel­come mat and en­cour­age en­tre­pren­eur­i­al activ­ity are shar­ing ideas. And as a quick fed­er­al fix to im­mig­ra­tion policy looks like a long shot, loc­al and state pro­pos­als are gain­ing trac­tion.
In per­haps the most well-known cur­rent ex­ample of state-level im­mig­ra­tion strategy, Michigan's Re­pub­lic­an gov­ernor, Rick Snyder, pro­posed in Janu­ary bring­ing 50,000 im­mig­rants to De­troit over five years through a visa pro­gram aimed at im­mig­rants with ad­vanced de­grees or ex­cep­tion­al abil­it­ies in sci­ence, busi­ness, or the arts. These im­mig­rants would have to live and work in the strug­gling city.
De­troit, a city that lost about 237,500 res­id­ents — a full quarter of its pop­u­la­tion — between 2000 and 2010 alone, needs people. The hope is that im­mig­rant new­comers will oc­cupy empty res­id­en­tial blocks, launch small busi­nesses, and fill both high- and low-skill job niches.
Per­haps that's why Snyder's pro­pos­al has been en­dorsed by con­ser­vat­ive think tanks and news­pa­pers. But giv­en con­gres­sion­al con­trol over im­mig­ra­tion policy, it looks un­likely to be­come law in the near fu­ture.
Nev­er­the­less, Snyder's pro­pos­al ranks among a grow­ing list of ideas em­an­at­ing from states and cit­ies seek­ing ways to man­age im­mig­ra­tion. In 2013, there was a 64 per­cent in­crease in pro­posed or en­acted state laws deal­ing with im­mig­ra­tion, com­pared with 2012. And that in­crease fol­lows a doub­ling of state im­mig­ra­tion le­gis­la­tion between 2006 and 2010. Moreover, these ini­ti­at­ives re­flect a shift from those fo­cused on im­mig­ra­tion en­force­ment and de­flect­ing im­mig­rants to those that ex­pand state be­ne­fits such as ex­tend­ing driver's li­cense eli­gib­il­ity and in-state tu­ition to un­au­thor­ized res­id­ents.
In the latest state at­tempt to work around the fed­er­al stale­mate, Mas­sachu­setts Gov. Dev­al Patrick un­veiled the Glob­al En­tre­pren­eur Pro­gram that re­cruits for­eign stu­dents to stay and work on new start-ups in the state. It ex­ploits an ex­ist­ing loop­hole in the fed­er­al H-1B visa pro­gram.
State laws can make a dif­fer­ence in the lives of im­mig­rants and their fam­il­ies. In late 2013, Cali­for­nia ap­proved the "Trust Act," which dir­ects state law en­force­ment to ex­ped­ite the re­lease of de­tained un­au­thor­ized im­mig­rants after they are de­term­ined not to have ser­i­ous crim­in­al re­cords rather than quickly turn them over to fed­er­al of­fi­cials, who can de­port them. Im­ple­men­ted in Janu­ary, the law has already slowed the rate of de­port­a­tions in Cali­for­nia by 44 per­cent, ac­cord­ing to an As­so­ci­ated Press ana­lys­is.
To craft ef­fect­ive policies, com­munit­ies must un­der­stand the drivers that dir­ect im­mig­rants to cer­tain towns or re­gions. This is easi­er said than done.
About a dec­ade ago, the Abell Found­a­tion stud­ied the is­sue for Bal­timore and found, "The few com­par­able cit­ies that re­versed their pop­u­la­tion de­cline through im­mig­ra­tion did not plan their suc­cess." Today's im­mig­ra­tion is driv­en by a vari­ety of factors. Re­cent re­search re­leased by Bread for the World In­sti­tute on "blue-col­lar" im­mig­rants in Bal­timore and De­troit provides some clues about what at­tracts work­ing-class im­mig­rants to cit­ies.
While a repu­ta­tion as an im­mig­rant-friendly city can't hurt, lower-skilled im­mig­rants who are help­ing re­vital­ize these cit­ies tend to se­lect a new city to call home based on three primary factors: low hous­ing costs, a plen­ti­ful manu­al-labor job mar­ket, and fam­ily con­nec­tions.
As one Bal­timore-area con­struc­tion com­pany own­er who ob­served the in­crease in Latino im­mig­ra­tion noted, "Rent was cheap, and the work was there; that's really the bot­tom line."
Fam­ily and com­munity con­nec­tions are also im­port­ant. Once an im­mig­rant has settled in a U.S. city, it's a safe bet that if oth­ers from that per­son's re­gion, vil­lage, or fam­ily de­cide to mi­grate, they will be­gin that jour­ney in cit­ies where they know people who can help them find hous­ing or of­fer them a place to stay, con­nect them with jobs, and ex­plain the way things work in their new home.
Mu­ni­cip­al­it­ies with large and di­verse im­mig­rant pop­u­la­tions such as New York are lead­ing the way when it comes to tak­ing eco­nom­ic drivers in­to ac­count. Its blue­print for im­mig­rant in­teg­ra­tion in­cludes as­sist­ance for im­mig­rant en­tre­pren­eurs and em­ploy­ment ser­vices for un­der­em­ployed im­mig­rants with in-de­mand skills. These prac­tic­al pro­grams align with most im­mig­rants' primary goal — eco­nom­ic ad­vance­ment — which can also po­ten­tially con­trib­ute to a city's eco­nom­ic de­vel­op­ment.
But whatever the con­fig­ur­a­tion of state and mu­ni­cip­al im­mig­rant-at­trac­tion strategies, they are not a sub­sti­tute for fed­er­al le­gis­lat­ive ac­tion. It is fed­er­al, not state or loc­al, policy that con­trols the laws that al­low im­mig­rants to enter the coun­try to live and work. As long as im­mig­ra­tion re­form re­mains stuck in Con­gress, states and cit­ies will con­tin­ue to gen­er­ate new policies, for bet­ter or for worse.
An­drew Wain­er is a seni­or im­mig­ra­tion-policy ana­lyst at Bread for the World In­sti­tute. You can fol­low him on Twit­ter @An­drewWain­er. Audrey Sing­er is a seni­or fel­low in the Met­ro­pol­it­an Policy Pro­gram at the Brook­ings In­sti­tu­tion, where she fo­cuses on the new geo­graphy of im­mig­ra­tion and fed­er­al-, state-, and loc­al-policy re­sponses.
HAVE AN OPIN­ION ON POLICY AND CHAN­GING DEMO­GRAPH­ICS?
The Next Amer­ica wel­comes op-ed pieces that ex­plore the polit­ic­al, eco­nom­ic and so­cial im­pacts of the pro­found ra­cial and cul­tur­al changes fa­cing our na­tion, par­tic­u­larly rel­ev­ant to edu­ca­tion, eco­nomy, the work­force and health. Email Jan­ell Ross at jross@na­tion­al­journ­al.com. Please fol­low us on Twit­ter and Face­book.
What We're Following See More »
UNTIL DEC. 9, ANYWAY
Obama Signs Bill to Fund Government
2 hours ago
REDSKINS IMPLICATIONS
SCOTUS to Hear Case on Offensive Trademarks
3 hours ago
WHY WE CARE
"The Supreme Court is taking up a First Amendment clash over the government's refusal to register offensive trademarks, a case that could affect the Washington Redskins in their legal fight over the team name. The justices agreed Thursday to hear a dispute involving an Asian-American rock band called the Slants, but they did not act on a separate request to hear the higher-profile Redskins case at the same time." Still, any precedent set by the case could have ramifications for the Washington football team.
STAFF PICKS
Bannon Still Collecting Royalties from 'Seinfeld'
4 hours ago
WHY WE CARE
The Hollywood Reporter takes a look at a little-known intersection of politics and entertainment, in which Trump campaign CEO Steve Bannon is still raking in residuals from Seinfeld. Here's the digest version: When Seinfeld was in its infancy, Ted Turner was in the process of acquiring its production company, Castle Rock, but he was under-capitalized. Bannon's fledgling media company put up the remaining funds, and he agreed to "participation rights" instead of a fee. "Seinfeld has reaped more than $3 billion in its post-network afterlife through syndication deals." Meanwhile, Bannon is "still cashing checks from Seinfeld, and observers say he has made nearly 25 times more off the Castle Rock deal than he had anticipated."
IT'S ALL CLINTON
Reliable Poll Data Coming in RE: Debate #1
4 hours ago
WHY WE CARE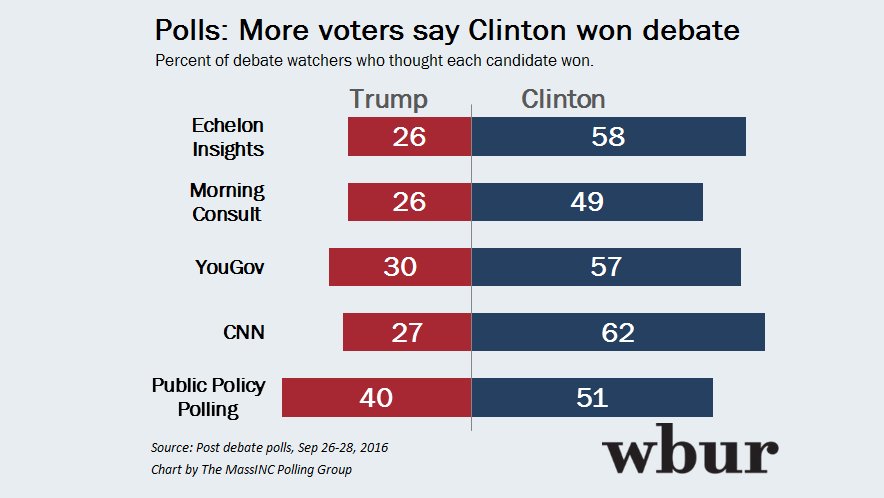 NEXT THURSDAY
Trump Transition Team Meeting with Silicon Valley VIPs
6 hours ago
THE DETAILS
Donald Trump's "transition team will meet next week with representatives of the tech industry, multiple sources confirmed, even as their candidate largely has been largely shunned by Silicon Valley. The meeting, scheduled for next Thursday at the offices of law and lobbying firm BakerHostetler, will include trade groups like the Information Technology Industry Council and the Internet Association that represent major Silicon Valley companies."