April 21, 2014, 9:56 a.m.
Baby boomers wor­ried that the great mu­sic of their youth would be for­got­ten by their kids and their kids' kids have a new reas­on to fret­fully twist and shout.
Last week, the mu­sic in­dustry sued Pan­dora Me­dia, claim­ing the pop­u­lar In­ter­net ra­dio ser­vice is un­fairly evad­ing pay­ing tens of mil­lions in roy­al­ties on hit tunes re­cor­ded be­fore Feb­ru­ary 1972. Thanks to an ob­scure quirk in the leg­al sys­tem, those pre-1972 oldies are ex­empt from fed­er­al copy­right pro­tec­tion, mean­ing Pan­dora and ser­vices like it don't need to pay the com­puls­ory li­cens­ing fees re­quired for less-dated mu­sic.
But ma­jor la­bels con­tend that Pan­dora, by not first earn­ing per­mis­sion to play those songs, is vi­ol­at­ing state laws that more gen­er­ic­ally pro­tect in­tel­lec­tu­al prop­erty and should ap­ply to the clas­sic gems of yes­teryear. The la­bels, in­clud­ing Sony, Uni­ver­sal, and Warner Mu­sic, as well as AB­KCO, an in­de­pend­ent that owns many of the Rolling Stones' biggest hits, have gone to great lengths to il­lus­trate that point.
A list (shown be­low) of more than 1,400 pop­u­lar songs are in­cluded in their law­suit as a "sample" of the pre-1972 songs Pan­dora is al­leged to stream to its users without pay­ing roy­alty fees.
Con­veni­ently, the list in­cludes a des­ig­na­tion next to sev­er­al songs that mark an in­clu­sion in Rolling Stone magazine's rank­ing of the 500 greatest songs of all time. Un­sur­pris­ingly, a large num­ber of those hits dot the list: Aretha Frank­lin's thun­der­ous "Re­spect" ( No. 5), Bill With­ers' re­sur­gent "Ain't No Sun­shine" (285), an end­less cas­cade of Beatles hits ("She Loves You" at 64, "Yes­ter­day" at 13, "Hey Jude" at 8), Van Mor­ris­on's "Brown Eyed Girl" (110) and, of course, Bob Dylan's zeit­geisty "Like A Rolling Stone" (No. 1).
"This case presents a clas­sic at­tempt by Pan­dora to reap where it has not sown," the suit, filed in New York State Su­preme Court in Man­hat­tan, de­clares. The pre-1972 re­cord­ings, it adds, "con­sti­tute a sig­ni­fic­ant part of the Pan­dora ser­vice and its ap­peal."
A Pan­dora rep­res­ent­at­ive could not provide pre­cise play num­bers, but said the pre-1972 cata­log rep­res­ents only "a small per­cent­age of over­all spins." The com­pany said it is con­fid­ent in its leg­al au­thor­ity on the mat­ter.
The suit, which fol­lows on the heels of sim­il­ar com­plaints made last year against Siri­usXM Ra­dio in a Cali­for­nia court, rep­res­ents an ef­fort by the mu­sic in­dustry to cre­ate a new rev­en­ue stream, giv­en that the pop­ular­ity of Pan­dora has ex­ploded in re­cent years, and now tops 70 mil­lion reg­u­lar users.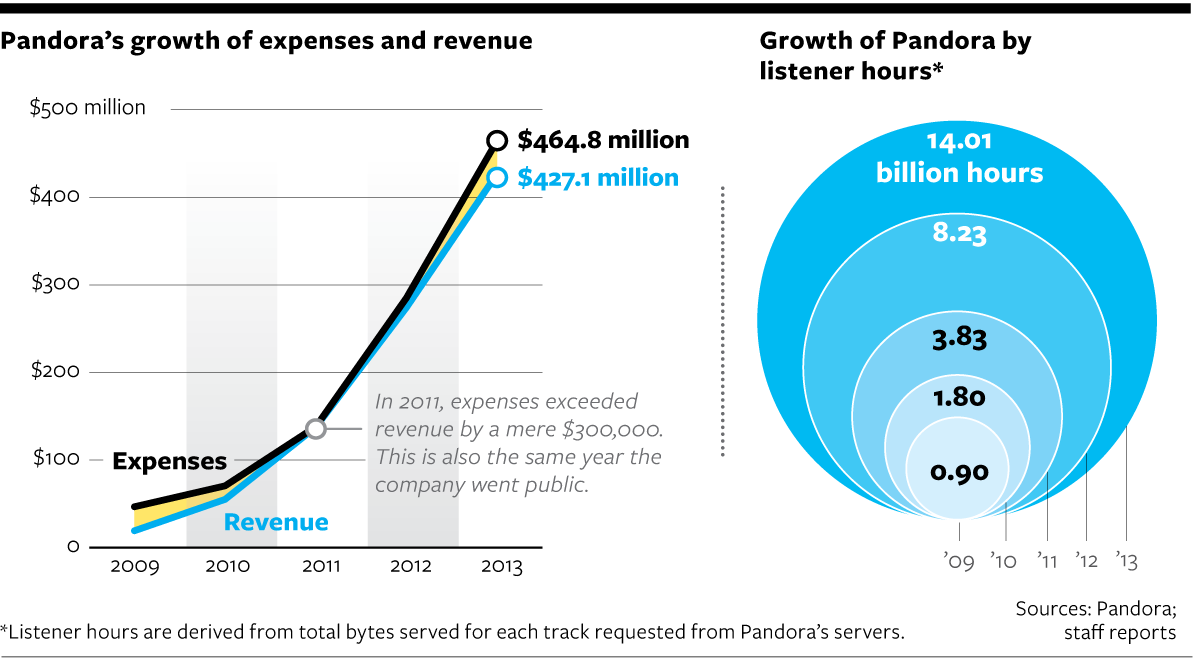 But a rul­ing against Pan­dora could po­ten­tially have ser­i­ous rami­fic­a­tions on the level of ac­cess to pre-1972 songs, said Dav­id Sun­shine, an in­tel­lec­tu­al-prop­erty law­yer with Cozen O'Con­nor, a law firm based in Phil­adelphia. While com­puls­ory li­cens­ing fees Pan­dora and oth­ers pay on post-1972 works don't re­quire ob­tain­ing per­mis­sion from the artist, that wouldn't be true for pre-1972 songs pro­tec­ted un­der the "Wild West of state law," Sun­shine ad­ded, though he noted such an out­come was prob­ably un­likely.
"The prob­lem that [re­cord la­bels] are go­ing to face is, folks haven't been pay­ing these roy­al­ties for a long time," Sun­shine said. "You can't just wake up 40 years later and say, 'You need to pay me.' "
Whatever its chances, though, the mu­sic in­dusty will try its best to cash in on your "Mo­town" and "Clas­sic Rock" sta­tions.
{{ BIZOBJ (video: 4886) }}