April 22, 2014, 7:58 a.m.
That's the con­clu­sion of a na­tion­wide sur­vey of 2,000 in­di­vidu­als just pub­lished in the Journ­al of the Amer­ic­an Med­ic­al As­so­ci­ation. Sixty-nine per­cent of re­spond­ents said that all health plans in the United States should in­clude birth-con­trol cov­er­age. Nine­teen per­cent said no. Ten per­cent were un­sure. (Click for a lar­ger view of the res­ults).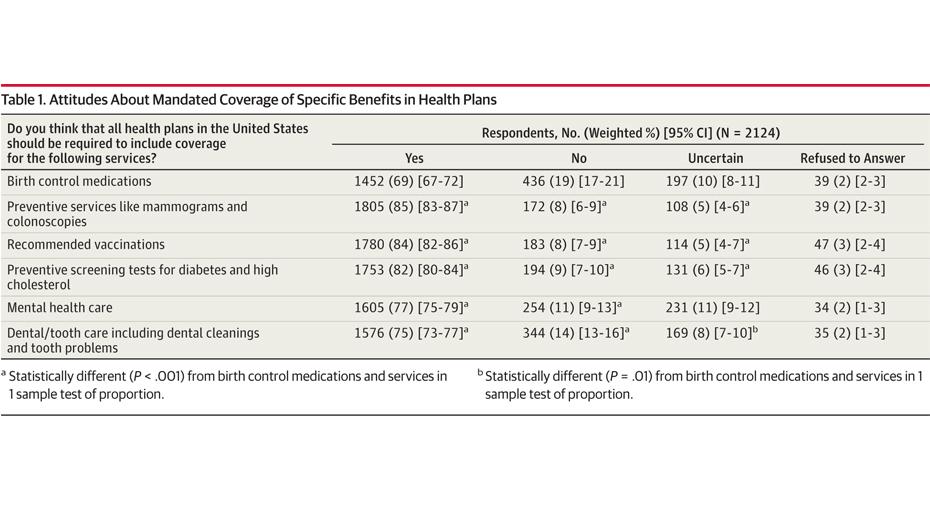 Wo­men ap­proved of man­dated birth con­trol more than men (77 per­cent to 64 per­cent), and blacks ap­proved more than whites (81 per­cent to 67 per­cent). His­pan­ics also had a high­er rate of ap­prov­al, at 76 per­cent.
Though it has wide­spread ap­peal, man­dated birth con­trol ac­tu­ally re­ceived the least amount of sup­port among the ser­vices JAMA polled. Eighty-four per­cent said vac­cin­a­tions should be man­dated; 75 per­cent said dent­al care should be covered as well. 
The latest find­ings back up pre­vi­ous polls. A 2012 ABC News/Wash­ing­ton Post sur­vey found that 61 per­cent ap­prove of con­tra­cep­tion cov­er­age. Pre­vi­ous polls have also found a sharp split between Demo­crats and Re­pub­lic­ans on the is­sue (JAMA did not ask about polit­ic­al af­fil­i­ation). In 2012, The New York Times re­por­ted that "while eight in 10 Demo­crats said they sup­por­ted re­quir­ing birth con­trol cov­er­age, only four in 10 Re­pub­lic­ans did."