April 23, 2014, 6:41 a.m.
New satel­lite im­ages sug­gest North Korea would not be ready to con­duct a nuc­le­ar test be­fore U.S. Pres­id­ent Obama leaves the re­gion this week.
Space-based sur­veil­lance pho­to­graphs taken as re­cently as April 19 show an up­tick in activ­ity at the North's Punggye-ri test­ing grounds com­pared to early March, ac­cord­ing to a Tues­day ana­lys­is by the ex­pert web­site 38 North. That has led to some me­dia con­jec­ture that Py­ongy­ang in­tends to carry out its fourth atom­ic test while Obama vis­its South Korea on Fri­day and Sat­urday.
The 38 North ana­lys­is ac­know­ledges "that may be pos­sible but ap­pears un­likely," based on a read­ing of the com­mer­cial satel­lite im­ages and takeaways from pre­vi­ous atom­ic det­on­a­tions by the North.
"Re­cent op­er­a­tions at Punggye-ri have not reached the high level of in­tens­ity — in terms of  vehicle, per­son­nel and equip­ment move­ment — that oc­curred in the weeks pri­or to past det­on­a­tions," said 38 North, which is a pro­ject of the U.S.-Korea In­sti­tute at Johns Hop­kins Uni­versity. "Moreover, oth­er pos­sible in­dic­at­ors … such as com­mu­nic­a­tions vans and a satel­lite dish in­ten­ded to trans­mit pre-test data, have not been spot­ted."
Ac­cord­ing to the ana­lys­is, there is a chance the in­creased activ­ity is re­lated to main­ten­ance work made pos­sible by im­proved weath­er con­di­tions.
Py­ongy­ang has re­peated threats in re­cent weeks that it is pre­pared to carry out a "new" kind of nuc­le­ar test, which might al­lude to a dif­fer­ent form of device or mul­tiple tri­al blasts.
South Korean Pres­id­ent Park Geun-hye, in a Wed­nes­day phone con­ver­sa­tion with Chinese Pres­id­ent Xi Jin­ping, urged him to work harder to per­suade Py­ongy­ang not to carry out an­oth­er nuc­le­ar test,  Agence France-Presse re­por­ted.
However, the Kim Jong Un re­gime on Wed­nes­day blas­ted Park's lob­by­ing ef­forts, the Yon­hap News Agency re­por­ted.
Seoul "should not even dream that we will be coaxed in­to lay­ing down our nuc­le­ar" weapon ef­forts by words alone, Py­ongy­ang's Com­mit­tee for the Peace­ful Re­uni­fic­a­tion of Korea said in a state­ment.
What We're Following See More »
SAUDI ARABIA BILL
Veto Override Scheduled for Wednesday in Senate
1 hours ago
THE LATEST
Senate Majority Leader Mitch McConnell said this afternoon that the Senate on Wednesday will take up an override of President Obama's veto of legislation that would allow the families of 9/11 victims to sue the government of Saudi Arabia. "The vote is expected garner the two-thirds majority necessary to override the veto."
MEDIA SHOULD HOLD TRUMP RESPONSIBLE
Reid Devotes Senate Floor Speech to Trump's 'Racism'
2 hours ago
THE LATEST
"Donald Trump is a racist," announced Senate Minority Leader Harry Reid from the Senate floor this afternoon. Reid said all of us are occasionally politically incorrect, but "I don't know of anyone that when that happens doesn't acknowledge it and, if necessary, apologize quickly." But Trump, he added, says things with "full intent to demean and to denigrate." Reid argued that the media isn't holding Trump to account, and should explicitly call him a racist.
ABSENT FROM LIST: GENNIFER FLOWERS
Most Trump Guests Have Military Ties
5 hours ago
TOP OF MIND
Trending on Google: 'Why Should Trump Not Be President'
5 hours ago
THE DETAILS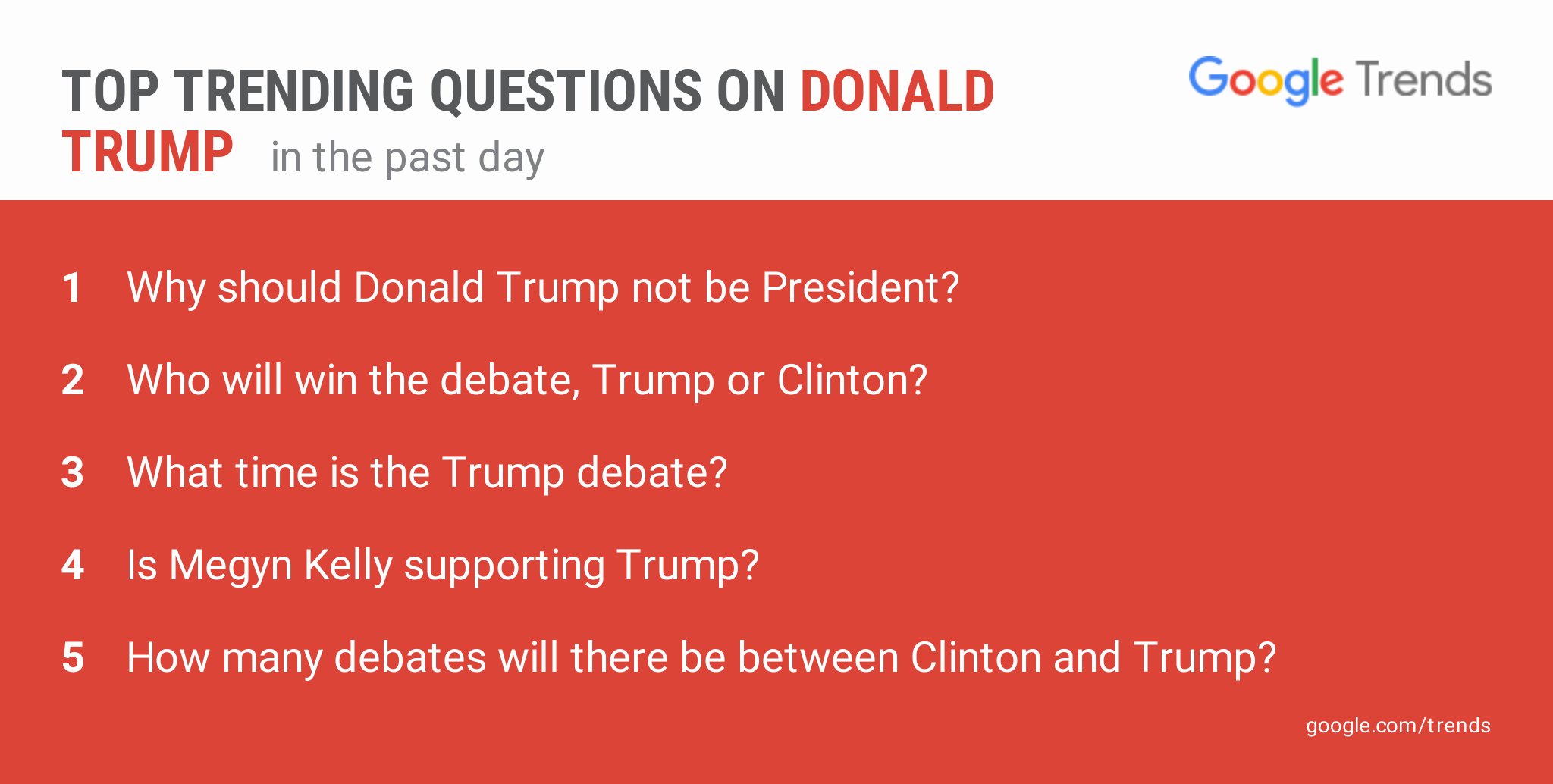 WHO PLAYED THE DONALD?
Longtime Clinton Aide Played Trump in Mock Debates
8 hours ago
THE DETAILS
After keeping the information private for most of the lead-up to the debate on Monday, it has been revealed that longtime Clinton aide Philippe Reines has been playing the role of Donald Trump in her debate prep. Reines knows Clinton better than most, able to identify both her strengths and weaknesses, and his selection for a sparring partner shows that Clinton is preparing for the brash and confrontational Donald Trump many have come to expect.