April 24, 2014, 6:52 a.m.
While many people look back on their high school days with fond­ness, most of us agree that the train­ing we got there could have been bet­ter. A healthy ma­jor­ity of Amer­ic­ans think that changes to their high school ex­per­i­ence, such as more in­ter­ac­tion with guid­ance coun­selors and help de­vel­op­ing study skills, would have im­proved their edu­ca­tion, ac­cord­ing to the latest Col­lege Board/Na­tion­al Journ­al Next Amer­ica Poll. 
Sup­port was highest for the kinds of changes that would have im­pacted re­spond­ents' post-high-school em­ploy­ment and edu­ca­tion­al op­por­tun­it­ies. Asked about the chance to have more tech­nic­al and job-skills train­ing, a full 72 per­cent said that would have made their high school edu­ca­tion bet­ter. Only 2 per­cent thought those ser­vices would have changed their ex­per­i­ence for the worse. 
In the same vein, 63 per­cent wanted more in­ter­ac­tion with guid­ance coun­selors "about op­tions avail­able after high school," and 66 per­cent thought "bet­ter in­struc­tion to de­vel­op study skills" would have im­proved their high school ex­per­i­ence. Young Amer­ic­ans are par­tic­u­larly aware of how im­port­ant good ca­reer and col­lege coun­sel­ing can be: 75 per­cent of those between the ages of 18 and 29 re­por­ted want­ing more in­ter­ac­tion with coun­selors, as did 78 per­cent of cur­rent stu­dents. 
The idea of get­ting more help de­vel­op­ing good study habits also at­trac­ted strong sup­port, with col­lege gradu­ates and re­spond­ents with some col­lege edu­ca­tion most will­ing to say they would have be­nefited (70 and 69 per­cent, re­spect­ively, com­pared with 61 per­cent of those with a high school edu­ca­tion or less).
While more op­por­tun­it­ies for tech­nic­al and job-skills train­ing earned the highest back­ing from re­spond­ents — 72 per­cent over­all thought it would have im­proved their high school edu­ca­tion — there were no sig­ni­fic­ant dif­fer­ences in sup­port by party, race, or in­come. 
There was one high school in­nov­a­tion — ex­tend­ing the school day — that not many Amer­ic­ans could sup­port. Even if you had the time of your life in high school, it ap­pears, that didn't mean you wanted to spend more of your life there. In­ter­est­ingly, the only ex­cep­tion was among Amer­ic­ans who didn't end up go­ing on to col­lege. While only 18 per­cent of all re­spond­ents thought a longer school day would have been a good idea, 28 per­cent of blacks with less than a col­lege edu­ca­tion and 31 per­cent of His­pan­ics with the same said an ex­ten­ded high school day would have made their edu­ca­tion bet­ter. 
The Col­lege Board/Na­tion­al Journ­al Next Amer­ica Poll, con­duc­ted by Prin­ceton Sur­vey Re­search As­so­ci­ates In­ter­na­tion­al, sur­veyed 1,271 adults, in­clud­ing over­samples of Afric­an-Amer­ic­ans, His­pan­ics, and Asi­an-Amer­ic­ans, from March 18-26. The in­ter­views were con­duc­ted by land­line and cell phone in Eng­lish and Span­ish. The poll has a mar­gin of er­ror of plus or minus 3.9 per­cent­age points for the en­tire sample, and lar­ger mar­gins for ra­cial sub­groups.
What We're Following See More »
STAFF PICKS
Bannon Still Collecting Royalties from 'Seinfeld'
49 minutes ago
WHY WE CARE
The Hollywood Reporter takes a look at a little-known intersection of politics and entertainment, in which Trump campaign CEO Steve Bannon is still raking in residuals from Seinfeld. Here's the digest version: When Seinfeld was in its infancy, Ted Turner was in the process of acquiring its production company, Castle Rock, but he was under-capitalized. Bannon's fledgling media company put up the remaining funds, and he agreed to "participation rights" instead of a fee. "Seinfeld has reaped more than $3 billion in its post-network afterlife through syndication deals." Meanwhile, Bannon is "still cashing checks from Seinfeld, and observers say he has made nearly 25 times more off the Castle Rock deal than he had anticipated."
IT'S ALL CLINTON
Reliable Poll Data Coming in RE: Debate #1
1 hours ago
WHY WE CARE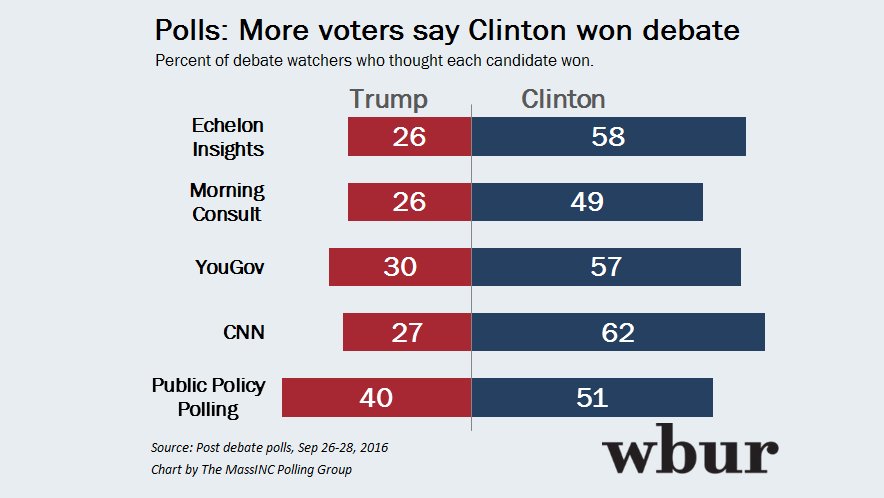 NEXT THURSDAY
Trump Transition Team Meeting with Silicon Valley VIPs
3 hours ago
THE DETAILS
Donald Trump's "transition team will meet next week with representatives of the tech industry, multiple sources confirmed, even as their candidate largely has been largely shunned by Silicon Valley. The meeting, scheduled for next Thursday at the offices of law and lobbying firm BakerHostetler, will include trade groups like the Information Technology Industry Council and the Internet Association that represent major Silicon Valley companies."
WHAT WILL PASS?
McConnell Doubts Criminal Justice Reform Can Pass This Year
3 hours ago
ALSO FIRED UNATTRACTIVE WAITRESSES
Trump Did Business with Cuba
4 hours ago
THE LATEST
Today in bad news for Donald Trump:
Newsweek found that a company he controlled did business with Cuba under Fidel Castro "despite strict American trade bans that made such undertakings illegal, according to interviews with former Trump executives, internal company records and court filings." In 1998, he spent at least $68,000 there, which was funneled through a consluting company "to make it appear legal."
The Los Angeles Times reports that at a golf club he owns in California, Trump ordered that unattractive female staff be fired and replaced with prettier women.