April 23, 2014, 3:48 p.m.
The White House is push­ing back against a Rolling Stone magazine story that cites two "high-level" Obama ad­min­is­tra­tion sources say­ing Pres­id­ent Obama in­tends to re­ject the Key­stone XL pipeline.
"Nobody who knows POTUS' think­ing on Key­stone is talk­ing and nobody who is talk­ing knows," White House spokes­man Matt Lehrich said on Twit­ter Wed­nes­day even­ing.
In the Rolling Stone story pub­lished on­line Wed­nes­day, vet­er­an cli­mate writer Jeff Goodell writes that the un­named ad­min­is­tra­tion sources told him Obama has "all but de­cided to deny the per­mit for the pipeline," al­though the piece notes "no fi­nal de­cision has been made."
Later, the story quotes an "Obama in­sider" as say­ing "if the pres­id­ent is really ser­i­ous about his leg­acy on cli­mate change, he can't have that and ap­prove Key­stone."
"The only ques­tion now is the tim­ing of the an­nounce­ment," the in­sider is quoted as say­ing.
But Lehrich con­tin­ued the push­back in a second tweet, ar­guing that the out­come of the on­go­ing re­view hasn't been de­cided.
"Na­tion­al in­terest de­term­in­a­tion be­ing eval­u­ated at State De­part­ment in keep­ing with long­stand­ing tra­di­tion. Will be made on mer­its," he said, re­peat­ing the stand­ard White House line and prac­tice of re­fer­ring ques­tions to State.
The State De­part­ment is lead­ing the fed­er­al re­view of Tran­sCanada's pro­posed pipeline that would bring hun­dreds of thou­sands of bar­rels of oil daily from Al­berta's oil sands pro­jects to Gulf Coast re­finer­ies.
The Rolling Stone story, which is broadly about Obama's work on cli­mate change, spread like brush­fire on so­cial me­dia with­in hours of pub­lish­ing Wed­nes­day.
That un­der­scores the in­tense in­terest in the up-or-down de­cision Obama will ul­ti­mately make to settle one of the biggest en­vir­on­ment­al and lob­by­ing battles in years.
Even nor­mally wonky steps like a State De­part­ment en­vir­on­ment­al im­pact state­ment have promp­ted break­ing news alerts, a sign of just how fiercely the pro­cess is be­ing tracked.
The State De­part­ment an­nounced last week that it would ex­tend the dead­line for re­view of the per­mit, cit­ing an on­go­ing Neb­raska court battle over the state law used to ap­prove the route through that state. That will likely push the de­cision past the Novem­ber midterm elec­tions and guar­an­tees that for months to come, all sides will be clam­or­ing for a hint of the fi­nal call.
What We're Following See More »
NEVER TRUMP
USA Today Weighs in on Presidential Race for First Time Ever
11 hours ago
THE DETAILS
"By all means vote, just not for Donald Trump." That's the message from USA Today editors, who are making the first recommendation on a presidential race in the paper's 34-year history. It's not exactly an endorsement; they make clear that the editorial board "does not have a consensus for a Clinton endorsement." But they state flatly that Donald Trump is, by "unanimous consensus of the editorial board, unfit for the presidency."
COMMISSIONERS NEED TO DELIBERATE MORE
FCC Pushes Vote on Set-Top Boxes
11 hours ago
THE LATEST
"Federal regulators on Thursday delayed a vote on a proposal to reshape the television market by freeing consumers from cable box rentals, putting into doubt a plan that has pitted technology companies against cable television providers. ... The proposal will still be considered for a future vote. But Tom Wheeler, chairman of the F.C.C., said commissioners needed more discussions."
UNTIL DEC. 9, ANYWAY
Obama Signs Bill to Fund Government
16 hours ago
IT'S ALL CLINTON
Reliable Poll Data Coming in RE: Debate #1
18 hours ago
WHY WE CARE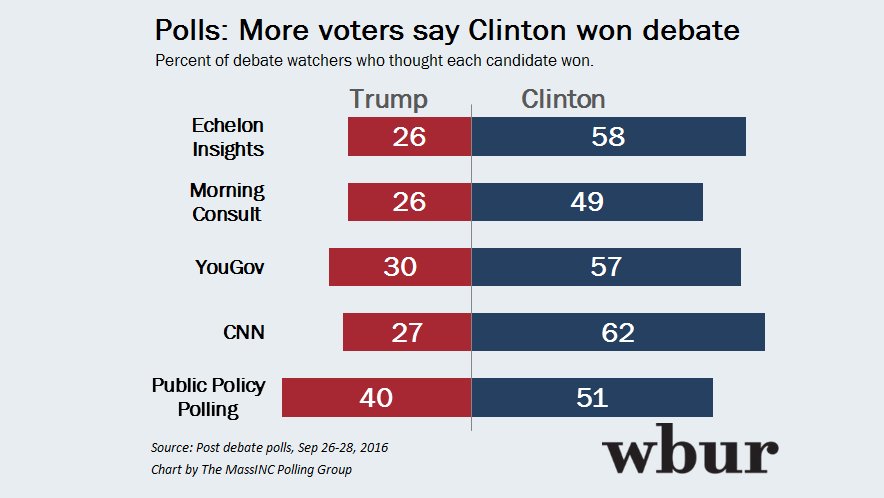 WHAT WILL PASS?
McConnell Doubts Criminal Justice Reform Can Pass This Year
20 hours ago