April 25, 2014, 8:51 a.m.
If polit­ics is an ad­dic­tion, Al Gore is still suf­fer­ing.
It's been well over a dec­ade since he ran for pres­id­ent, but the former vice pres­id­ent still hasn't man­aged to kick his polit­ic­al habit.
"I am a re­cov­er­ing politi­cian," he said in an in­ter­view with Politico Magazine, "And the longer I avoid a re­lapse, the more con­fid­ence I have that I will not suc­cumb to the tempta­tion to run yet again. But I'm a re­cov­er­ing politi­cian. I'll just leave it at that."
If the an­swer sounds fa­mil­i­ar, that might be be­cause he's been say­ing it since at least 2002, when he used that lan­guage with a crowd in Mex­ico City.
"I am Al Gore. I use to be the next pres­id­ent of United States of Amer­ica," he told listen­ers dur­ing a speech fo­cused on free trade at Ibero-Amer­ic­an Uni­versity. "I'm a re­cov­er­ing politi­cian."
In 2006, the rhet­or­ic sur­faced again when, after a spe­cial screen­ing of An In­con­veni­ent Truth, someone asked him im­plor­ingly if he'd run for pres­id­ent again.
"I'm a re­cov­er­ing politi­cian, on Step 9," he said. "Thank you for your sen­ti­ment."
That was eight years ago. Fast-for­ward to 2011, and there's this: "I con­sider my­self a re­cov­er­ing politi­cian." Fast-for­ward some more, and there's this: "I'm a re­cov­er­ing politi­cian, on about Step 9." (That last quote was from a 2013 event hos­ted on Cap­it­ol Hill by Sen. Shel­don White­house, and I re­mem­ber it, per­haps, be­cause I was there.)
If polit­ics is an ad­dic­tion, Al Gore is still in re­hab. And with­draw­al, like his talk­ing points, lasts a life­time.
What We're Following See More »
SAUDI ARABIA BILL
Veto Override Scheduled for Wednesday in Senate
4 minutes ago
THE LATEST
Senate Majority Leader Mitch McConnell said this afternoon that the Senate on Wednesday will take up an override of President Obama's veto of legislation that would allow the families of 9/11 victims to sue the government of Saudi Arabia. "The vote is expected garner the two-thirds majority necessary to override the veto."
MEDIA SHOULD HOLD TRUMP RESPONSIBLE
Reid Devotes Senate Floor Speech to Trump's 'Racism'
48 minutes ago
THE LATEST
"Donald Trump is a racist," announced Senate Minority Leader Harry Reid from the Senate floor this afternoon. Reid said all of us are occasionally politically incorrect, but "I don't know of anyone that when that happens doesn't acknowledge it and, if necessary, apologize quickly." But Trump, he added, says things with "full intent to demean and to denigrate." Reid argued that the media isn't holding Trump to account, and should explicitly call him a racist.
ABSENT FROM LIST: GENNIFER FLOWERS
Most Trump Guests Have Military Ties
4 hours ago
TOP OF MIND
Trending on Google: 'Why Should Trump Not Be President'
4 hours ago
THE DETAILS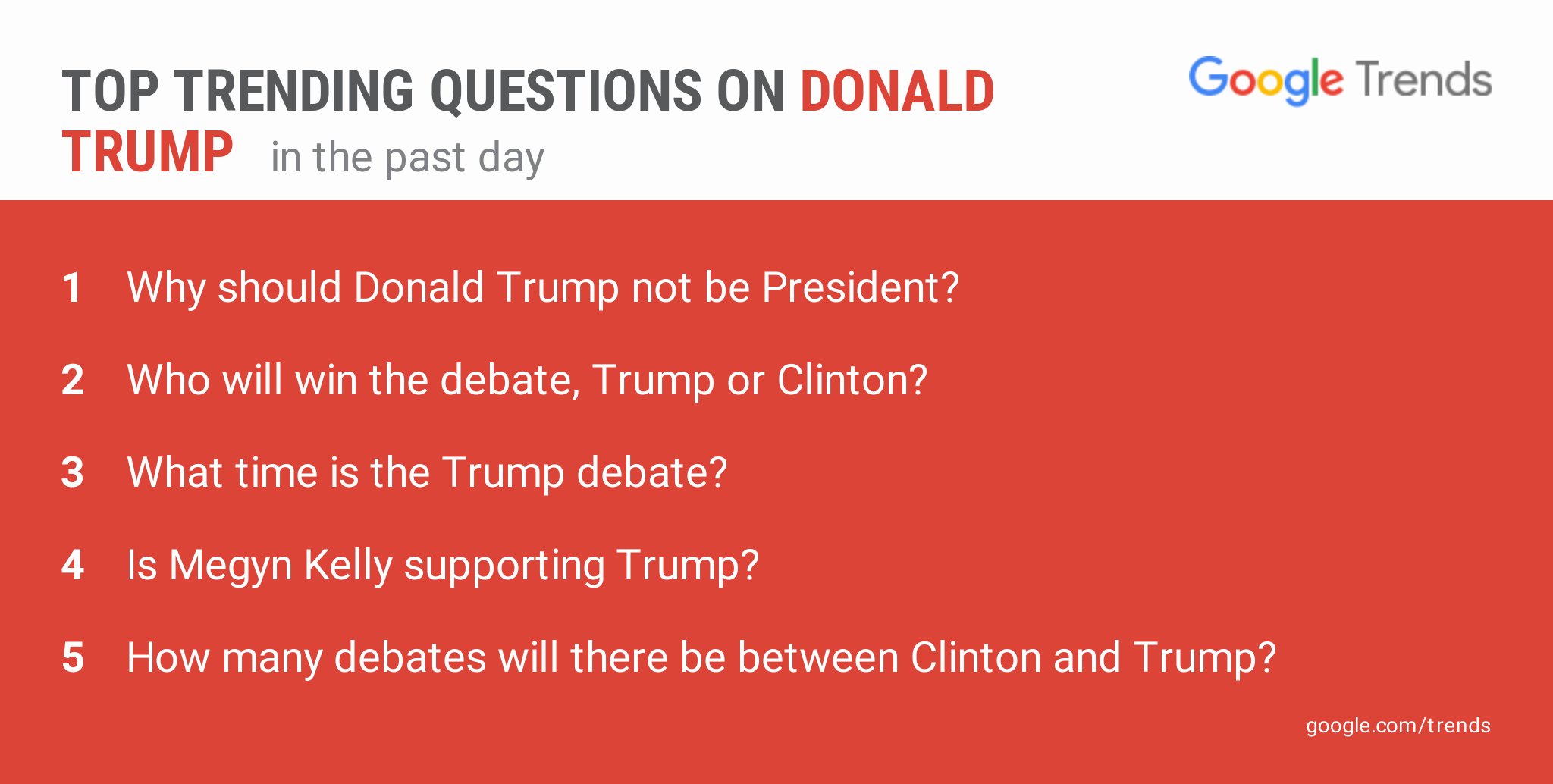 WHO PLAYED THE DONALD?
Longtime Clinton Aide Played Trump in Mock Debates
6 hours ago
THE DETAILS
After keeping the information private for most of the lead-up to the debate on Monday, it has been revealed that longtime Clinton aide Philippe Reines has been playing the role of Donald Trump in her debate prep. Reines knows Clinton better than most, able to identify both her strengths and weaknesses, and his selection for a sparring partner shows that Clinton is preparing for the brash and confrontational Donald Trump many have come to expect.