April 28, 2014, 8:13 a.m.
A high-level Obama in­sider said Wash­ing­ton wants to as­sist in field­ing an in­teg­rated bal­list­ic mis­sile shield for Gulf al­lies, Re­u­ters re­ports.
The planned an­ti­mis­sile de­ploy­ments would be an an­swer to Ir­an's grow­ing bal­list­ic mis­sile ca­pa­cit­ies, Frank Rose, deputy as­sist­ant sec­ret­ary of State for space and de­fense policy, told journ­al­ists in Abu Dh­abi on Sunday. The United States and its part­ners fear that Ir­an's bal­list­ic mis­siles may be able to ac­com­mod­ate nuc­le­ar pay­loads. However, the Middle East­ern na­tion has re­fused to dis­cuss the arms in talks in which West­ern powers are seek­ing to lim­it atom­ic activ­it­ies that Tehran could tap for bomb de­vel­op­ment.
"As long as Ir­an con­tin­ues to de­vel­op bal­list­ic mis­siles that can threaten the United States or de­ployed forces and our friends and al­lies in the re­gion, we will work ef­fect­ively with our part­ners here in the [United Ar­ab Emir­ates] as well as the rest of the Gulf to de­fend against that threat," Rose said.
He aired op­tim­ism, though, about the po­ten­tial for "a suc­cess­ful res­ol­u­tion of the Ir­an nuc­le­ar is­sue."
Ir­an, which in­sists its nuc­le­ar am­bi­tions are peace­ful, on Sunday re­af­firmed its po­s­i­tion that bal­list­ic mis­siles "have not and will not be the sub­ject of any ne­go­ti­ations," the na­tion's Fars News Agency re­por­ted. Ir­a­ni­an For­eign Min­is­ter Mo­hammad Javad Za­rif ad­ded it is "wrong to as­sume that the only ap­plic­a­tion [of the mis­siles] is car­ry­ing un­con­ven­tion­al weapons."
Still, an un­named U.S. gov­ern­ment source ref­er­enced the U.N. Se­cur­ity Coun­cil's 2010 pro­hib­i­tion on all Ir­a­ni­an ef­forts in­volving nuc­le­ar-cap­able bal­list­ic mis­siles.
"In some way, this will have to be ad­dressed," the high-level in­sider told Re­u­ters.
Mean­while, an Ir­a­ni­an mil­it­ary of­ficer an­nounced tri­al flights of sev­er­al new me­di­um-range bal­list­ic mis­siles, Fars News re­por­ted on Sunday.
"The labor­at­ory pro­duc­tion of these mis­siles has star­ted and one or two samples have been test-fired," Ir­a­ni­an Brig. Gen. Ahmad-Reza Pour­dast­an said.
What We're Following See More »
NEVER TRUMP
USA Today Weighs in on Presidential Race for First Time Ever
7 hours ago
THE DETAILS
"By all means vote, just not for Donald Trump." That's the message from USA Today editors, who are making the first recommendation on a presidential race in the paper's 34-year history. It's not exactly an endorsement; they make clear that the editorial board "does not have a consensus for a Clinton endorsement." But they state flatly that Donald Trump is, by "unanimous consensus of the editorial board, unfit for the presidency."
COMMISSIONERS NEED TO DELIBERATE MORE
FCC Pushes Vote on Set-Top Boxes
7 hours ago
THE LATEST
"Federal regulators on Thursday delayed a vote on a proposal to reshape the television market by freeing consumers from cable box rentals, putting into doubt a plan that has pitted technology companies against cable television providers. ... The proposal will still be considered for a future vote. But Tom Wheeler, chairman of the F.C.C., said commissioners needed more discussions."
UNTIL DEC. 9, ANYWAY
Obama Signs Bill to Fund Government
12 hours ago
IT'S ALL CLINTON
Reliable Poll Data Coming in RE: Debate #1
14 hours ago
WHY WE CARE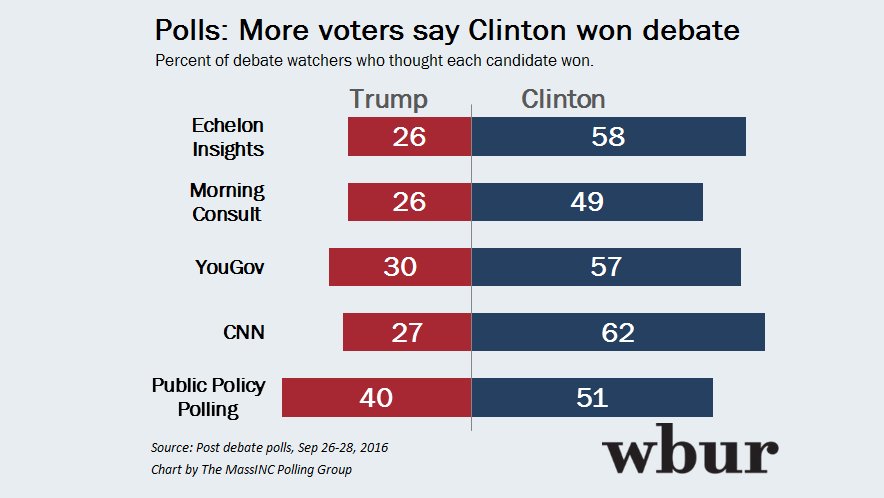 WHAT WILL PASS?
McConnell Doubts Criminal Justice Reform Can Pass This Year
17 hours ago