April 28, 2014, 10:19 a.m.
Last spring, a killer vir­us sud­denly ap­peared on a hog farm in Ohio.
Now, al­most a year since it was first de­tec­ted, the vir­us has spread to 30 states, wip­ing out 10 per­cent of the U.S. pig pop­u­la­tion. The vir­us, known as por­cine epi­dem­ic diarrhea vir­us, or PEDv, tar­gets the lin­ing of a pig's small in­test­ine, caus­ing ex­treme diarrhea. It's highly con­ta­gious, and spreads by con­tact with in­fec­ted ma­nure or feed.
As many as 7 mil­lion pigs of the coun­try's 63 mil­lion herd have died from PEDv since the fast-spread­ing out­break began, ac­cord­ing to Re­u­ters, sink­ing both rev­en­ue and mor­ale across U.S. hog farms. Here's what you need to know about the deadly dis­ease.
No one knows where it came from. The dis­ease is not a new one, and out­breaks have been re­por­ted in Europe, China, Korea, and Ja­pan. But of­fi­cials have not found any clear evid­ence of how the vir­us entered the U.S. Some sus­pect the out­break ori­gin­ated in China, where a vir­us nearly identic­al to PEDv in­fec­ted pigs in An­hui Province. China has im­posed an im­port ban on U.S. live pork in re­sponse to the out­break here.
The un­usu­ally cold and snowy winter didn't help. PEDv thrives in cold, damp en­vir­on­ments. The num­ber of re­por­ted cases of the in­fec­tion tripled between last Decem­ber and this month.
The vir­us is in­cred­ibly leth­al. PEDv is al­most 100 per­cent fatal in pigs less than three weeks old.
But not for hu­mans. The vir­us only af­fects pigs, and poses no health risk to hu­mans or oth­er an­im­als.
And there's no vac­cine. But farm­ers, veter­in­ari­ans, and pork or­gan­iz­a­tions are try­ing to find one. The Na­tion­al Pork Board has already spent $1.1 mil­lion on re­search to un­der­stand how the vir­us works and how to stop it.
In the mean­time, farm­ers are step­ping up bi­o­se­c­ur­ity. This means im­pos­ing stricter stand­ards for clean­li­ness on hog farms. Some farm­ers re­quire work­ers to change their clothes when en­ter­ing and leav­ing barns, while oth­ers have banned out­siders from their prop­erty al­to­geth­er. Farm em­ploy­ees are stock­ing up on dis­in­fect­ant, care­ful not to spread the vir­us dur­ing their daily activ­it­ies.
The out­break has sent re­tail pork prices to re­cord highs. This time last year, pork cost $3.52 a pound. Now, the meat is selling for $3.83 a pound, an all-time high for the U.S. For meat-eat­ing Amer­ic­ans, sum­mer bar­be­cues may be pri­ci­er than usu­al. But don't worry about chow­ing down — U.S. pork is still safe to eat.
And it's spread­ing. The vir­us has cropped up in Canada, whose pork in­dustry is closely con­nec­ted to our own.
What We're Following See More »
STAFF PICKS
Bannon Still Collecting Royalties from 'Seinfeld'
54 minutes ago
WHY WE CARE
The Hollywood Reporter takes a look at a little-known intersection of politics and entertainment, in which Trump campaign CEO Steve Bannon is still raking in residuals from Seinfeld. Here's the digest version: When Seinfeld was in its infancy, Ted Turner was in the process of acquiring its production company, Castle Rock, but he was under-capitalized. Bannon's fledgling media company put up the remaining funds, and he agreed to "participation rights" instead of a fee. "Seinfeld has reaped more than $3 billion in its post-network afterlife through syndication deals." Meanwhile, Bannon is "still cashing checks from Seinfeld, and observers say he has made nearly 25 times more off the Castle Rock deal than he had anticipated."
IT'S ALL CLINTON
Reliable Poll Data Coming in RE: Debate #1
1 hours ago
WHY WE CARE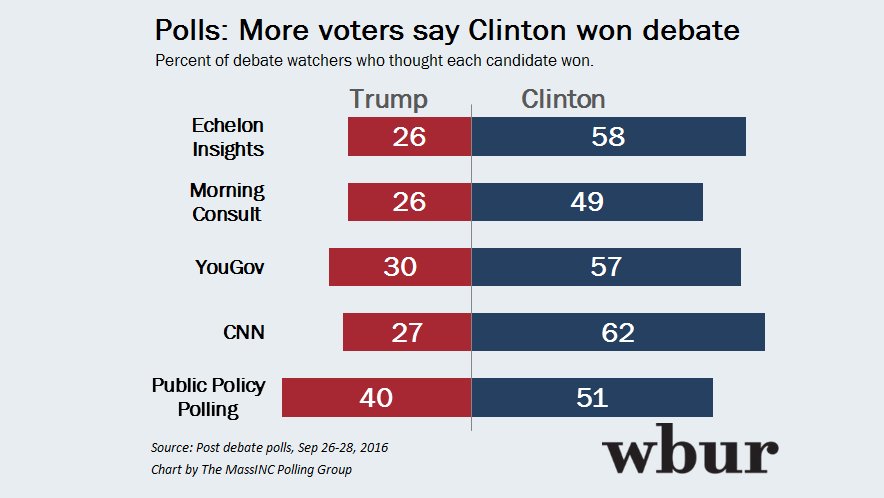 NEXT THURSDAY
Trump Transition Team Meeting with Silicon Valley VIPs
3 hours ago
THE DETAILS
Donald Trump's "transition team will meet next week with representatives of the tech industry, multiple sources confirmed, even as their candidate largely has been largely shunned by Silicon Valley. The meeting, scheduled for next Thursday at the offices of law and lobbying firm BakerHostetler, will include trade groups like the Information Technology Industry Council and the Internet Association that represent major Silicon Valley companies."
WHAT WILL PASS?
McConnell Doubts Criminal Justice Reform Can Pass This Year
3 hours ago
ALSO FIRED UNATTRACTIVE WAITRESSES
Trump Did Business with Cuba
4 hours ago
THE LATEST
Today in bad news for Donald Trump:
Newsweek found that a company he controlled did business with Cuba under Fidel Castro "despite strict American trade bans that made such undertakings illegal, according to interviews with former Trump executives, internal company records and court filings." In 1998, he spent at least $68,000 there, which was funneled through a consluting company "to make it appear legal."
The Los Angeles Times reports that at a golf club he owns in California, Trump ordered that unattractive female staff be fired and replaced with prettier women.