April 29, 2014, 5:43 a.m.
The per­cent­age of young Amer­ic­ans plan­ning to vote in Novem­ber de­clined sharply in the past five months, es­pe­cially among Demo­crat­ic con­stitu­en­cies, ac­cord­ing to a sur­vey of­fer­ing fur­ther evid­ence that Pres­id­ent Obama's co­ali­tion may not trans­late down bal­lot.
In­creas­ingly cyn­ic­al about the polit­ic­al pro­cess, mem­bers of the mil­len­ni­al gen­er­a­tion are re­port­ing the low­est level of in­terest in any elec­tion since Har­vard Uni­versity's In­sti­tute of Polit­ics began track­ing them in 2000.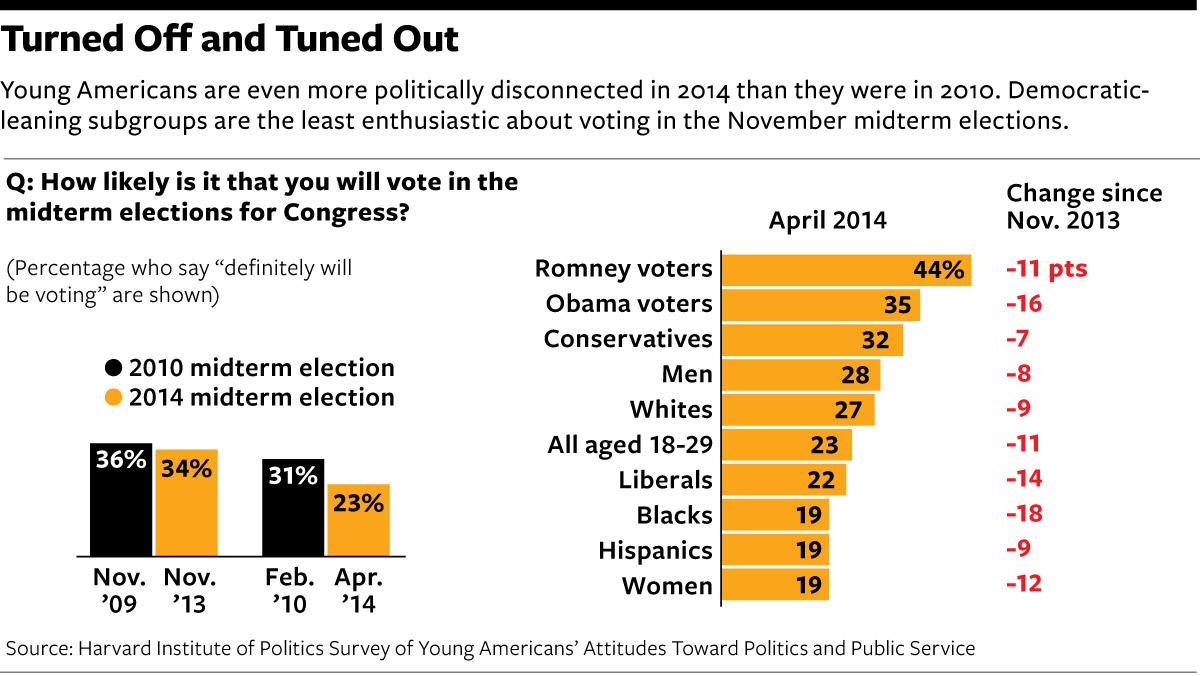 Des­pite a slight re­cov­ery in Obama's ap­prov­al rat­ing among young voters, the IOP sur­vey found that just 23 per­cent of Amer­ic­ans between the ages of 18 and 29 say they will "def­in­itely be vot­ing" in the Novem­ber elec­tions. That is an 11-point de­cline since the fall, when the IOP last sur­veyed a broad cross sec­tion of young adults.
At the same point in the 2010 elec­tion cycle, 31 per­cent of young adults said they would vote. Few­er ac­tu­ally cast bal­lots: Ac­cord­ing to U.S. Census Bur­eau es­tim­ates sum­mar­ized by CIRCLE, 24 per­cent of 18- to 29-year-olds voted in the 2010 elec­tion, a de­crease of 1.5 per­cent­age points from 2006.
"It's been clear for some time now that young people are grow­ing more dis­il­lu­sioned and dis­con­nec­ted from Wash­ing­ton," said IOP Polling Dir­ect­or John Della Volpe. "There's an erosion of trust in the in­di­vidu­als and in­sti­tu­tions that make gov­ern­ment work — and now we see the low­est level of in­terest in any elec­tion we've meas­ured since 2000."
Young Re­pub­lic­ans ap­pear more en­thu­si­ast­ic about the midterms than young Demo­crats. For in­stance, 44 per­cent of those who voted for GOP pres­id­en­tial can­did­ate Mitt Rom­ney in 2012 say they are def­in­itely vot­ing in Novem­ber, com­pared with just 35 per­cent of the 2012 Obama voters.
Self-iden­ti­fied con­ser­vat­ives are 10 points more likely to vote than lib­er­als, ac­cord­ing to the sur­vey. Young men are 9 points more likely to vote than young wo­men. Whites are 8 points more likely to vote than blacks and His­pan­ics. Each trend fa­vors the GOP co­ali­tion.
The poll found Obama had an ap­prov­al rat­ing of 47 per­cent, up 6 points from his low last fall but still be­low his level of 12 months ago. Ap­prov­al for his sig­na­ture health care law re­boun­ded 5 points to 39 per­cent.
The on­line sur­vey of 3,058 18- to 29-year-old U.S. cit­izens has a mar­gin of er­ror of 1.8 per­cent­age points. It was con­duc­ted by GfK and IOP between March 22 and April 4, with in­put from IOP un­der­gradu­ates, as part of a com­pre­hens­ive study of mil­len­ni­al polit­ic­al and so­cial at­ti­tudes launched in 2000.
Ron Fourni­er serves on the Har­vard IOP ad­vis­ory board.