April 29, 2014, 5:42 a.m.
Barack Obama in­spired a gen­er­a­tion of young Amer­ic­ans to shed their apathy and cyn­icism to vote in re­cord num­bers and trans­form Wash­ing­ton, where gov­ern­ment ser­vice would be­come a noble call­ing. Or at least that was the 2008 spin.
The real­ity is pathet­ic­ally dif­fer­ent.
A com­pre­hens­ive ana­lys­is of 18- to 29-year-old Amer­ic­ans — the "mil­len­ni­al gen­er­a­tion" — paints the Obama pres­id­ency as a squandered op­por­tun­ity to con­vert en­thu­si­asm for com­munity ser­vice in­to polit­ic­al com­mit­ment.
Ac­cord­ing to Har­vard Uni­versity's In­sti­tute of Polit­ics, mil­len­ni­als' lack of trust in Amer­ic­an in­sti­tu­tions con­tin­ues to drop, even be­low his­tor­ic­ally low num­bers re­cor­ded a year ago. The in­sti­tute's latest poll shows de­clin­ing faith in: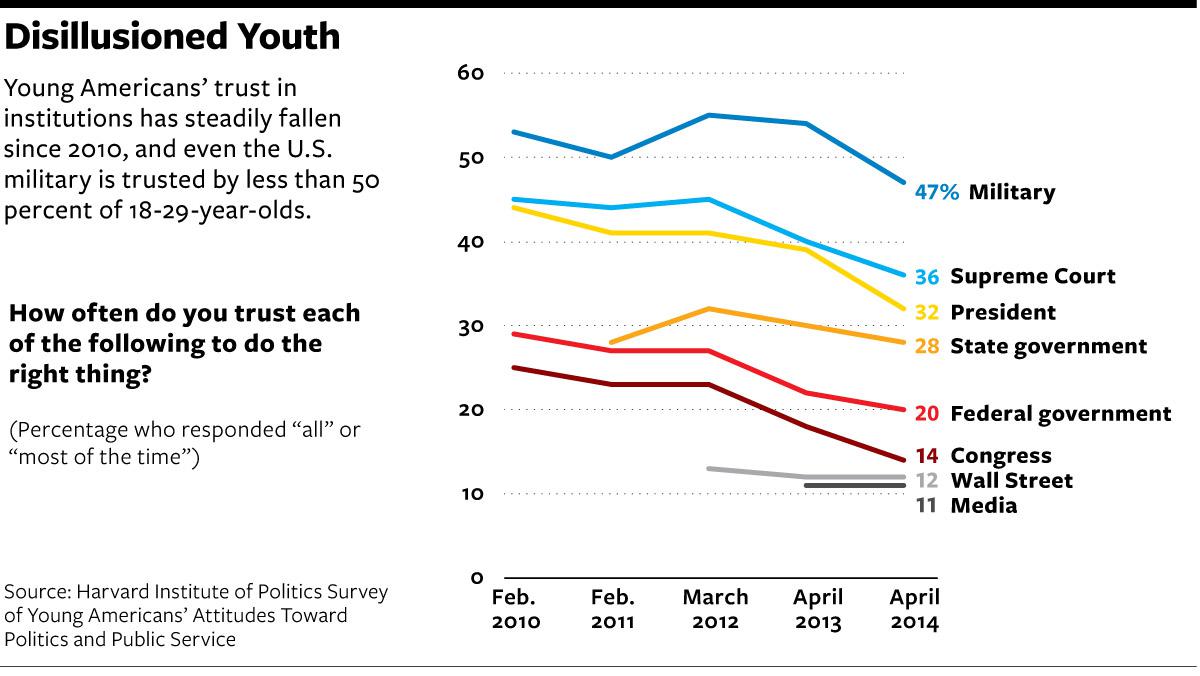 Since 2010, there has been a 6-point jump in the per­cent­age of young Amer­ic­ans who agree that "elec­ted of­fi­cials seem to be mo­tiv­ated by selfish reas­ons" (62 per­cent) and that "polit­ic­al in­volve­ment rarely has any tan­gible res­ults" (29 per­cent).
Mil­len­ni­als have in­creas­ingly soured on polit­ics and gov­ern­ment as a way to serve. Just 29 per­cent agreed that "the idea of work­ing in some form of pub­lic ser­vice is ap­peal­ing to me," down 2 points since a year ago. Only 32 per­cent said run­ning for of­fice is an "hon­or­able thing to do," a 3-point drop.
These are jar­ring res­ults in light of a broad range of stat­ist­ics show­ing young Amer­ic­ans are in­volved in com­munity ser­vice and vo­lun­teer­ism at far high­er rates than baby boomers and Gen­er­a­tion X. Mil­len­ni­als are eager to serve, just not in gov­ern­ment or polit­ics.
"Young people still care about our coun­try," said Har­vard IOP poll­ster John Della Volpe, "but we will likely see more vo­lun­teer­ism than vot­ing in 2014."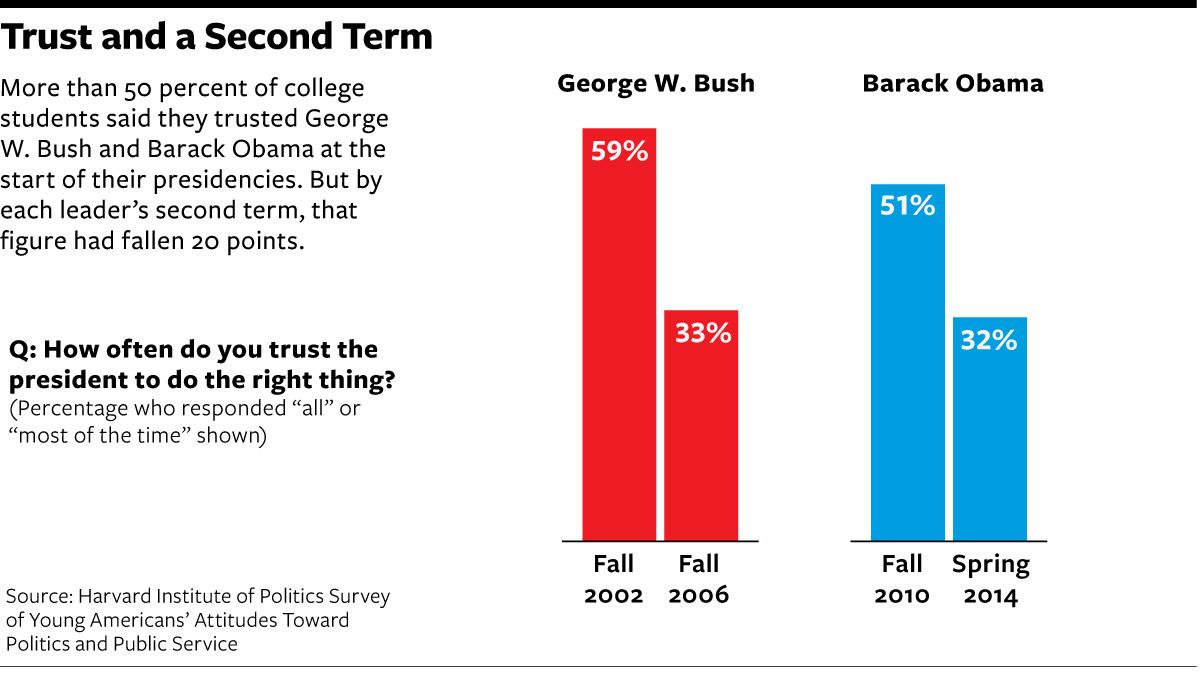 It wasn't al­ways this way. After the Sept. 11, 2001 ter­ror­ist strikes, the IOP noted a surge in in­sti­tu­tion­al sup­port among col­lege stu­dents (the poll ex­pan­ded in later years to in­clude young adults not in col­lege): 59 per­cent for the pres­id­ent, 69 per­cent for the mil­it­ary, 54 per­cent for Con­gress, and 52 per­cent for the fed­er­al gov­ern­ment. The Ir­aq war rocked their faith in most in­sti­tu­tions, and by 2006 only 33 per­cent of col­lege stu­dents ex­pressed sup­port for the pres­id­ency. Thirty per­cent ex­pressed sup­port for Con­gress and 35 per­cent for the fed­er­al gov­ern­ment.
Obama's elec­tion briefly re­newed young Amer­ic­ans' faith in the pres­id­ency and oth­er in­sti­tu­tions, Della Volpe said, but those rat­ings are now as low as they were un­der Pres­id­ent Bush in 2006.
"Obama had a mo­ment, we all had a mo­ment, between the 2007 and the 2010 midterm elec­tions, to en­gage the largest gen­er­a­tion in U.S. his­tory, and we didn't do it," the poll­ster said. "We treated them like any oth­er polit­ic­al con­stitu­ency, and not like the ser­vice-minded cit­izens they are, and there­fore we dis­ap­poin­ted mil­lions of Amer­ic­ans."
Is this Obama's fault? Does the blame lie with House Re­pub­lic­ans who ob­struc­ted his agenda? Or is the prob­lem sys­tem­ic, big­ger than any one politi­cian or party? The an­swer is yes, all of the above.
Mil­len­ni­als des­pise par­tis­an­ship and grid­lock, ac­cord­ing to a wide vari­ety of polls, and they have little pa­tience for the in­ef­fi­cien­cies of a sprawl­ing bur­eau­cracy built for 20th-cen­tury needs. Des­pite his prom­ises, Obama failed to tame par­tis­an­ship or mod­ern­ize gov­ern­ment.
"I def­in­itely feel among the kids I talk to and work with a grow­ing mix of dis­en­gage­ment and — it's too strong to call it be­tray­al — but a deep dis­ap­point­ment with the Obama ad­min­is­tra­tion in par­tic­u­lar," said Nicco Mele, a Har­vard pro­fess­or who over­saw the ground­break­ing di­git­al strategy for 2004 Demo­crat­ic can­did­ate Howard Dean.
In ad­di­tion to Obama's ex­pan­sion of Bush-era sur­veil­lance pro­grams, Mele said the ad­min­is­tra­tion's about-face on net neut­ral­ity "is something I heard a lot of an­ger about just in the last week."
Mele's boss on the Dean cam­paign, Demo­crat­ic con­sult­ant Joe Trippi, said the prob­lem is that, for young Amer­ic­ans, the two-party sys­tem is clearly stale and ir­rel­ev­ant. "Mil­len­ni­als more than any gen­er­a­tion un­der­stand that both pre­vail­ing ideo­lo­gies might as well be in caves talk­ing how to start fires," he said. "They're look­ing for oth­er ways to make a dif­fer­ence."
Rather than go in­to gov­ern­ment, the best and bright­est of the mil­len­ni­al gen­er­a­tion are us­ing tech­no­logy to help people and com­munit­ies, es­sen­tially cre­at­ing mi­cro-in­sti­tu­tions that meet so­cial needs and gen­er­ally make a profit. The move­ment is called "so­cial en­tre­pren­eur­ship."
Michelle Diggles, an ex­pert in gen­er­a­tion­al polit­ics for the Demo­crat­ic think tank Third Way, cited polls show­ing an ex­plo­sion of self-iden­ti­fied in­de­pend­ents among mil­len­ni­als. "They're really up­set with the fight­ing and grid­lock and lack of abil­ity to get any­thing done," she said.
The great un­known, as I wrote here for The At­lantic, is wheth­er young Amer­ic­ans are per­man­ently lost to the polit­ic­al sys­tem — with grim con­sequences for demo­cracy. Or do they at some point de­cide to im­pose vast in­sti­tu­tion­al re­forms on cam­paigns and gov­ern­ment? For in­stance, mod­er­at­ing the ef­fects of House re­dis­trict­ing and for­cing bil­lion­aire donors out of the shad­ows of cam­paigns would be a level of dis­rup­tion akin to what mil­len­ni­als have em­braced for the re­tail, en­ter­tain­ment, and me­dia in­dus­tries.
They may blame Obama for not lead­ing the way, Trippi said, but mil­len­ni­als know the prob­lem is big­ger than one man. "Most mil­len­ni­als I've talked to have come to the real­iz­a­tion that send­ing one guy to change the town or change the gov­ern­ment wasn't enough," he said. "It's the sys­tem. You have to change everything."
Nobody can fault Obama alone for fail­ing to change Wash­ing­ton. But that's not his only sin: He be­came a part of the sys­tem; he got held host­age by it; and he sur­rendered to it. Which is why he may be re­membered not for los­ing the mil­len­ni­al gen­er­a­tion as much as for blow­ing a pre­cious op­por­tun­ity to win it.
Fourni­er serves on the Har­vard In­sti­tute of Polit­ics ad­vis­ory board
{{ BIZOBJ (video: 4911) }}