April 29, 2014, 9:04 a.m.
Con­ser­vat­ive cru­saders against Com­mon Core have found an un­likely ally in the likes of the cel­eb­rated stand-up comedi­an who also wrote Pootie Tang.
OK, maybe it's not fair to in­tro­duce Louis C.K. with that movie cred­it, since his more re­cent, crit­ic­ally ac­claimed work is a world away from Pootie Tang, a movie that he ac­tu­ally hated and calls a big mis­take. But I di­gress: Louis C.K. went on a Twit­ter rant against Com­mon Core and stand­ard­ized test­ing Monday, tweet­ing that it has tain­ted his daugh­ters' love of math.
Loc­al tea-party groups around the coun­try have tar­geted Re­pub­lic­ans who sup­port Com­mon Core, cam­paign­ing that it's em­blem­at­ic of big-gov­ern­ment in­ter­fer­ence in state mat­ters. Now maybe they'll start us­ing Louis C.K.'s tweets in their mes­saging. (It's already pick­ing up some buzz on con­ser­vat­ive Michelle Malkin's site Twitchy, which writes, "Well, even a blind squir­rel's been known to find a nut every once in a while. Maybe.")
In 2010, 45 states ad­op­ted Com­mon Core stand­ards, which are grade-by-grade bench­marks for math and read­ing. Be­fore that, state stand­ards var­ied widely, and ad­voc­ates say the Com­mon Core en­sures sim­il­ar ex­pect­a­tions across the board. Some of its biggest ad­voc­ates do in­clude Re­pub­lic­ans, in­clud­ing former Flor­ida Gov. Jeb Bush, a po­ten­tial 2016 pres­id­en­tial can­did­ate.
Louis C.K., who isn't shy about tack­ling hot-but­ton is­sues in his com­edy, isn't known as a polit­ic­al com­ic per se. But he's cer­tainly not a con­ser­vat­ive. He has called Pres­id­ent Obama a hero of his, telling Van­ity Fair, "I love Barack Obama. What a great man. I'm so lucky to have voted for that guy." He also has this NS­FW bit mak­ing fun of people who say we need few­er en­vir­on­ment­al reg­u­la­tions in the name of eco­nom­ic growth. And then there's that busi­ness of him drop­ping out from host­ing the Ra­dio and Tele­vi­sion Cor­res­pond­ents' As­so­ci­ation Din­ner, after con­ser­vat­ive com­plaints of his past com­ments about Sarah Pal­in.
But edu­ca­tion, more than many oth­er areas of policy, can cer­tainly make for some strange polit­ic­al bed­fel­lows. Louis C.K.'s beef is with how Com­mon Core edu­ca­tion stand­ards are be­ing im­ple­men­ted in his daugh­ters' school. Here are a few of his tweets:
What We're Following See More »
UNTIL DEC. 9, ANYWAY
Obama Signs Bill to Fund Government
1 hours ago
REDSKINS IMPLICATIONS
SCOTUS to Hear Case on Offensive Trademarks
1 hours ago
WHY WE CARE
"The Supreme Court is taking up a First Amendment clash over the government's refusal to register offensive trademarks, a case that could affect the Washington Redskins in their legal fight over the team name. The justices agreed Thursday to hear a dispute involving an Asian-American rock band called the Slants, but they did not act on a separate request to hear the higher-profile Redskins case at the same time." Still, any precedent set by the case could have ramifications for the Washington football team.
STAFF PICKS
Bannon Still Collecting Royalties from 'Seinfeld'
2 hours ago
WHY WE CARE
The Hollywood Reporter takes a look at a little-known intersection of politics and entertainment, in which Trump campaign CEO Steve Bannon is still raking in residuals from Seinfeld. Here's the digest version: When Seinfeld was in its infancy, Ted Turner was in the process of acquiring its production company, Castle Rock, but he was under-capitalized. Bannon's fledgling media company put up the remaining funds, and he agreed to "participation rights" instead of a fee. "Seinfeld has reaped more than $3 billion in its post-network afterlife through syndication deals." Meanwhile, Bannon is "still cashing checks from Seinfeld, and observers say he has made nearly 25 times more off the Castle Rock deal than he had anticipated."
IT'S ALL CLINTON
Reliable Poll Data Coming in RE: Debate #1
3 hours ago
WHY WE CARE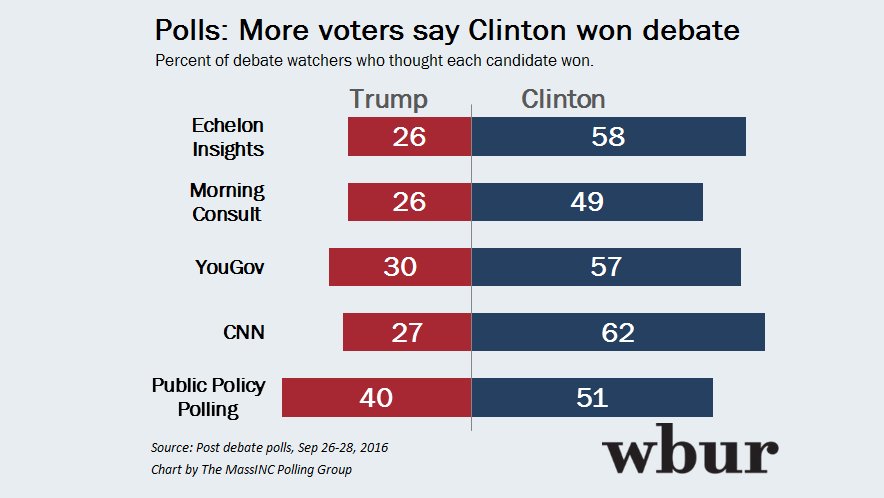 NEXT THURSDAY
Trump Transition Team Meeting with Silicon Valley VIPs
5 hours ago
THE DETAILS
Donald Trump's "transition team will meet next week with representatives of the tech industry, multiple sources confirmed, even as their candidate largely has been largely shunned by Silicon Valley. The meeting, scheduled for next Thursday at the offices of law and lobbying firm BakerHostetler, will include trade groups like the Information Technology Industry Council and the Internet Association that represent major Silicon Valley companies."