April 29, 2014, 8:10 a.m.
Find­ing or­gan­ic, loc­ally sourced, non-ge­net­ic­ally mod­i­fied but­ter­nut squash is get­ting easi­er.
In the last five years, the num­ber of farm­ers mar­kets across the coun­try has nearly doubled, from 4,685 in 2008 to 8,144 in 2013, ac­cord­ing to the Ag­ri­cul­ture De­part­ment. In 1994, there were only about 1,755 farm­ers mar­kets in the United States.
The loc­al food sec­tor is boom­ing: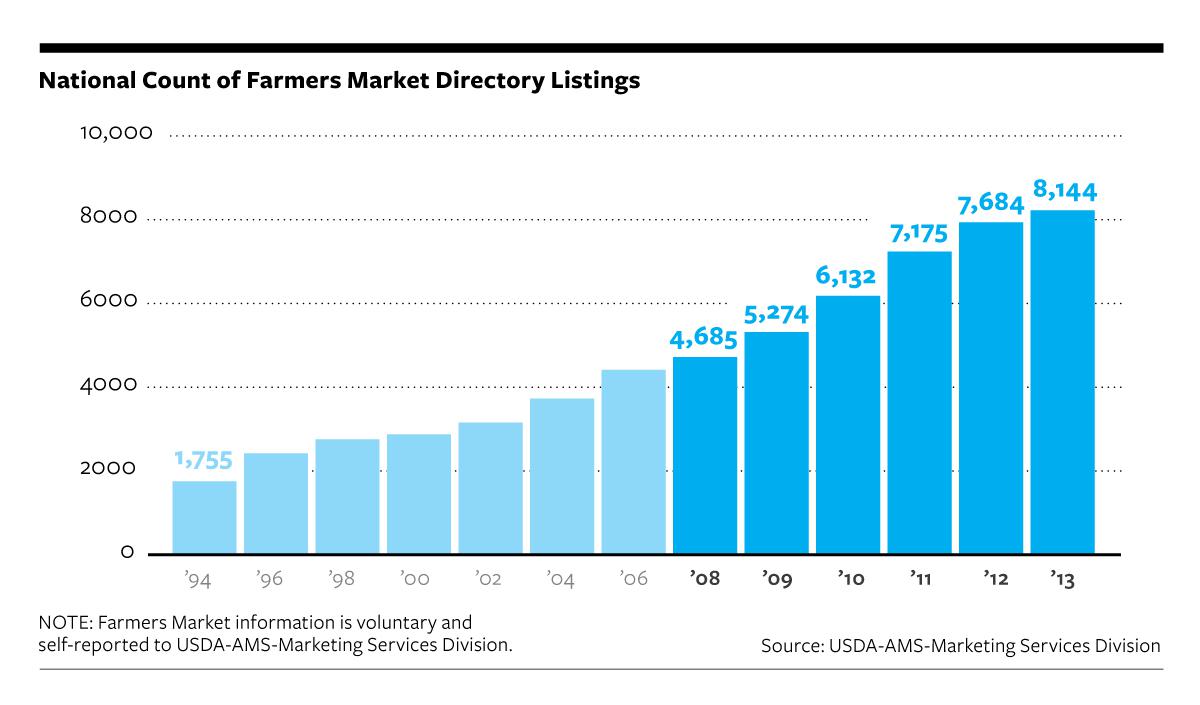 Farm to table? More like farm to face.
Between 1992 and 2007, dir­ect sales between U.S. farms and con­sumers tripled, grow­ing twice as fast as total ag­ri­cul­tur­al sales. A na­tion­al sur­vey re­cently found that people lis­ted "loc­ally grown or pro­duced" as the fourth-most im­port­ant factor in­flu­en­cing their food shop­ping, be­hind "good for my heart," "min­im­ally pro­cessed," and "that con­tain only in­gredi­ents I re­cog­nize." And for­get about the ste­reo­typ­ic­al, open-air spring­time farm­ers' mar­ket: Winter mar­kets are a thing, too.
Later this week, the Ag­ri­cul­ture De­part­ment will re­lease data from the 2012 ag­ri­cul­ture census. If this up­ward trend is any in­dic­a­tion, the num­bers for the loc­al food sec­tor are go­ing to be good. But some say the ex­plos­ive growth may already be lev­el­ing off. Between 2012 and 2013, the num­ber of farm­ers mar­kets in­creased by just 3.6 per­cent, com­pared with a 17 per­cent jump between 2010 and 2011.
Cor­rec­tion: This story has been up­dated to cla­ri­fy the change in the num­ber of farm­ers mar­kets since 2008.