April 29, 2014, 7:12 a.m.
North Korea on Tues­day staged a live-ar­til­lery ex­er­cise in wa­ters near the South, and the re­gime is­sued a fresh nuc­le­ar warn­ing, news re­ports said.
Roughly 50 mu­ni­tions were fired from two coastal mil­it­ary fa­cil­it­ies in the af­ter­noon, the Yon­hap News Agency re­por­ted. South Korea was no­ti­fied ahead of time about the mari­time ex­er­cise and did not re­turn fire as no North Korean shell crossed in­to its ter­rit­ory.
Mean­while, a power­ful North Korean mil­it­ary body on Monday threatened to do "more than nuc­le­ar tests" in re­sponse to re­cent in­ter­na­tion­al warn­ings on the mat­ter.
"The world is mak­ing all the guesses and con­jec­tures that our new nuc­le­ar test and the rock­et launch will de­vel­op in­to a boos­ted fis­sion weapon or a new gen­er­a­tion of in­ter­con­tin­ent­al bal­list­ic mis­siles," the North Korean Na­tion­al De­fense Com­mis­sion said in a state­ment quoted by the Cho­son Ilbo news­pa­per.
"If you ask us to tell the truth, we will not deny that we are cap­able of do­ing more than these spec­u­la­tions," the de­fense com­mis­sion said.
The United States and South Korea are keep­ing a close eye via satel­lites on the North's Punggye-ri nuc­le­ar test site, where per­son­nel ap­pear to be in the thick of pre­par­a­tions for an ex­pec­ted fourth un­der­ground atom­ic tri­al. U.S. Pres­id­ent Obama and South Korean Pres­id­ent Park Geun-hye on Fri­day warned that Py­ongy­ang could ex­pect more sanc­tions and an end to any hope of re­viv­ing a moribund aid-for-de­nuc­lear­iz­a­tion pro­cess if it pro­ceeds with the test.
In re­lated news, the South Korean gov­ern­ment on Monday au­thor­ized a plan to boost do­mest­ic mis­sile de­fenses by up­grad­ing ex­ist­ing in­ter­cept­ors and pur­chas­ing more-cap­able sys­tems from the United States, the Korea Times re­por­ted.
Un­der the ap­proved plan, the South would ac­quire as many as 100 Pat­ri­ot Ad­vanced Cap­ab­il­ity 3 mis­siles between 2016 and 2020 and would seek to buy up­grades for its 48 PAC-2 sys­tems through a com­pet­it­ive bid pro­cess, the Korea Her­ald re­por­ted.
The new in­ter­cept­ors and mis­sile up­grades will be used to boost the ef­fect­ive­ness of the coun­try's Korea Air and Mis­sile De­fense frame­work, which is de­signed to counter lower-alti­tude bal­list­ic mis­siles fired by North Korea.
What We're Following See More »
SAUDI ARABIA BILL
Veto Override Scheduled for Wednesday in Senate
1 hours ago
THE LATEST
Senate Majority Leader Mitch McConnell said this afternoon that the Senate on Wednesday will take up an override of President Obama's veto of legislation that would allow the families of 9/11 victims to sue the government of Saudi Arabia. "The vote is expected garner the two-thirds majority necessary to override the veto."
MEDIA SHOULD HOLD TRUMP RESPONSIBLE
Reid Devotes Senate Floor Speech to Trump's 'Racism'
2 hours ago
THE LATEST
"Donald Trump is a racist," announced Senate Minority Leader Harry Reid from the Senate floor this afternoon. Reid said all of us are occasionally politically incorrect, but "I don't know of anyone that when that happens doesn't acknowledge it and, if necessary, apologize quickly." But Trump, he added, says things with "full intent to demean and to denigrate." Reid argued that the media isn't holding Trump to account, and should explicitly call him a racist.
ABSENT FROM LIST: GENNIFER FLOWERS
Most Trump Guests Have Military Ties
5 hours ago
TOP OF MIND
Trending on Google: 'Why Should Trump Not Be President'
5 hours ago
THE DETAILS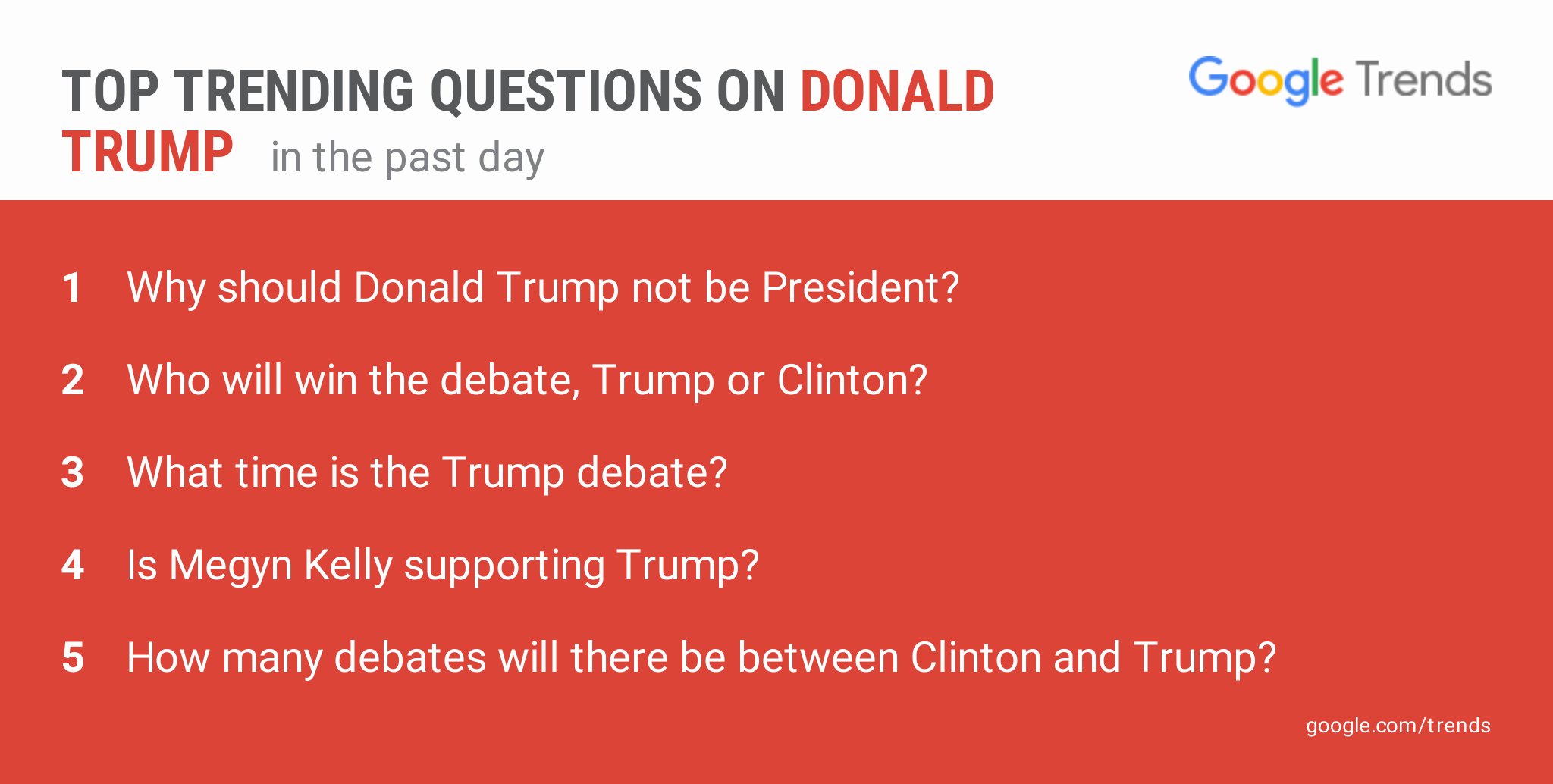 WHO PLAYED THE DONALD?
Longtime Clinton Aide Played Trump in Mock Debates
8 hours ago
THE DETAILS
After keeping the information private for most of the lead-up to the debate on Monday, it has been revealed that longtime Clinton aide Philippe Reines has been playing the role of Donald Trump in her debate prep. Reines knows Clinton better than most, able to identify both her strengths and weaknesses, and his selection for a sparring partner shows that Clinton is preparing for the brash and confrontational Donald Trump many have come to expect.