April 29, 2014, 5:09 p.m.
Bol­ster­ing the na­tion's de­fenses against hack­ers has been one of the Obama ad­min­is­tra­tion's top goals.
Of­fi­cials have warned for years that a soph­ist­ic­ated cy­ber­at­tack could cripple crit­ic­al in­fra­struc­ture or al­low thieves to make off with the fin­an­cial in­form­a­tion of mil­lions of Amer­ic­ans. Pres­id­ent Obama pushed Con­gress to en­act cy­ber­se­cur­ity le­gis­la­tion, and when it didn't, he is­sued his own ex­ec­ut­ive or­der in 2013.
"The cy­ber threat to our na­tion is one of the most ser­i­ous eco­nom­ic and na­tion­al se­cur­ity chal­lenges we face," Obama wrote in a 2012 op-ed in The Wall Street Journ­al.
But crit­ics ar­gue that the Na­tion­al Se­cur­ity Agency has ac­tu­ally un­der­mined cy­ber­se­cur­ity and made the United States more vul­ner­able to hack­ers.
At its core, the prob­lem is the NSA's dual mis­sion. On one hand, the agency is tasked with se­cur­ing U.S. net­works and in­form­a­tion. On the oth­er hand, the agency must gath­er in­tel­li­gence on for­eign threats to na­tion­al se­cur­ity.
Col­lect­ing in­tel­li­gence of­ten means hack­ing en­cryp­ted com­mu­nic­a­tions. That's noth­ing new for the NSA; the agency traces its roots back to code-break­ers de­ci­pher­ing Nazi mes­sages dur­ing World War II.
So in many ways, strong In­ter­net se­cur­ity ac­tu­ally makes the NSA's job harder.
"This is an ad­min­is­tra­tion that is a vig­or­ous de­fend­er of sur­veil­lance," said Chris­toph­er Sog­hoi­an, the head tech­no­lo­gist for the Amer­ic­an Civil Liber­ties Uni­on. "Sur­veil­lance at the scale they want re­quires in­sec­ur­ity."
The leaks from Ed­ward Snowden have re­vealed a vari­ety of ef­forts by the NSA to weak­en cy­ber­se­cur­ity and hack in­to net­works. Crit­ics say those pro­grams, while help­ing NSA spy­ing, have made U.S. net­works less se­cure.
Ac­cord­ing to the leaked doc­u­ments, the NSA in­ser­ted a so-called back door in­to at least one en­cryp­tion stand­ard that was de­veloped by the Na­tion­al In­sti­tute of Stand­ards and Tech­no­logy. The NSA could use that back door to spy on sus­pec­ted ter­ror­ists, but the vul­ner­ab­il­ity was also avail­able to any oth­er hack­er who dis­covered it.
NIST, a Com­merce De­part­ment agency, sets sci­entif­ic and tech­nic­al stand­ards that are widely used by both the gov­ern­ment and the private sec­tor. The agency has said it would nev­er "de­lib­er­ately weak­en a cryp­to­graph­ic stand­ard," but it re­mains un­clear wheth­er the agency was aware of the back door or wheth­er the NSA tricked NIST in­to ad­opt­ing the com­prom­ised stand­ard. NIST is re­quired by law to con­sult with the NSA for its tech­nic­al ex­pert­ise on cy­ber­se­cur­ity.
The rev­el­a­tion that NSA some­how got NIST to build a back door in­to an en­cryp­tion stand­ard has ser­i­ously dam­aged NIST's repu­ta­tion with se­cur­ity ex­perts.
"NIST is op­er­at­ing with a trust de­fi­cit right now," Sog­hoi­an said. "Any­thing that NIST has touched is now tain­ted."
It's a par­tic­u­larly bad time for NIST to have lost the sup­port of the cy­ber­se­cur­ity com­munity. In his ex­ec­ut­ive or­der, Obama tasked NIST with draft­ing the cy­ber­se­cur­ity guidelines for crit­ic­al in­fra­struc­ture such as power plants and phone com­pan­ies. Be­cause it's an ex­ec­ut­ive or­der in­stead of a law, the cy­ber­se­cur­ity stand­ards are en­tirely vol­un­tary, and the U.S. gov­ern­ment will have to con­vince the private sec­tor to com­ply.
The Snowden leaks wer­en't the first to in­dic­ate that the NSA is in­volved in ex­ploit­ing com­mer­cial se­cur­ity. Ac­cord­ing to a 2012 New York Times re­port, the NSA de­veloped a worm, dubbed "Stuxnet," to cripple Ir­a­ni­an nuc­le­ar cent­ri­fuges. But the worm, which ex­ploited four pre­vi­ously un­known flaws in Mi­crosoft Win­dows, es­caped the Ir­a­ni­an nuc­le­ar plant and quickly began dam­aging com­puters around the world. The NSA and Is­raeli of­fi­cials have also been tied to "Flame," a vir­us that im­per­son­ated a Mi­crosoft up­date to spy on Ir­a­ni­an com­puters.
Vanee Vines, an NSA spokes­wo­man, said the U.S. gov­ern­ment "is as con­cerned as the pub­lic is with the se­cur­ity of these products."
"The United States pur­sues its in­tel­li­gence mis­sion with care to en­sure that in­no­cent users of those same tech­no­lo­gies are not af­fected," she said.
Ac­cord­ing to Vines, the NSA re­lies on the same en­cryp­tion stand­ards it re­com­mends to the pub­lic to pro­tect its own clas­si­fied net­works. "We do not make re­com­mend­a­tions that we can­not stand be­hind for pro­tect­ing na­tion­al se­cur­ity sys­tems and data," she said. "The activ­ity of NSA in set­ting stand­ards has made the In­ter­net a far safer place to com­mu­nic­ate and do busi­ness."
But due to con­cern over the NSA dam­aging In­ter­net se­cur­ity, the pres­id­ent's re­view group on sur­veil­lance is­sues re­com­men­ded that the U.S. gov­ern­ment prom­ise not to "in any way sub­vert, un­der­mine, weak­en, or make vul­ner­able gen­er­ally avail­able com­mer­cial en­cryp­tion."
"En­cryp­tion is an es­sen­tial basis for trust on the In­ter­net; without such trust, valu­able com­mu­nic­a­tions would not be pos­sible," the group wrote in its re­port, which was re­leased in Decem­ber. "For the en­tire sys­tem to work, en­cryp­tion soft­ware it­self must be trust­worthy."
In re­sponse to the re­port, the ad­min­is­tra­tion ad­op­ted a new policy on wheth­er the NSA can ex­ploit "zero-days" — vul­ner­ab­il­it­ies that haven't been dis­covered by any­one else yet. Ac­cord­ing to the White House, there is a "bi­as" to­ward pub­licly dis­clos­ing flaws in se­cur­ity un­less "there is a clear na­tion­al se­cur­ity or law en­force­ment need."
In a blog post Monday, Mi­chael Daniel, the White House's cy­ber­se­cur­ity co­ordin­at­or, said that dis­clos­ing se­cur­ity flaws "usu­ally makes sense."
"Build­ing up a huge stock­pile of un­dis­closed vul­ner­ab­il­it­ies while leav­ing the In­ter­net vul­ner­able and the Amer­ic­an people un­pro­tec­ted would not be in our na­tion­al se­cur­ity in­terest," he said.
But Daniel ad­ded that, in some cases, dis­clos­ing a vul­ner­ab­il­ity means that the U.S. would "fore­go an op­por­tun­ity to col­lect cru­cial in­tel­li­gence that could thwart a ter­ror­ist at­tack, stop the theft of our na­tion's in­tel­lec­tu­al prop­erty, or even dis­cov­er more dan­ger­ous vul­ner­ab­il­it­ies."
He said that the gov­ern­ment weighs a vari­ety of factors, such as the risk of leav­ing the vul­ner­ab­il­ity un-patched, the like­li­hood that any­one else would dis­cov­er it, and how im­port­ant the po­ten­tial in­tel­li­gence is.
But pri­vacy ad­voc­ates and many busi­ness groups are still un­com­fort­able with the U.S. keep­ing se­cur­ity flaws secret. And many don't trust that the NSA will only ex­ploit the vul­ner­ab­il­it­ies with the most po­ten­tial for in­tel­li­gence and least op­por­tun­ity for oth­er hack­ers.
"The sur­veil­lance bur­eau­cracy really doesn't have a lot of self-im­posed lim­its. They want to get everything," said Ed Black, the CEO of the Com­puter & Com­mu­nic­a­tions In­dustry As­so­ci­ation, which rep­res­ents com­pan­ies in­clud­ing Google, Mi­crosoft, Ya­hoo, and Sprint. "Now I think people deal­ing with that bur­eau­cracy have to un­der­stand they can't take any­thing for gran­ted."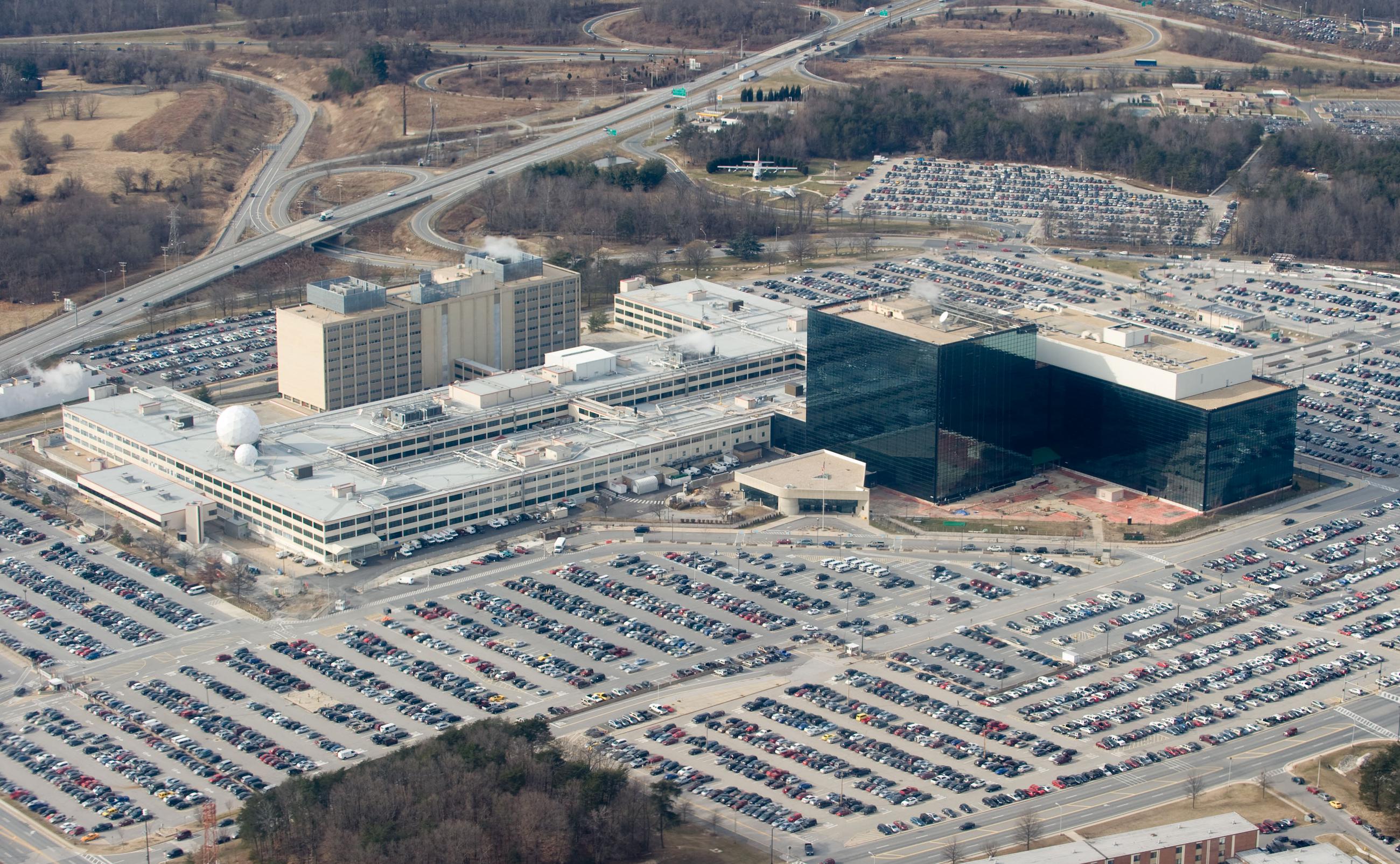 Most com­puter net­works are run by private com­pan­ies, and the gov­ern­ment must work closely with the private sec­tor to im­prove cy­ber­se­cur­ity. But com­pan­ies have be­come re­luct­ant to share se­cur­ity in­form­a­tion with the U.S. gov­ern­ment, fear­ing the NSA could use any in­form­a­tion to hack in­to their sys­tems. The Na­tion­al Se­cur­ity Agency (NSA) headquar­ters at Fort Meade, Mary­land (AFP/Getty Im­ages)
"When you want to go in­to part­ner­ship with some­body and work on ser­i­ous is­sues — such as cy­ber­se­cur­ity — you want to know you're be­ing told the truth," Black said.
Google and one oth­er cy­ber­se­cur­ity firm dis­covered "Heart­bleed" — a crit­ic­al flaw in a widely used In­ter­net en­cryp­tion tool — in March. The com­pan­ies no­ti­fied a few oth­er private-sec­tor groups about the prob­lem, but no one told the U.S. gov­ern­ment un­til April.
"In­form­a­tion you share with the NSA might be used to hurt you as a com­pany," warned Ashkan Soltani, a tech­nic­al con­sult­ant who has worked with tech com­pan­ies and helped The Wash­ing­ton Post with its cov­er­age of the Snowden doc­u­ments.
He said that com­pany of­fi­cials have his­tor­ic­ally dis­cussed cy­ber­se­cur­ity is­sues with the NSA, but that he wouldn't be sur­prised if those re­la­tion­ships are now strained. He poin­ted to news that the NSA posed as Face­book to in­fect com­puters with mal­ware.
"That does a lot of harm to com­pan­ies' brands," Soltani said.
The NSA's ac­tions have also made it dif­fi­cult for the U.S. to set in­ter­na­tion­al norms for cy­ber­con­flict. For sev­er­al years, the U.S. has tried to pres­sure China to scale back its cy­ber­spy­ing op­er­a­tions, which al­legedly steal trade secrets from U.S. busi­nesses.
Jason Healey, the dir­ect­or of the Cy­ber State­craft Ini­ti­at­ive at the At­lantic Coun­cil, said the U.S. has "mil­it­ar­ized cy­ber policy."
"The United States has been say­ing that the world needs to op­er­ate ac­cord­ing to cer­tain norms," he said. "It is dif­fi­cult to get the norms that we want be­cause it ap­pears to the rest of the world that we only want to fol­low the norms that we think are im­port­ant."
Vines, the NSA spokes­wo­man, em­phas­ized that the NSA would nev­er hack in­to for­eign net­works to give do­mest­ic com­pan­ies a com­pet­it­ive edge (as China is ac­cused of do­ing).
"We do not use for­eign in­tel­li­gence cap­ab­il­it­ies to steal the trade secrets of for­eign com­pan­ies on be­half of — or give in­tel­li­gence we col­lect to — U.S. com­pan­ies to en­hance their in­ter­na­tion­al com­pet­it­ive­ness or in­crease their bot­tom line," she said.
Jim Lewis, a seni­or fel­low with the Cen­ter for Stra­tegic and In­ter­na­tion­al Stud­ies, agreed that NSA spy­ing to stop ter­ror­ist at­tacks is fun­da­ment­ally dif­fer­ent from China steal­ing busi­ness secrets to boost its own eco­nomy.
He also said there is wide­spread mis­un­der­stand­ing of how the NSA works, but he ac­know­ledged that there is a "trust prob­lem — jus­ti­fied or not."
He pre­dicted that re­build­ing trust with the tech com­munity will be one of the top chal­lenges for Mike Ro­gers, who was sworn in as the new NSA dir­ect­or earli­er this month.
"All the tech com­pan­ies are in vary­ing de­grees un­happy and not eager to have a close re­la­tion­ship with NSA," Lewis said.