Mil­it­ary fam­il­ies have de­livered a clear mes­sage to the De­fense De­part­ment and Con­gress: Don't cut our sub­sid­ized hous­ing, gro­cer­ies or oth­er fringe be­ne­fits.
House Re­pub­lic­ans have listened.
Armed Ser­vices Com­mit­tee Chair­man Buck McK­eon, R-Cal­if., pre­viewed his 2015 Na­tion­al De­fense Au­thor­iz­a­tion Act — sched­uled for full re­lease Monday — with his marks on sub­com­mit­tee bills. The Mil­it­ary Per­son­nel Sub­com­mit­tee's bill would "hedg[e] against the chance the de­fense cuts erode the sac­red trust between our warfight­ers and the Amer­ic­an people."
Spe­cific­ally, the lan­guage re­jects changes to TRI­CARE that would in­crease costs to par­ti­cipants, massive cuts to com­mis­sar­ies and re­duced ba­sic hous­ing al­low­ances. Com­mit­tee Re­pub­lic­ans said the pro­pos­als, put forth by De­fense Sec­ret­ary Chuck Hagel in the Pentagon's fisc­al 2015 budget, "would have in­creased out-pock­et-costs for mil­it­ary fam­il­ies."
Hagel's plan would slash $1 bil­lion in 2015 from the De­fense Com­mis­sary Agency's $1.4 bil­lion an­nu­al budget. In a re­cent sur­vey, mil­it­ary fam­il­ies over­whelm­ingly said such cuts would neg­at­ively im­pact them. The pro­pos­al came after mil­it­ary lead­ers and Pres­id­ent Obama said un­fettered growth in com­pens­a­tion costs would dam­age read­i­ness in the years to come.
Re­views, Stud­ies, Com­mis­sions
The per­son­nel sub­com­mit­tee's pro­pos­al would re­quire a sur­vey of "ran­dom mem­bers of the armed forces" on the sub­ject of pay and be­ne­fits. The study would meas­ure the value ser­vice­men and wo­men place on their com­pens­a­tion. The law­makers also sug­ges­ted "out­side ex­perts" re­view the com­mis­sary pro­gram to identi­fy sav­ings that would not re­duce mil­it­ary fam­il­ies' be­ne­fits.
The De­fense De­part­ment is cur­rently con­duct­ing its own re­view: The Mil­it­ary Com­pens­a­tion and Re­tire­ment Mod­ern­iz­a­tion Com­mis­sion is sched­uled to re­port its find­ings in early 2015. Law­makers have con­sist­ently shown a re­luct­ance to re­form com­pens­a­tion for mil­it­ary mem­bers, most re­cently when they un­did cuts to pen­sion pay­ments for work­ing-age re­tir­ees.
Rep. Adam Smith, D-Wash., rank­ing mem­ber of the Armed Ser­vices Com­mit­tee, will of­fer a speech on the fisc­al 2015 au­thor­iz­a­tion act Thursday. In a pre­view of the ad­dress, Smith's of­fice said, "The fail­ure to make tough budget­ary choices, re­gard­ing de­fense pri­or­it­ies, risks field­ing a mil­it­ary that is im­prop­erly cal­ib­rated for achiev­ing stra­tegic ob­ject­ives."
A spokes­man for Smith de­clined to elab­or­ate on the spe­cif­ics of the "tough choices" in ad­vance of the speech, but said law­makers must "make sure we're bal­an­cing pri­or­it­ies."
Con­gres­sion­al Pay
While law­makers de­bate cut­ting com­pens­a­tion for ser­vice mem­bers, one con­gress­man is also look­ing out for the law­makers them­selves.
The House Rules Com­mit­tee on Tues­day re­jec­ted a fi­nal push from Rep. Jim Mor­an, D-Va., to cre­ate a vol­un­tary $25 per day sti­pend for mem­bers who live at least 50 miles out­side Wash­ing­ton, D.C.
Mor­an, who is re­tir­ing at the end of 2014, pre­vi­ously failed in his ef­forts to grant law­makers a pay raise. The 23-year con­gress­man has ar­gued many mem­bers "can't even af­ford to live in Wash­ing­ton."
The pro­posed sti­pend would have only been in ef­fect for days in which Con­gress was in ses­sion, of­fer­ing law­makers up to $2,800 an­nu­ally. Mor­an at­temp­ted to put the amend­ment to the le­gis­lat­ive branch's fisc­al 2015 spend­ing bill through the Rules Com­mit­tee so it could re­ceive a vote on the full House floor, but the com­mit­tee did not ob­lige him.
What We're Following See More »
UNTIL DEC. 9, ANYWAY
Obama Signs Bill to Fund Government
56 minutes ago
REDSKINS IMPLICATIONS
SCOTUS to Hear Case on Offensive Trademarks
1 hours ago
WHY WE CARE
"The Supreme Court is taking up a First Amendment clash over the government's refusal to register offensive trademarks, a case that could affect the Washington Redskins in their legal fight over the team name. The justices agreed Thursday to hear a dispute involving an Asian-American rock band called the Slants, but they did not act on a separate request to hear the higher-profile Redskins case at the same time." Still, any precedent set by the case could have ramifications for the Washington football team.
STAFF PICKS
Bannon Still Collecting Royalties from 'Seinfeld'
2 hours ago
WHY WE CARE
The Hollywood Reporter takes a look at a little-known intersection of politics and entertainment, in which Trump campaign CEO Steve Bannon is still raking in residuals from Seinfeld. Here's the digest version: When Seinfeld was in its infancy, Ted Turner was in the process of acquiring its production company, Castle Rock, but he was under-capitalized. Bannon's fledgling media company put up the remaining funds, and he agreed to "participation rights" instead of a fee. "Seinfeld has reaped more than $3 billion in its post-network afterlife through syndication deals." Meanwhile, Bannon is "still cashing checks from Seinfeld, and observers say he has made nearly 25 times more off the Castle Rock deal than he had anticipated."
IT'S ALL CLINTON
Reliable Poll Data Coming in RE: Debate #1
2 hours ago
WHY WE CARE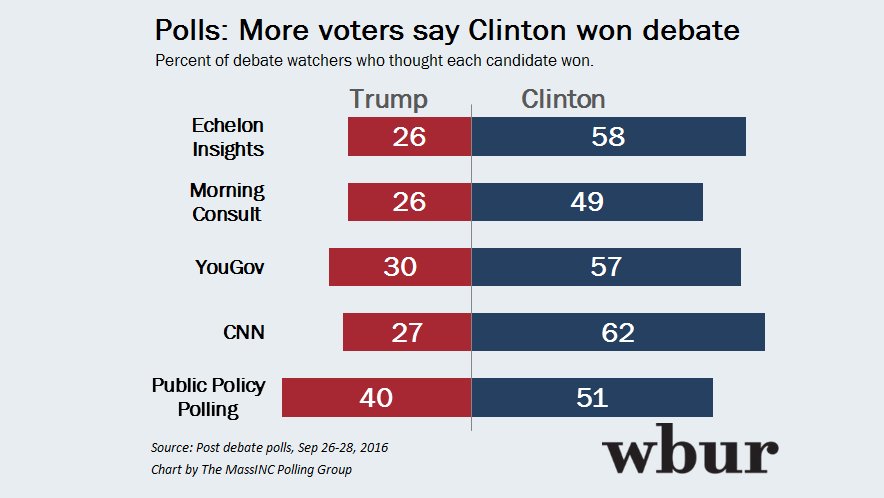 NEXT THURSDAY
Trump Transition Team Meeting with Silicon Valley VIPs
5 hours ago
THE DETAILS
Donald Trump's "transition team will meet next week with representatives of the tech industry, multiple sources confirmed, even as their candidate largely has been largely shunned by Silicon Valley. The meeting, scheduled for next Thursday at the offices of law and lobbying firm BakerHostetler, will include trade groups like the Information Technology Industry Council and the Internet Association that represent major Silicon Valley companies."