If you fol­lowed the news cycle Wed­nes­day, you likely saw the NBC News/Wall Street Journ­al poll that found, among oth­er things, that the vast ma­jor­ity of Amer­ic­ans in­sist they don't like polit­ic­al dyn­asties.
In­deed, a full 69 per­cent of people sur­veyed said they hope neither a Bush nor a Clin­ton will dom­in­ate the pres­id­en­tial race in 2016. And that makes sense, giv­en Amer­ic­ans' his­tor­ic­al dis­taste for no­bil­ity and af­fin­ity for the un­der­dog.
The funny thing is — and this will not be the first time you've seen a dis­con­nect between the Amer­ic­an dream and polit­ic­al real­it­ies — 66 per­cent con­fess to hav­ing fa­vor­able views of the Clin­ton fam­ily and 54 per­cent like the Bush fam­ily.
The num­bers align quite per­fectly with an ana­lys­is made by Up­shot con­trib­ut­or and Dart­mouth polit­ic­al sci­ent­ist Brendan Nyhan a few days earli­er. Writ­ing in The New York Times, Nyhan noted that des­pite Amer­ic­ans' in­sist­ence they're not in fa­vor of en­dur­ing polit­ic­al dyn­asties, they keep vot­ing Bushes and Clin­tons in­to of­fice, en­cour­aging them to keep run­ning. Early ef­forts to draft Jeb Bush in­to a race where Hil­lary Clin­ton is ex­pec­ted to be the top Demo­crat­ic can­did­ate sug­gest that's not about to change.
Such hy­po­crisy is al­most en­dear­ing: Amer­ic­ans don't ap­prove of fa­vor­it­ism un­less you ask them about their fa­vor­ites — or if you just ask them about someone whose ten­ure they've for­got­ten.
The real­ity of that is a bit more prob­lem­at­ic.
Take the leg­acy of George W. Bush, for in­stance. Back in 2008, Bush was deeply un­pop­u­lar, per­haps be­cause people still re­membered things like what the John Yoo tor­ture memos were. But time has been kind to the Tex­an, and since then his like­ab­il­ity has been on the rise.
We know it's not be­cause he's done any­thing re­motely polit­ic­al since then.
The rare in­ter­views he grants are usu­ally about quirky hob­bies, like his well-doc­u­mented pen­chant for bik­ing. And if we do see head­lines about him, it's usu­ally a trib­ute to one of his dog paint­ings or bather self-por­traits. Oth­er times, the stor­ies are about his fath­er's spe­cial-edi­tion socks. As I noted back in April, the Bushes have done a mas­ter­ful job of laun­der­ing their polit­ic­al leg­acy in the wash of quirky apolit­ic­al cool.
Aaron Blake, writ­ing in The Wash­ing­ton Post, ar­gued that the up­tick has something to do with a kind of Amer­ic­an nos­tal­gia, born in part of people's tend­ency to for­get the bad and hold on to the good. And a short memory can be a use­ful tech­nique with re­gard to one's emo­tion­al self-pre­ser­va­tion, a way of not be­ing weighed down by life's bag­gage. It's less use­ful at the polls.
What We're Following See More »
UNTIL DEC. 9, ANYWAY
Obama Signs Bill to Fund Government
51 minutes ago
REDSKINS IMPLICATIONS
SCOTUS to Hear Case on Offensive Trademarks
1 hours ago
WHY WE CARE
"The Supreme Court is taking up a First Amendment clash over the government's refusal to register offensive trademarks, a case that could affect the Washington Redskins in their legal fight over the team name. The justices agreed Thursday to hear a dispute involving an Asian-American rock band called the Slants, but they did not act on a separate request to hear the higher-profile Redskins case at the same time." Still, any precedent set by the case could have ramifications for the Washington football team.
STAFF PICKS
Bannon Still Collecting Royalties from 'Seinfeld'
2 hours ago
WHY WE CARE
The Hollywood Reporter takes a look at a little-known intersection of politics and entertainment, in which Trump campaign CEO Steve Bannon is still raking in residuals from Seinfeld. Here's the digest version: When Seinfeld was in its infancy, Ted Turner was in the process of acquiring its production company, Castle Rock, but he was under-capitalized. Bannon's fledgling media company put up the remaining funds, and he agreed to "participation rights" instead of a fee. "Seinfeld has reaped more than $3 billion in its post-network afterlife through syndication deals." Meanwhile, Bannon is "still cashing checks from Seinfeld, and observers say he has made nearly 25 times more off the Castle Rock deal than he had anticipated."
IT'S ALL CLINTON
Reliable Poll Data Coming in RE: Debate #1
2 hours ago
WHY WE CARE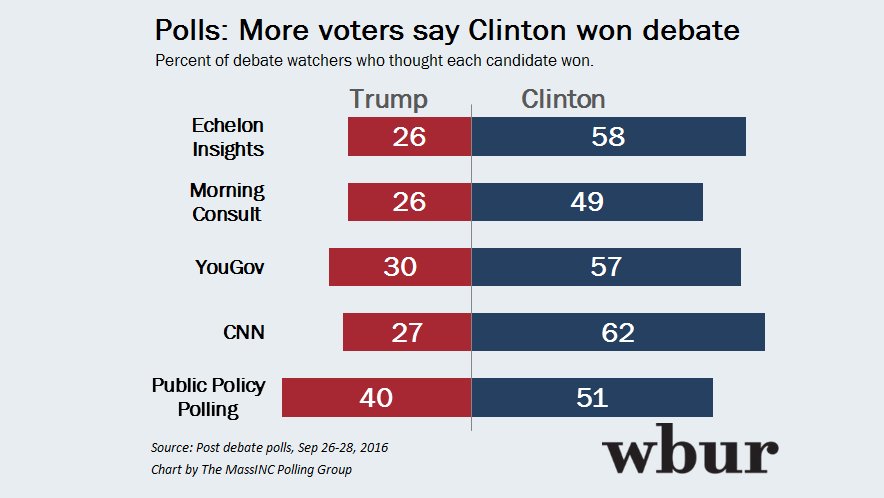 NEXT THURSDAY
Trump Transition Team Meeting with Silicon Valley VIPs
5 hours ago
THE DETAILS
Donald Trump's "transition team will meet next week with representatives of the tech industry, multiple sources confirmed, even as their candidate largely has been largely shunned by Silicon Valley. The meeting, scheduled for next Thursday at the offices of law and lobbying firm BakerHostetler, will include trade groups like the Information Technology Industry Council and the Internet Association that represent major Silicon Valley companies."