For the first time since fed­er­al law­men killed a wo­man sev­en months ago on Cap­it­ol Hill by shoot­ing her after a car chase, a po­lice uni­on of­fi­cial is de­fend­ing the of­ficers for their "split-second de­cision."
U.S. Cap­it­ol Po­lice Labor Com­mit­tee Chair­man James Kon­czos, in a state­ment provided this week to Na­tion­al Journ­al, cau­tioned that he could not com­ment in depth be­cause of the on­go­ing Justice De­part­ment in­vest­ig­a­tion in­to the Oct. 3 pur­suit and shoot­ing death of Miri­am Carey, 34, of Stam­ford, Conn.
But after months of si­lence from the uni­on, Kon­czos said, "We do sup­port our of­ficers. Based on the cir­cum­stances, they had to make a split-second de­cision on the facts they had at that time."
Kon­czos ad­ded: "Their in­volve­ment was hap­pen­ing in 'real time,' so they were not af­forded the lux­ury [of time] of those second-guess­ing their ac­tions. It is easy to throw hy­po­thet­ic­al op­tions around after the fact."
Eric Sanders, a New York-based law­yer rep­res­ent­ing the Carey fam­ily and es­tate, said Thursday he was un­im­pressed. A former po­lice of­ficer, Sanders has filed a pre­lim­in­ary wrong­ful-death claim against the fed­er­al gov­ern­ment, the Secret Ser­vice, and the Cap­it­ol Po­lice.
Sanders said the char­ac­ter­iz­a­tion of the of­ficers who fired their weapons that day as mak­ing a "split-second" de­cision is "clearly de­signed" to cloak the case in court rul­ings that give po­lice more lee­way in some in­stances — par­tic­u­larly in in­stances where they are de­fend­ing them­selves. But in this case, he as­serts, the ar­gu­ment doesn't fit.
An autopsy re­port shows Carey was ul­ti­mately hit by five shots: one to the back of her head, three in her back, and one to her left arm. Sanders says he be­lieves as many as sev­en shots were fired at Carey from at least two dif­fer­ent loc­a­tions on Cap­it­ol Hill — all while Carey was still in the car and her 14-month-old daugh­ter was sit­ting in the rear seat. The child was not wounded.
Sanders con­tends the shoot­ing was not jus­ti­fied and that the fed­er­al of­ficers "pan­icked" and vi­ol­ated reg­u­la­tions and stand­ards in fir­ing on a mov­ing vehicle after a street en­counter that began when Carey re­fused to stop her black In­fin­iti at a check­point near the White House and made a U-turn. "The prob­lem is, they had time to as­sess this situ­ation. It's one thing to say someone sud­denly came up to you, en­gaged you, and it was a 'bang-bang' situ­ation," said Sanders. "This is a car that had been driv­ing from the White House, and a wo­man driv­ing away."
Po­lice doc­u­ments filed in fed­er­al court say the chase star­ted near the White House after Carey drove over a bi­cycle rack placed in front of her vehicle by a Secret Ser­vice of­ficer, knock­ing the of­ficer to the ground. She sped to­ward Cap­it­ol Hill and jumped a curb at the Gar­field traffic circle, on Mary­land Av­en­ue near the Cap­it­ol re­flect­ing pool. Sources have said the of­ficers thought the driver might try to drive up to the steps of the Cap­it­ol, so they sur­roun­ded the vehicle. Carey re­spon­ded by put­ting her car in re­verse and strik­ing a po­lice vehicle. At that point, of­ficers from the Secret Ser­vice and Cap­it­ol Po­lice "dis­charged their ser­vice weapons at the vehicle," ac­cord­ing to a po­lice af­fi­davit.
Carey then drove to­ward the Sen­ate of­fice build­ings at 2nd Street and Con­sti­tu­tion Av­en­ue, jumped a me­di­an, and went in­to re­verse down Mary­land Av­en­ue, again re­fus­ing to stop her car. At this point, ac­cord­ing to the po­lice af­fi­davit, of­ficers "fired sev­er­al rounds in­to the sus­pect vehicle, strik­ing de­cedent."
The Justice De­part­ment is con­tinu­ing to in­vest­ig­ate the in­cid­ent. A source with ties to the case said the de­part­ment's find­ings will be re­leased with­in the next few weeks. A spokes­man for the U.S. At­tor­ney's Of­fice, Wil­li­am Miller, would not con­firm that.
"The in­vest­ig­a­tion is con­tinu­ing and the U.S. At­tor­ney's Of­fice has no fur­ther com­ment at this time," said Miller on Thursday.
The two Secret Ser­vice agents in­volved in the shoot­ing re­main on duty, and the agency has de­clined pub­lic com­ment.
Mean­while, Cap­it­ol Po­lice spokes­wo­man Lt. Kim­berly Schneider re­it­er­ated Thursday that her agency "does not com­ment on pending lit­ig­a­tion and does not com­ment on pending in­vest­ig­a­tions."
Ex­actly how many Cap­it­ol Po­lice of­ficers dis­charged their weapons has not been pub­licly re­leased, but she said those in­volved con­tin­ue to be on ad­min­is­trat­ive leave.
The autopsy res­ults show Carey, a dent­al as­sist­ant, had no drugs or al­co­hol in her sys­tem when she was killed. But a leg­al source sup­port­ive of the au­thor­it­ies in­volved in the in­cid­ent and who has know­ledge of the case says an un­answered ques­tion is why she was in Wash­ing­ton that day.
"Only be­cause of her con­duct did she find her­self in this situ­ation," he said of Carey.
"I'm not a hol­ster-sniffer; I don't give law en­force­ment ex­tra le­ni­ency," he ad­ded. "But this was a good shoot. "¦ These cops are her­oes."
What We're Following See More »
UNTIL DEC. 9, ANYWAY
Obama Signs Bill to Fund Government
4 hours ago
REDSKINS IMPLICATIONS
SCOTUS to Hear Case on Offensive Trademarks
4 hours ago
WHY WE CARE
"The Supreme Court is taking up a First Amendment clash over the government's refusal to register offensive trademarks, a case that could affect the Washington Redskins in their legal fight over the team name. The justices agreed Thursday to hear a dispute involving an Asian-American rock band called the Slants, but they did not act on a separate request to hear the higher-profile Redskins case at the same time." Still, any precedent set by the case could have ramifications for the Washington football team.
STAFF PICKS
Bannon Still Collecting Royalties from 'Seinfeld'
6 hours ago
WHY WE CARE
The Hollywood Reporter takes a look at a little-known intersection of politics and entertainment, in which Trump campaign CEO Steve Bannon is still raking in residuals from Seinfeld. Here's the digest version: When Seinfeld was in its infancy, Ted Turner was in the process of acquiring its production company, Castle Rock, but he was under-capitalized. Bannon's fledgling media company put up the remaining funds, and he agreed to "participation rights" instead of a fee. "Seinfeld has reaped more than $3 billion in its post-network afterlife through syndication deals." Meanwhile, Bannon is "still cashing checks from Seinfeld, and observers say he has made nearly 25 times more off the Castle Rock deal than he had anticipated."
IT'S ALL CLINTON
Reliable Poll Data Coming in RE: Debate #1
6 hours ago
WHY WE CARE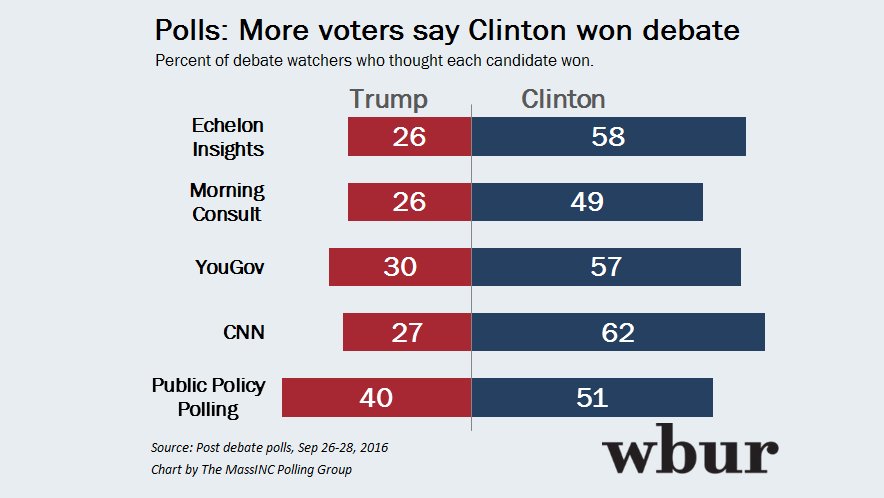 NEXT THURSDAY
Trump Transition Team Meeting with Silicon Valley VIPs
8 hours ago
THE DETAILS
Donald Trump's "transition team will meet next week with representatives of the tech industry, multiple sources confirmed, even as their candidate largely has been largely shunned by Silicon Valley. The meeting, scheduled for next Thursday at the offices of law and lobbying firm BakerHostetler, will include trade groups like the Information Technology Industry Council and the Internet Association that represent major Silicon Valley companies."