Elec­tion Day 2016 may be 916 days away, but if she de­cides to run, things will start to speed up quickly for former Sec­ret­ary of State Hil­lary Clin­ton, with a book tour and en­su­ing chain of events that could keep her oc­cu­pied un­til voters head to the polls in Novem­ber 2016.
In fact, the next five weeks and then a va­ca­tion planned for Au­gust could be among Clin­ton's last few mo­ments of re­l­at­ive peace and quiet for the next two and a half years — or po­ten­tially a dec­ade if things go really well for her.
Clin­ton has nev­er really stepped out of the pub­lic eye and is not one to rest idle, but she's en­joyed more pri­vacy since leav­ing gov­ern­ment. She's filled her time with "beaches and speeches," as she of­ten quips, trav­el­ing around the coun­try col­lect­ing awards and heady speak­ing fees (while dodging the oc­ca­sion­al shoe).
When not trav­el­ing, she's de­voted her­self to pet pro­jects at the Clin­ton fam­ily's char­it­able found­a­tion, in­clud­ing de­cidedly non­polit­ic­al ef­forts like work­ing to save ele­phants from poach­ers in Africa.
She and her skel­et­on crew of few­er than 10 aides can tightly con­trol her sched­ule and ac­cess to the me­dia, keep­ing her at least partly out of the gaze of a press with whom she's had a fam­ously rocky re­la­tion­ship.
But all that will change soon when Clin­ton launches a tour to pro­mote her new mem­oir, Hard Choices, which is sched­uled for re­lease on June 10. In 2003, when her last book, Liv­ing His­tory, came out, that meant vis­it­ing two dozen cit­ies across the coun­try, greet­ing fans for hours at a time, and sign­ing so many cop­ies that she had to dunk her hands in ice wa­ter at the end of the day to dull the pain.
Liv­ing His­tory was re­leased on June 9 of that year, al­most the ex­act same date as Hard Choices, and it kept her on the road un­til mid-Au­gust. That's just about the time that Hil­lary and Bill Clin­ton are ex­pec­ted to re­treat to a ren­ted va­ca­tion home on Long Is­land.
Fol­low­ing a brief res­pite, Clin­ton is ex­pec­ted to hit the trail on be­half of 2014 can­did­ates some­time after Labor Day. While it re­mains to be seen what she'll be do­ing this year for Demo­crats, even a re­l­at­ively light sched­ule of fun­draisers and speeches that keeps her off the stump would put her squarely in the polit­ic­al fray that she's tried hard to avoid since leav­ing gov­ern­ment.
So far, she's lim­ited her polit­ic­al activ­ity to close friends — like the 2013 cam­paign for Vir­gin­ia Gov. Terry McAul­iffe — and fam­ily. Her first for­ay in­to the 2014 cycle comes on be­half of Pennsylvania con­gres­sion­al can­did­ate Mar­jor­ie Mar­gol­ies, the moth­er of Chelsea Clin­ton's hus­band, Marc Mezv­in­sky.
After the midterm elec­tion, if Clin­ton has not ruled out a pres­id­en­tial run, the pres­sure on her will only in­crease as the polit­ic­al world turns its full at­ten­tion to 2016. Pres­id­en­tial can­did­ates typ­ic­ally an­nounce in the first half of the year fol­low­ing the last midterm, and the trend has only moved earli­er. Clin­ton an­nounced her 2008 bid in late Janu­ary 2007, and then-Sen. Barack Obama fol­lowed close be­hind in Feb­ru­ary.
Clin­ton can't an­nounce be­fore the midterm, but with so much an­ti­cip­a­tion and such a strong po­s­i­tion, many ex­pect her to fol­low her script from 2008 and an­nounce soon­er rather than later.
From there, she'd be off to lock­ing up sup­port in early primary states, with the Iowa caucuses and New Hamp­shire primary just about a year away. If Clin­ton re­mains as strong in a Demo­crat­ic primary as she's ex­pec­ted to be, the gen­er­al elec­tion might also get un­der way even soon­er than usu­al, with Re­pub­lic­ans look­ing to take shots at her.
It seems far away, but the elec­tion is sneak­ing up every day. There may be pock­ets of rest some­where here and there, but un­less Clin­ton drops out be­fore then, she's look­ing at a mara­thon to 2016 that kicks off in just over a month.
What We're Following See More »
UNTIL DEC. 9, ANYWAY
Obama Signs Bill to Fund Government
4 hours ago
REDSKINS IMPLICATIONS
SCOTUS to Hear Case on Offensive Trademarks
4 hours ago
WHY WE CARE
"The Supreme Court is taking up a First Amendment clash over the government's refusal to register offensive trademarks, a case that could affect the Washington Redskins in their legal fight over the team name. The justices agreed Thursday to hear a dispute involving an Asian-American rock band called the Slants, but they did not act on a separate request to hear the higher-profile Redskins case at the same time." Still, any precedent set by the case could have ramifications for the Washington football team.
STAFF PICKS
Bannon Still Collecting Royalties from 'Seinfeld'
5 hours ago
WHY WE CARE
The Hollywood Reporter takes a look at a little-known intersection of politics and entertainment, in which Trump campaign CEO Steve Bannon is still raking in residuals from Seinfeld. Here's the digest version: When Seinfeld was in its infancy, Ted Turner was in the process of acquiring its production company, Castle Rock, but he was under-capitalized. Bannon's fledgling media company put up the remaining funds, and he agreed to "participation rights" instead of a fee. "Seinfeld has reaped more than $3 billion in its post-network afterlife through syndication deals." Meanwhile, Bannon is "still cashing checks from Seinfeld, and observers say he has made nearly 25 times more off the Castle Rock deal than he had anticipated."
IT'S ALL CLINTON
Reliable Poll Data Coming in RE: Debate #1
6 hours ago
WHY WE CARE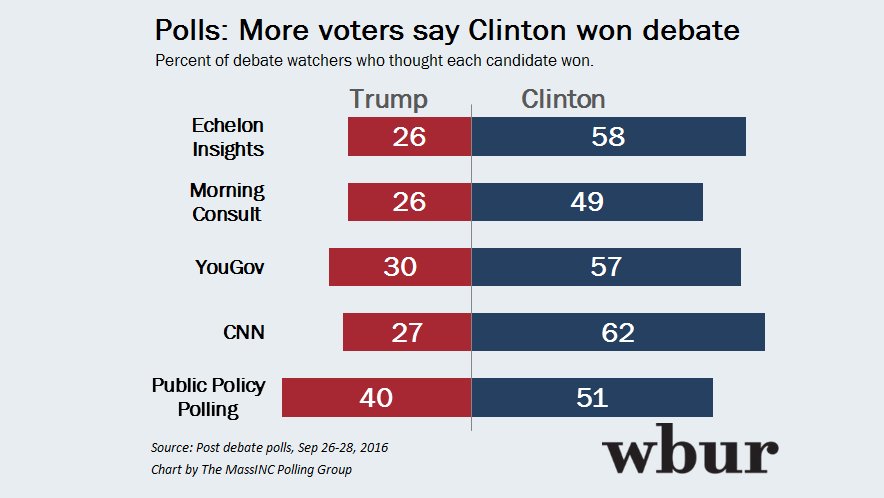 NEXT THURSDAY
Trump Transition Team Meeting with Silicon Valley VIPs
8 hours ago
THE DETAILS
Donald Trump's "transition team will meet next week with representatives of the tech industry, multiple sources confirmed, even as their candidate largely has been largely shunned by Silicon Valley. The meeting, scheduled for next Thursday at the offices of law and lobbying firm BakerHostetler, will include trade groups like the Information Technology Industry Council and the Internet Association that represent major Silicon Valley companies."