The Ukrain­i­an eco­nomy is in free fall. To slow in­fla­tion rates and pro­tect the value of the coun­try's cur­rency, which has hit a five-year low, Ukraine's cent­ral bank has been hik­ing in­terest rates.
So far, the pro­gnos­is is not good.
But the United States can of­fer a rem­edy for the cash-strapped na­tion, ac­cord­ing to Sen. Marco Ru­bio: strength­en­ing Ukraine's cur­rency, the hryvnia. In a Wall Street Journ­al op-ed pub­lished Monday night, the Re­pub­lic­an from Flor­ida pro­posed that the U.S. en­cour­age the es­tab­lish­ment of a Ukrain­i­an cur­rency board, a type of ar­range­ment that pegs the value of a troubled cur­rency to a more stable one — such as the dol­lar or the euro.
Here's how it works, as ex­plained re­cently by eco­nom­ist Judy Shelton in the same pa­per:
A cur­rency board is an ex­change-rate ar­range­ment whereby the mon­et­ary au­thor­ity is re­quired to ex­change loc­al cur­rency for the for­eign an­chor cur­rency at a fixed ex­change rate. Ab­so­lute, un­lim­ited con­vert­ib­il­ity must be main­tained to en­sure that all hold­ers of the na­tion's notes and coins can con­vert them in­to the an­chor cur­rency on de­mand; this is best achieved by hold­ing re­serves equal to 100% of the na­tion's mon­et­ary base or slightly more.

Un­der a cur­rency board, there is no cent­ral bank to in­ter­vene in for­eign-ex­change mar­kets or ma­nip­u­late in­terest rates.
A cur­rency board, Ru­bio wrote, would help sta­bil­ize the hryvnia. The pos­it­ive ef­fects of that would then trickle down to the rest of the eco­nomy.
"For­eign in­vestors could have con­fid­ence that the hryvnia is not in a death spir­al, and Ukrain­i­ans would know that [Rus­si­an Pres­id­ent Vladi­mir] Putin can­not an­ni­hil­ate the value of their per­son­al sav­ings," the sen­at­or said. "Such sta­bil­ity would en­cour­age the na­tion un­der siege to main­tain its faith in free people and free mar­kets."
Un­der Ru­bio's pro­pos­al, the Treas­ury De­part­ment and the In­ter­na­tion­al Mon­et­ary Fund would work to­geth­er to cre­ate the cur­rency board. Ukrain­i­an of­fi­cials would run the sys­tem, but the IMF would provide "tech­nic­al ex­per­i­ence" to make sure it op­er­ates smoothly.
To near-bank­rupt Ukraine, the idea of a cur­rency board may not sound un­reas­on­able. Its na­tion­al bank has pre­vi­ously looked to the dol­lar in its at­tempts to man­age the ex­change-rate value of the hryvnia. And es­tab­lish­ing a board would mean the hryvnia would be, for a time, im­mune to cur­rency woes. The move also co­in­cides with the in­ter­im Ukrain­i­an gov­ern­ment's main mes­sage: pre­serving the na­tion's sov­er­eignty. "If Ukraine were to will­ingly em­brace the dis­cip­line and ac­count­ab­il­ity in­her­ent in a cur­rency board," Shelton wrote, "it would send a sig­nal of eco­nom­ic self-as­sur­ance and un­der­ly­ing faith in the pro­duct­ive po­ten­tial of its people."
Hand­ing over some of the reins, however, means Ukraine will have less con­trol over its do­mest­ic mon­et­ary policy, which could be­come prob­lem­at­ic as its lead­ers try to nav­ig­ate a crisis.
Cur­rency boards have a proven track re­cord in East­ern Europe. Es­to­nia owes much of its eco­nom­ic suc­cess to its cur­rency boards. Between 1992 and 1999, the Es­to­ni­an kroon was fixed to the deutsche mark, and then be­came pegged to the euro un­til 2011. Bul­garia, Lithuania, and Bos­nia-Herzegov­ina also main­tain cur­rency boards, an­chor­ing their cur­rency to the euro.
"This is where Amer­ica and our European al­lies can throw a wrench in­to Mr. Putin's designs, rather than stand­ing idly by as the hryvnia col­lapses un­der phys­ic­al and psy­cho­lo­gic­al in­tim­id­a­tion from Rus­sia," Ru­bio wrote.
He's right, at least in part. Giv­ing Ukraine some fin­an­cial ad­vice won't stop Putin from wa­ter­ing the seeds of destabil­iz­a­tion in east­ern Ukraine. But West­ern in­volve­ment could an­noy the Rus­si­an pres­id­ent, as it usu­ally does, which risks re­tali­ation from Mo­scow. Es­to­nia even­tu­ally switched its cur­rency over to the euro in 2011, and Lithuania plans to do the same next year. Set­ting up a cur­rency board in Ukraine, wheth­er it's anchored to the dol­lar or the euro, in­vites West­ern in­flu­ence in­to Putin's back­yard, something that he has al­ways wanted to pre­vent.
What We're Following See More »
UNTIL DEC. 9, ANYWAY
Obama Signs Bill to Fund Government
4 hours ago
REDSKINS IMPLICATIONS
SCOTUS to Hear Case on Offensive Trademarks
4 hours ago
WHY WE CARE
"The Supreme Court is taking up a First Amendment clash over the government's refusal to register offensive trademarks, a case that could affect the Washington Redskins in their legal fight over the team name. The justices agreed Thursday to hear a dispute involving an Asian-American rock band called the Slants, but they did not act on a separate request to hear the higher-profile Redskins case at the same time." Still, any precedent set by the case could have ramifications for the Washington football team.
STAFF PICKS
Bannon Still Collecting Royalties from 'Seinfeld'
6 hours ago
WHY WE CARE
The Hollywood Reporter takes a look at a little-known intersection of politics and entertainment, in which Trump campaign CEO Steve Bannon is still raking in residuals from Seinfeld. Here's the digest version: When Seinfeld was in its infancy, Ted Turner was in the process of acquiring its production company, Castle Rock, but he was under-capitalized. Bannon's fledgling media company put up the remaining funds, and he agreed to "participation rights" instead of a fee. "Seinfeld has reaped more than $3 billion in its post-network afterlife through syndication deals." Meanwhile, Bannon is "still cashing checks from Seinfeld, and observers say he has made nearly 25 times more off the Castle Rock deal than he had anticipated."
IT'S ALL CLINTON
Reliable Poll Data Coming in RE: Debate #1
6 hours ago
WHY WE CARE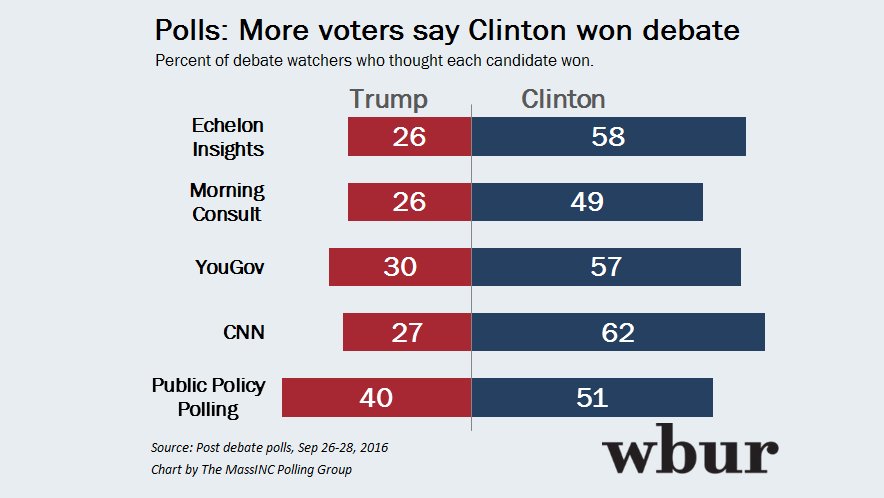 NEXT THURSDAY
Trump Transition Team Meeting with Silicon Valley VIPs
8 hours ago
THE DETAILS
Donald Trump's "transition team will meet next week with representatives of the tech industry, multiple sources confirmed, even as their candidate largely has been largely shunned by Silicon Valley. The meeting, scheduled for next Thursday at the offices of law and lobbying firm BakerHostetler, will include trade groups like the Information Technology Industry Council and the Internet Association that represent major Silicon Valley companies."