The world's largest tech­no­logy com­pan­ies are com­ing out in force against the Fed­er­al Com­mu­nic­a­tions Com­mis­sion's pro­posed reg­u­la­tions of In­ter­net ac­cess.
In a let­ter to the FCC Wed­nes­day, Google, Face­book, Amazon, Mi­crosoft, Twit­ter, Ya­hoo, Net­flix, and dozens of oth­er com­pan­ies warned that the FCC's plan to al­low In­ter­net ser­vice pro­viders to charge web­sites for faster ser­vice in some cases "rep­res­ents a grave threat to the In­ter­net."
"In­stead of per­mit­ting in­di­vidu­al­ized bar­gain­ing and dis­crim­in­a­tion, the Com­mis­sion's rules should pro­tect users and In­ter­net com­pan­ies on both fixed and mo­bile plat­forms against block­ing, dis­crim­in­a­tion, and paid pri­or­it­iz­a­tion, and should make the mar­ket for In­ter­net ser­vices more trans­par­ent," the com­pan­ies wrote.
"Such rules are es­sen­tial for the fu­ture of the In­ter­net."
It's not yet clear wheth­er the tech gi­ants are plan­ning any lar­ger protest of the pro­posed net-neut­ral­ity rules. Many of the same com­pan­ies par­ti­cip­ated in a massive protest in 2012 that de­railed the con­tro­ver­sial Stop On­line Pir­acy Act, or SOPA. Google, for ex­ample, blacked out the logo on its home page (the most vis­ited web­site in the world) and col­lec­ted 7 mil­lion pe­ti­tion sig­na­tures in a single day.
Two Demo­crat­ic FCC com­mis­sion­ers also ex­pressed con­cern with the pro­pos­al on Wed­nes­day, throw­ing the reg­u­la­tions in­to jeop­ardy. FCC Chair­man Tom Wheel­er will need both Demo­crat­ic votes to move the planned reg­u­la­tions for­ward at a meet­ing next Thursday.
The FCC first en­acted net-neut­ral­ity rules in 2010, but the D.C. Cir­cuit Court of Ap­peals struck them down in Janu­ary. Wheel­er is try­ing to re­work the rules in a way that can sur­vive fu­ture court chal­lenges.
His pro­pos­al would ban In­ter­net ser­vice pro­viders from block­ing web­sites but would al­low them to charge for spe­cial "fast lanes" as long as the ar­range­ments are "com­mer­cially reas­on­able."
Wheel­er ar­gues that his pro­pos­al is on strong leg­al ground and would pre­vent ab­uses.
What We're Following See More »
SAUDI ARABIA BILL
Veto Override Scheduled for Wednesday in Senate
14 minutes ago
THE LATEST
Senate Majority Leader Mitch McConnell said this afternoon that the Senate on Wednesday will take up an override of President Obama's veto of legislation that would allow the families of 9/11 victims to sue the government of Saudi Arabia. "The vote is expected garner the two-thirds majority necessary to override the veto."
MEDIA SHOULD HOLD TRUMP RESPONSIBLE
Reid Devotes Senate Floor Speech to Trump's 'Racism'
58 minutes ago
THE LATEST
"Donald Trump is a racist," announced Senate Minority Leader Harry Reid from the Senate floor this afternoon. Reid said all of us are occasionally politically incorrect, but "I don't know of anyone that when that happens doesn't acknowledge it and, if necessary, apologize quickly." But Trump, he added, says things with "full intent to demean and to denigrate." Reid argued that the media isn't holding Trump to account, and should explicitly call him a racist.
ABSENT FROM LIST: GENNIFER FLOWERS
Most Trump Guests Have Military Ties
4 hours ago
TOP OF MIND
Trending on Google: 'Why Should Trump Not Be President'
4 hours ago
THE DETAILS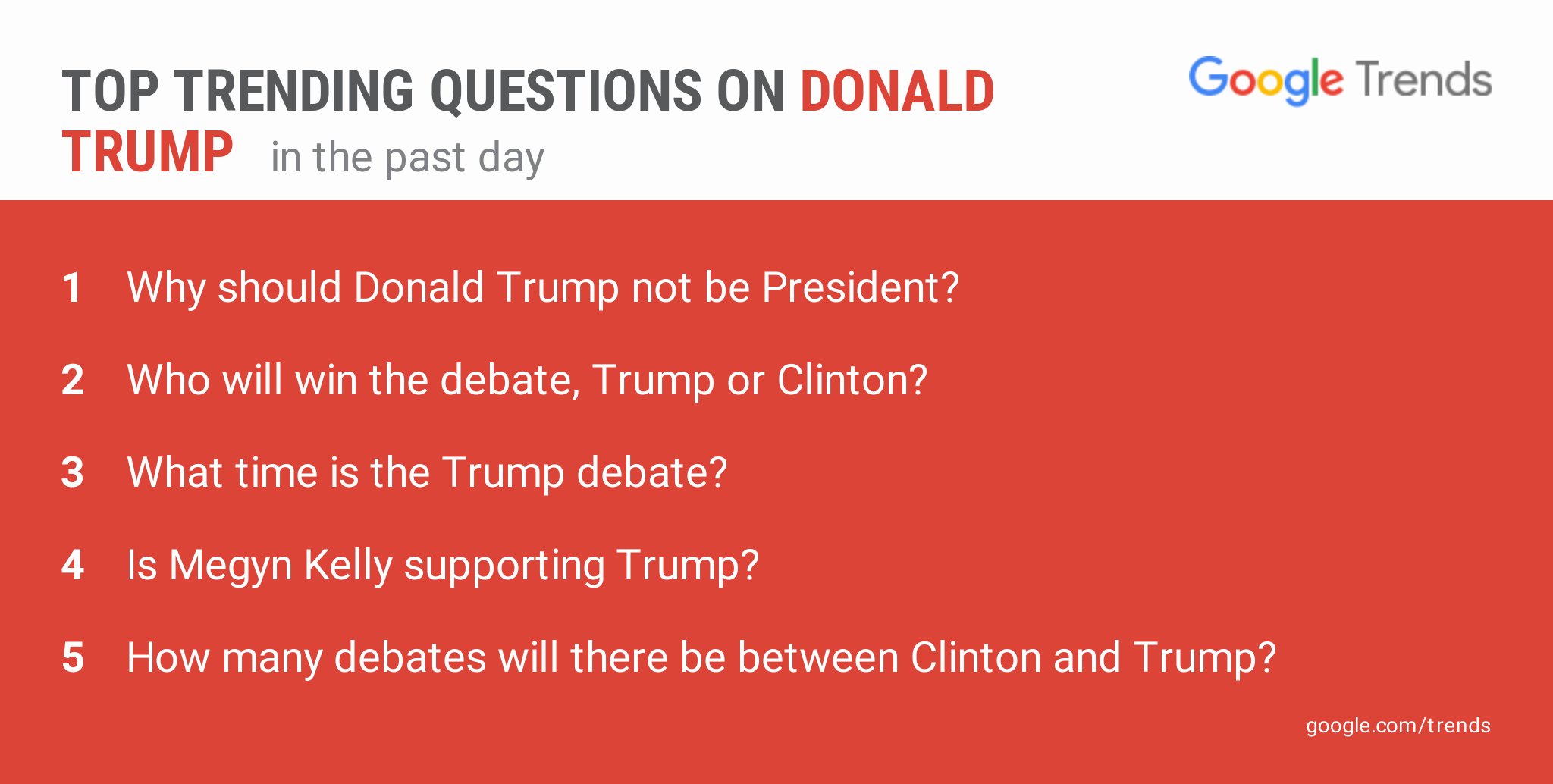 WHO PLAYED THE DONALD?
Longtime Clinton Aide Played Trump in Mock Debates
7 hours ago
THE DETAILS
After keeping the information private for most of the lead-up to the debate on Monday, it has been revealed that longtime Clinton aide Philippe Reines has been playing the role of Donald Trump in her debate prep. Reines knows Clinton better than most, able to identify both her strengths and weaknesses, and his selection for a sparring partner shows that Clinton is preparing for the brash and confrontational Donald Trump many have come to expect.