In the battle for the most gen­er­ous states, the lead­ers de­pend on how you're meas­ur­ing it.
Gal­lup on Thursday re­leased a poll that sur­veyed at least 600 people in each state ask­ing how many have re­cently donated money to char­ity or vo­lun­teered their time. It found that Utah is by and large the most char­it­able state, with 71 per­cent of Uta­hans say­ing they donated money re­cently, while 56 per­cent say they vo­lun­teered time, and 48 per­cent say they did both.
The rest of the sur­vey, which was con­duc­ted between June and Decem­ber 2013, shows high per­cent­ages of people from Min­nesota, Hawaii, South Dakota, and New Hamp­shire say­ing they vo­lun­teer and donate money. Round­ing out the bot­tom of Gal­lup's list are New York, Mis­sis­sippi, Ari­zona, Nevada, and Ken­tucky.
Gal­lup ar­gues there is a cor­rel­a­tion between states that give more and score high­er on rates of well-be­ing, and states that give less and have lower levels of well-be­ing.
There is a dif­fer­ence, however, between say­ing that you're will­ing to give your time and money and ac­tu­ally giv­ing it.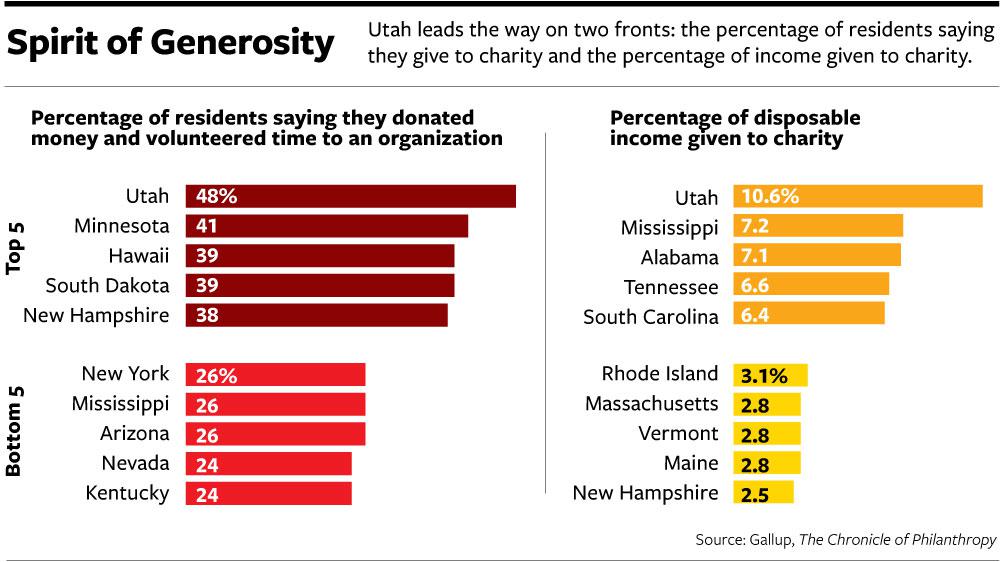 This is where ana­lys­is from the Chron­icle of Phil­an­thropy comes in handy. Us­ing pub­lic In­tern­al Rev­en­ue Ser­vice data on item­ized char­it­able con­tri­bu­tions, it found that Utah is still the lead­ing char­it­able state, giv­ing more of its me­di­an dis­cre­tion­ary in­come to char­ity than any oth­er state.
It makes sense that Utah would top both lists, con­sid­er­ing its large Mor­mon pop­u­la­tion. The Church of Je­sus Christ of Lat­ter-day Saints asks its fol­low­ers to donate 10 per­cent of their in­come. Fit­tingly, ac­cord­ing to Chron­icle data, people in Utah gave 10.6 per­cent of their dis­cre­tion­ary in­come, which is more than 3 per­cent­age points high­er than the next state.
But the rest of the data shows a dif­fer­ent story from the Gal­lup Poll. The next four states in the Chron­icle ana­lys­is are Mis­sis­sippi (7.2 per­cent), Alabama (7.1 per­cent), Ten­ness­ee (6.6 per­cent), and South Car­o­lina (6.4 per­cent), which aren't in the top 20 of Gal­lup's char­it­able list.
The top four states from Gal­lup — Min­nesota, Hawaii, South Dakota, and New Hamp­shire — sim­il­arly are not in the top 20 of the Chron­icle list. This just shows the dif­fer­ence between the amounts of money people are giv­ing, as com­pared to wheth­er or not people from those states say they are likely to give.
One thing to keep in mind with the Chron­icle data, however, is that it meas­ures item­ized de­duc­tions. For those who gave money and did not file an item­ized tax re­turn, that data is un­avail­able.
So, there's no clear met­ric on gen­er­os­ity across the coun­try. However, Gal­lup, in its ana­lys­is, does point out that Amer­ic­ans are some of the most civically en­gaged in the world, with high num­bers of people say­ing they donate money, vo­lun­teer, and have even helped a stranger.
Contributions by Brian McGill