Part One in a series on the Vet­er­ans Af­fairs De­part­ment. Read Part Two and Part Three.
The fail­ures of the Vet­er­ans Af­fairs De­part­ment are a mor­al ab­om­in­a­tion: They leave sol­diers wounded at war to wait in long lines for the pay­ments they need to fund their care.
And VA fail­ures are un­der new scru­tiny amid re­ports of a string of pre­vent­able deaths among vet­er­ans and a grow­ing polit­ic­al con­tro­versy around them — and many in Con­gress are point­ing a fin­ger in the White House's dir­ec­tion.
So why has Pres­id­ent Obama failed to fix the back­log of vet­er­ans' dis­ab­il­ity claims after five years in of­fice? More than 300,000 claims to the VA have been pending for 125 days or more, a time stamp that puts them in the agency's of­fi­cial defin­i­tion of "back­logged." 
And why did a long line of Obama's pre­de­cessors — Re­pub­lic­an and Demo­crat­ic alike — end their own ten­ures without fix­ing the prob­lem?
In short, be­cause fix­ing the VA back­log isn't just a ques­tion of put­ting the prop­er re­sources in­to an over­whelmed agency. Solv­ing it would re­quire not only un­tangling a Gor­d­i­an knot of dys­func­tion­al bur­eau­cracy sur­round­ing the VA claims sys­tem and dec­ades of neg­lect, it would also mean over­com­ing a per­fect storm of factors in the past few years that has made the prob­lem much, much worse.
The VA re­ceived 1 mil­lion new claims dur­ing Obama's first year in of­fice — the most it had ever re­ceived at one time — and the count climbed from there. An­nu­al claims peaked in 2011 at 1.3 mil­lion, fall­ing to 1.04 mil­lion claims re­ceived in 2013.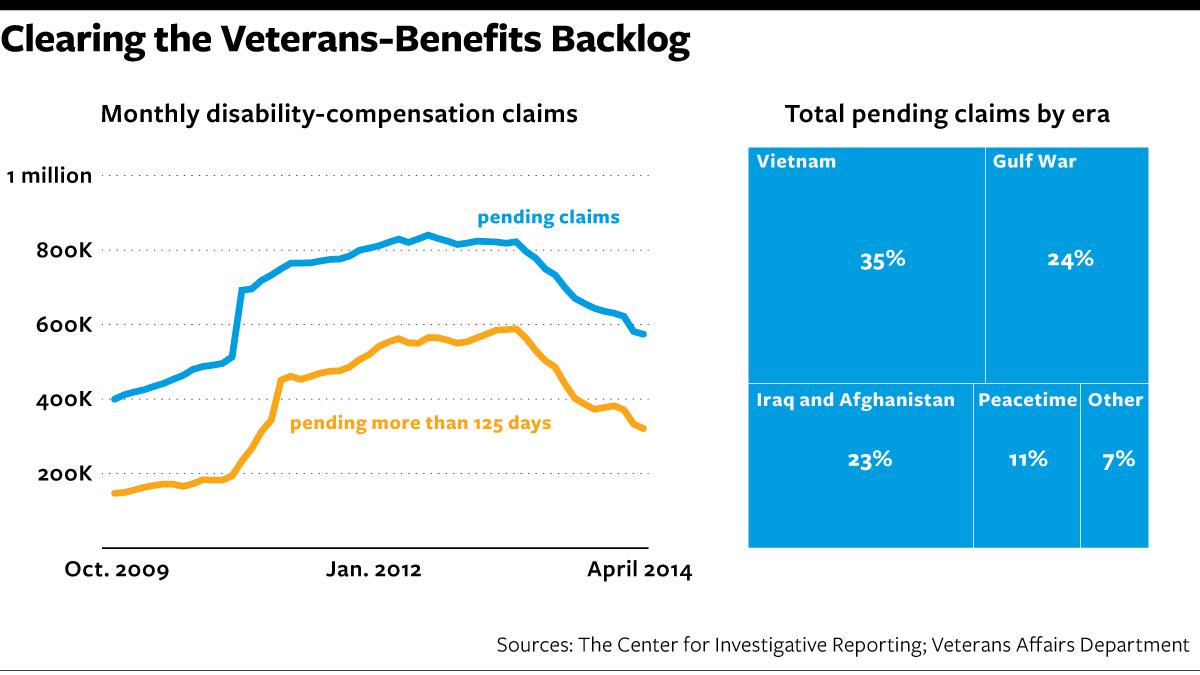 What's driv­ing the sur­ging num­ber of claims? In short, a pair of wars that have cre­ated more vet­er­ans and new Obama ad­min­is­tra­tion rules that have made vet­er­ans from all wars eli­gible for more dis­ab­il­ity com­pens­a­tion.
The VA is deal­ing with a sud­den in­flux of Afgh­anistan and Ir­aq vet­er­ans as the U.S. draws down its troop levels. Nearly 970,000 Ir­aq and Afgh­anistan war vet­er­ans de­ployed over­seas since 9/11 have filed a dis­ab­il­ity claim, ac­cord­ing to a Free­dom of In­form­a­tion Act re­quest re­leased to Vet­er­ans for Com­mon Sense this month by the Vet­er­ans Be­ne­fits Ad­min­is­tra­tion.
And due to med­ic­al ad­vances, many ser­vice mem­bers who would have died from their in­jur­ies in past wars are now be­ing saved, but they are re­turn­ing home with more nu­mer­ous and more com­plic­ated in­jur­ies. Vi­et­nam vet­er­ans typ­ic­ally claimed three or four in­jur­ies. Now a single vet­er­an from Ir­aq or Afgh­anistan routinely sub­mits a claim with the num­ber of in­jur­ies in the double di­gits.
Mean­while, the Obama ad­min­is­tra­tion has also changed the rules to give more be­ne­fits to vet­er­ans. In 2010, the ad­min­is­tra­tion ex­pan­ded cov­er­age re­lated to ex­pos­ure to Agent Or­ange, a Vi­et­nam War-era de­fo­li­ant that has cre­ated a vast list of health prob­lems. Vet­er­ans have long tied an as­sort­ment of ill­nesses to Agent Or­ange, and now more of those ill­nesses are covered.
Ad­di­tion­ally, the ad­min­is­tra­tion made it easi­er for vet­er­ans to get cov­er­age for posttrau­mat­ic-stress dis­order, a dis­ease less eas­ily dia­gnosed and ad­ju­dic­ated than phys­ic­al in­jur­ies. Since 2010, ser­vice mem­bers no longer have to provide doc­u­ment­a­tion that sup­ports their PTSD claims. In­stead, a doc­tor per­forms an ex­am to de­term­ine that the vet­er­an's symp­toms are re­lated to PTSD and that the cause of the PTSD, such as be­ing un­der at­tack, is con­sist­ent with the vet­er­an's mil­it­ary du­ties.
Not all of the VA's prob­lems, however, come from ex­tern­al factors. The agency is haunted by its pain­fully slow em­brace of tech­no­logy: It did not have a di­git­al way to pro­cess claims na­tion­wide un­til 2013, and it long handled claims with a pa­per fil­ing sys­tem. Vic­tor­ia Dillon, a spokes­per­son for the VA, ac­know­ledged that "these of­fices used to be stacks of pa­pers every­where," with claim files "18 inches thick on av­er­age."
By com­par­is­on, the IRS rolled out its elec­tron­ic fil­ing sys­tem across the coun­try — al­beit with some prob­lems — in 1990.
The VA also uses a com­plex reg­u­lat­ory code for deal­ing with claims that slows down the pro­cess. "The reg­u­la­tion deal­ing with [trau­mat­ic brain in­jury] is so com­plic­ated that some people call it the 'Da Vinci Code,' " Ron­ald Ab­rams, joint ex­ec­ut­ive dir­ect­or for the Na­tion­al Vet­er­ans Leg­al Ser­vices Pro­gram, told law­makers late last year.
The VA at­temp­ted to solve the prob­lem by hir­ing more claims work­ers to handle the in­flux, but it takes ap­prox­im­ately two years to fully train a claims work­er to handle the com­plex pro­cess.
"Thou­sands of new PTSD and Agent Or­ange claims start­ing in 2010 over­whelmed an agency with a his­tory of poor plan­ning, chron­ic un­der­staff­ing, and a lack of train­ing," said Glenn R. Bergmann, a part­ner at Bergmann & Moore, a former VA lit­ig­at­or who rep­res­ents vet­er­ans with VA dis­ab­il­ity-claim ap­peals.
The Scope of the Prob­lem
In his first years in of­fice, Obama's VA was a dis­aster, as a flood of new claims over­whelmed an an­ti­quated pro­cess for hand­ling them. In 2009, there were about 423,000 claims at the VA, and the of­fi­cial back­log of claims that had been pending for more than four months sat near 150,470. By 2012, claims had ex­ploded to more than 883,000 — and 586,540 of those sat on the agency's back­log list.
But in re­cent years, the ad­min­is­tra­tion has made pro­gress in get­ting vet­er­ans more timely an­swers. The back­log list was cut to more than 300,000 as of May 10. If the VA main­tains the cur­rent av­er­age monthly rate, the back­log could van­ish by mid-2015. That would meet Vet­er­ans Af­fairs Sec­ret­ary Eric Shin­seki's 2010 pledge to elim­in­ate the back­log by the end of next year.
Crit­ics, however, say the shrink­ing back­log is something of a farce, the res­ult of an ad­min­is­trat­ive man­euver that has not de­livered res­ults for the vet­er­ans in the back­log, but has in­stead moved them in­to a dif­fer­ent wait­ing line. When tak­ing in­to con­sid­er­a­tion all VA claims, in­clud­ing those where the vet­er­ans died wait­ing for a de­cision, those stuck in ap­peals, and award ad­just­ments — of­ten adding a spouse or child — the VA's in­vent­ory of claims is much high­er, still hov­er­ing just un­der a whop­ping 1.3 mil­lion. (By com­par­is­on when Obama took of­fice in Janu­ary 2009, the in­vent­ory of claims was about half that amount: 631,000.)
As of May 10, the VA's num­ber of ap­pealed claims stood at 274,660, al­most 100,000 more than the 174,891 ap­peals in late 2009. Between 2012 and 2013, the num­ber of claims that ended up in ap­peal grew 5 per­cent, and between the end of 2013 and March 31, the num­ber of ap­peals kept rising 2.7 per­cent. Once in the ap­peals pro­cess, vet­er­ans can wait in limbo for an av­er­age of two and a half years.
Crit­ics con­tend that list is grow­ing be­cause, as the agency en­deavored to quickly work through the claims, it has made more er­rors.
The VA re­jects that charge, and says it ac­cur­ately pro­cesses 91 per­cent of all claims.
But the Of­fice of the In­spect­or Gen­er­al for the Vet­er­ans Af­fairs De­part­ment has is­sued sev­er­al re­ports since 2009 that say VA re­gion­al of­fices where claims are pro­cessed need to im­prove policy guid­ance, over­sight, man­age­ment, train­ing, and su­per­vis­ory re­view to im­prove the timeli­ness and ac­cur­acy of dis­ab­il­ity claims pro­cessing.
Find­ings in the OIG re­ports are damning. For ex­ample, in 2013 the OIG in­spec­ted 20 field of­fices it had pre­vi­ously in­spec­ted, and 17 con­tin­ued to be non­com­pli­ant with Vet­er­ans Be­ne­fits Ad­min­is­tra­tion policies. In Decem­ber, the OIG re­por­ted to Con­gress that it found er­rors in 29 per­cent of the trau­mat­ic brain-in­jury claims and 49 per­cent of the claims for a full dis­ab­il­ity rat­ing. But the OIG does hedge its cri­ti­cisms, ac­know­ledging in some of its 2013 field re­ports that it "sampled claims re­lated to spe­cif­ic con­di­tions that we con­sider at high­er risk of pro­cessing er­rors," and so the er­rors it iden­ti­fies "do not rep­res­ent … the over­all pro­cessing ac­cur­acy rate" at a spe­cif­ic field of­fice.
But vet­er­ans groups con­tend it's even worse.
"We've gone back, and I would say some­where in the neigh­bor­hood of 40 per­cent to 50 per­cent of the cases we found either con­flicts or er­rors as far as the way they were de­veloped or just in­ac­cur­ately rat­ing claims," said Zachary Hearn, the deputy dir­ect­or of be­ne­fits for the Le­gion, which rep­res­ents hun­dreds of thou­sands of vet­er­ans' claims cases.
The Hu­man Cost of Fail­ure
Whatever the back­log's size, it isn't a list of num­bers. It's a line of former sol­diers wait­ing for a ver­dict from the VA on wheth­er they will get help.
Jason Ay­ala was stuck in that line for nearly two years. The 31-year-old Ir­aq War vet­er­an served two tours with the Army. After his tours, he says he suffered from head­aches, neck and back pain, as well as PTSD — a res­ult of time spent un­der con­stant gun­fire and at risk of im­pro­vised ex­plos­ive devices.
But when he came to the VA for help, Ay­ala says he gave up the first time he tried, and only suc­ceeded after he re­turned from his second tour.
"I star­ted the pro­cess, you know; I went in there, and you're just sit­ting there."¦ All of the sud­den you feel like you're be­ing cat­egor­ized as someone who is com­plain­ing or whin­ing," Ay­ala said. "It just wasn't right. I did my time, I did my ser­vice."