Just when it looked like the New York Times Com­pany was fi­nally get­ting its act to­geth­er"¦ a huge per­son­nel change comes along to shake things up com­pletely.
The com­pany be­hind the "Grey Lady" an­nounced on its own web­site today (pay­wall) that its ex­ec­ut­ive ed­it­or, Jill Ab­ramson, is "un­ex­pec­tedly" leav­ing. She will be re­placed by man­aging ed­it­or Dean Baquet, who was pre­vi­ously the ed­it­or of the Los Angeles Times.
In­vestors don't seem to be tak­ing kindly to the news. The stock price had been un­der pres­sure be­fore the an­nounce­ment, but was at ses­sion lows at the time of writ­ing; it is down about 4.4% today, wip­ing out its gains for the year so far.
There is a massive amount of spec­u­la­tion on so­cial me­dia at the mo­ment as to why the shock de­par­ture is tak­ing place. Here is one of the NYT's own re­port­ers on the mat­ter:
The change was at­trib­uted, by Ar­thur Sulzber­ger Jr, to "an is­sue with man­age­ment in the news­room". No fur­ther de­tails yet. —
Ravi So­maiya (@rav­i­so­maiya) May 14, 2014
The Times' own Twit­ter list of its staffers is also worth fol­low­ing, if you like ob­sess­ing about this kind of thing.
Earli­er this month, Ar­thur Gregg Sulzber­ger, the son of the com­pany's chair­man, had led an in­nov­a­tion re­port in­to ways the news­room op­er­ates. It's not yet clear wheth­er this was in any way re­lated.
Ab­ramson has been in the top edit­ing po­s­i­tion at the times since late 2011. One of her four tat­toos is a let­ter "T" in the news­pa­per's font, on her back.
It's also worth not­ing that she is not the only top ed­it­or that has been ous­ted today. The ed­it­or-in-chief of France's top newpspa­pers, Le Monde, Nat­alie Nou­gayrède, also quit today, after a long-run­ning news­room con­flict over changes she was try­ing to in­tro­duce.
What We're Following See More »
UNTIL DEC. 9, ANYWAY
Obama Signs Bill to Fund Government
4 hours ago
REDSKINS IMPLICATIONS
SCOTUS to Hear Case on Offensive Trademarks
4 hours ago
WHY WE CARE
"The Supreme Court is taking up a First Amendment clash over the government's refusal to register offensive trademarks, a case that could affect the Washington Redskins in their legal fight over the team name. The justices agreed Thursday to hear a dispute involving an Asian-American rock band called the Slants, but they did not act on a separate request to hear the higher-profile Redskins case at the same time." Still, any precedent set by the case could have ramifications for the Washington football team.
STAFF PICKS
Bannon Still Collecting Royalties from 'Seinfeld'
5 hours ago
WHY WE CARE
The Hollywood Reporter takes a look at a little-known intersection of politics and entertainment, in which Trump campaign CEO Steve Bannon is still raking in residuals from Seinfeld. Here's the digest version: When Seinfeld was in its infancy, Ted Turner was in the process of acquiring its production company, Castle Rock, but he was under-capitalized. Bannon's fledgling media company put up the remaining funds, and he agreed to "participation rights" instead of a fee. "Seinfeld has reaped more than $3 billion in its post-network afterlife through syndication deals." Meanwhile, Bannon is "still cashing checks from Seinfeld, and observers say he has made nearly 25 times more off the Castle Rock deal than he had anticipated."
IT'S ALL CLINTON
Reliable Poll Data Coming in RE: Debate #1
6 hours ago
WHY WE CARE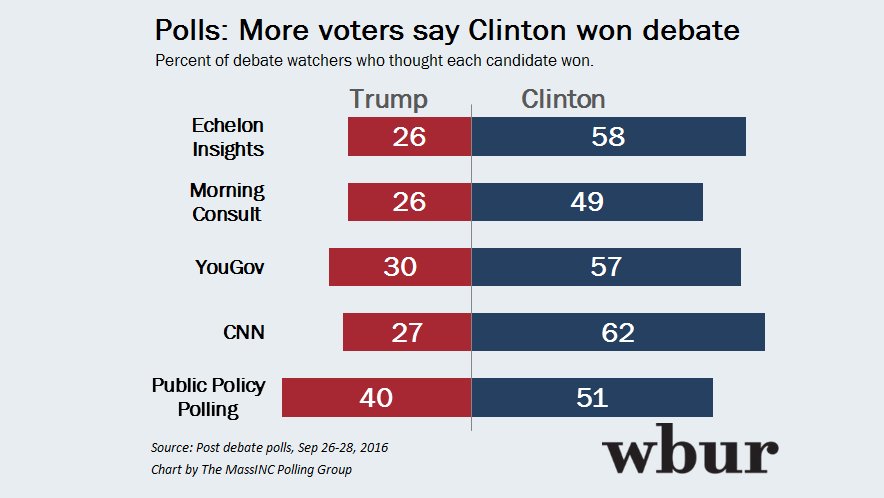 NEXT THURSDAY
Trump Transition Team Meeting with Silicon Valley VIPs
8 hours ago
THE DETAILS
Donald Trump's "transition team will meet next week with representatives of the tech industry, multiple sources confirmed, even as their candidate largely has been largely shunned by Silicon Valley. The meeting, scheduled for next Thursday at the offices of law and lobbying firm BakerHostetler, will include trade groups like the Information Technology Industry Council and the Internet Association that represent major Silicon Valley companies."