The Pentagon is done with the A-10 Warthog. The plane, of­fi­cially named the A-10 Thun­der­bolt II and primar­ily used to sup­port ground troops, is an ana­chron­ism in a mil­it­ary that doesn't an­ti­cip­ate fight­ing ma­jor ground op­er­a­tions in the fu­ture, the De­fense De­part­ment says. Ceas­ing pro­duc­tion of the mod­el and moth­balling the ex­ist­ing planes, of­fi­cials add, would save $3.7 bil­lion over five years (plus an­oth­er $500 mil­lion if a wing-re­place­ment pro­gram is also scrapped). But if the de­part­ment ends the A-10 pro­gram, it'll be over the ob­jec­tions of Sen­ate Armed Ser­vices Com­mit­tee Re­pub­lic­ans Kelly Ayotte, John Mc­Cain, and Saxby Cham­b­liss, who have led the charge to block the cut, or at least slow it down.
The law­makers like the plane, which can fly at low alti­tudes and provided sup­port for ground troops in Ir­aq and Afgh­anistan. They note that it is cheap­er than more-ad­vanced mul­tipur­pose fight­er jets like the F-35, which is the Pentagon's favored al­tern­at­ive. In ad­di­tion, the F-35 is still be­ing tested by the mil­it­ary and is not ex­pec­ted to be op­er­a­tion­al un­til the early 2020s — a deal-break­er, the law­makers say. "We are go­ing to fight that tooth and nail," Mc­Cain told Na­tion­al Journ­al in April. "There is no re­place­ment for it un­less there is a re­place­ment for it."
But some of the in­volve­ment of teeth and nails in this fight may also be at­trib­uted to the fact that sig­ni­fic­ant fleets of the A-10 are based in Ari­zona and Geor­gia — Mc­Cain's and Cham­b­liss's re­spect­ive home states.
Pro­tect­ing one's home turf from fund­ing cuts is hardly a new game on the Hill — it's a big part of be­ing a law­maker — but un­der the se­quester it has turned from a chess match in­to a blood sport. "The dif­fer­ence is that now that the budget is get­ting tight­er, the fights are get­ting more in­tense," says Todd Har­ris­on, a de­fense-budget stud­ies fel­low with the non­par­tis­an Cen­ter for Stra­tegic and Budget­ary As­sess­ments. "The same dy­nam­ic was here be­fore se­quest­ra­tion hit…. It is just more in­tens­i­fied be­cause of the budget con­straints."
And that's made the Sen­ate Armed Ser­vices Com­mit­tee a lot less fun than it used to be.
Not long ago, sen­at­ors went to the com­mit­tee to bring pieces of the Pentagon's massive budget back to their home states — and then re­minded their con­stitu­ents of it when elec­tion sea­son rolled around. But then along came se­quest­ra­tion, com­plete with man­dat­ory mil­it­ary budget caps, and sud­denly law­makers are no longer si­phon­ing new re­sources from an ex­pand­ing pool; they're scram­bling to pro­tect what they already have.
If the com­mit­tee be­comes too deeply em­broiled in par­ish-pump polit­ics, however, the coun­try stands to pay a heavy price. The cur­rent Sen­ate Armed Ser­vices mem­bers are charged with one of Con­gress's most im­port­ant tasks: provid­ing ci­vil­ian guid­ance to a mil­it­ary that is on the cusp of a crit­ic­al trans­ition. The Ir­aq War is of­fi­cially over — al­though the on-the-ground real­ity sug­gests a story far from fin­ished — and the war in Afgh­anistan is wind­ing down. And as those con­flicts end, or at least tail off, the mil­it­ary is look­ing east to Asia, deal­ing with a re­sur­gent Rus­sia, and con­tinu­ing the in­ter­na­tion­al Whac-A-Mole ex­er­cise aimed at stamp­ing out al-Qaida and its af­fil­i­ates.
To com­plete its evol­u­tion, the mil­it­ary will need Con­gress's help, most cru­cially in the form of a budget that meets the de­mands of its new mis­sion. At times, do­ing what the Pentagon prefers will dove­tail with law­makers' de­sires to bring money back to their con­stitu­ents, but in some cases com­mit­tee mem­bers will have to swal­low hard and choose between na­tion­al needs and home-state in­terests.
"It doesn't help that it's an elec­tion year and both sides are jock­ey­ing for po­s­i­tion on every is­sue that might mat­ter to voters," notes Har­ris­on, who says that dy­nam­ic is already hav­ing a broad­er ef­fect. "They are miss­ing some big op­por­tun­it­ies to shape the draw­down in a way that the mil­it­ary can ac­tu­ally come out of it stronger and bet­ter equipped for the fu­ture."
The struggle to keep both law­makers and the Pentagon happy will play out largely through the com­mit­tee's work on the Na­tion­al De­fense Au­thor­iz­a­tion Act, the com­mit­tee's an­nu­al Pentagon budget guide. As the pan­el looks for con­veni­ent places to land its hatchet, however, it is un­likely to find any easy an­swers.
Con­gress learned that les­son the hard way dur­ing the latest spend­ing talks, when the bi­par­tis­an budget deal in­cluded more than $6 bil­lion in cuts to mil­it­ary re­tire­ment be­ne­fits. From a pa­ro­chi­al per­spect­ive, it was a per­fect solu­tion: It neither elim­in­ated any spe­cif­ic pro­grams nor closed any bases; in­stead, it spread the pain na­tion­wide and down the road. From a polit­ic­al per­spect­ive, it was a dis­aster. Vet­er­ans and act­ive ser­vice mem­bers mo­bil­ized en masse against the cuts, ter­ri­fy­ing Re­pub­lic­ans and Demo­crats in­to a race to re­verse a de­cision they'd just agreed was the right one. (The Pentagon, which had ini­tially been si­lent on the plan, even­tu­ally called on Con­gress to wait for a com­pens­a­tion-com­mis­sion re­port on be­ne­fits due out next year, and re­com­men­ded grand­fath­er­ing be­ne­fits for ex­ist­ing ser­vice mem­bers and mil­it­ary re­tir­ees.)
As polit­ic­ally sens­it­ive as is it is to take away any be­ne­fits from "our troops," however, per­son­nel costs make up an already large — and grow­ing — por­tion of the budget. If Con­gress treats them as sac­rosanct in the 2015 de­fense au­thor­iz­a­tion bill, law­makers will have to look else­where for ways to meet the se­quester's de­mands. And when the com­mit­tee tries to cut spend­ing by cut­ting pro­grams, it will run in­to a fa­mil­i­ar prob­lem: For every pro­gram that looks ripe for the knife, there will be a con­gres­sion­al cham­pi­on to pro­tect it.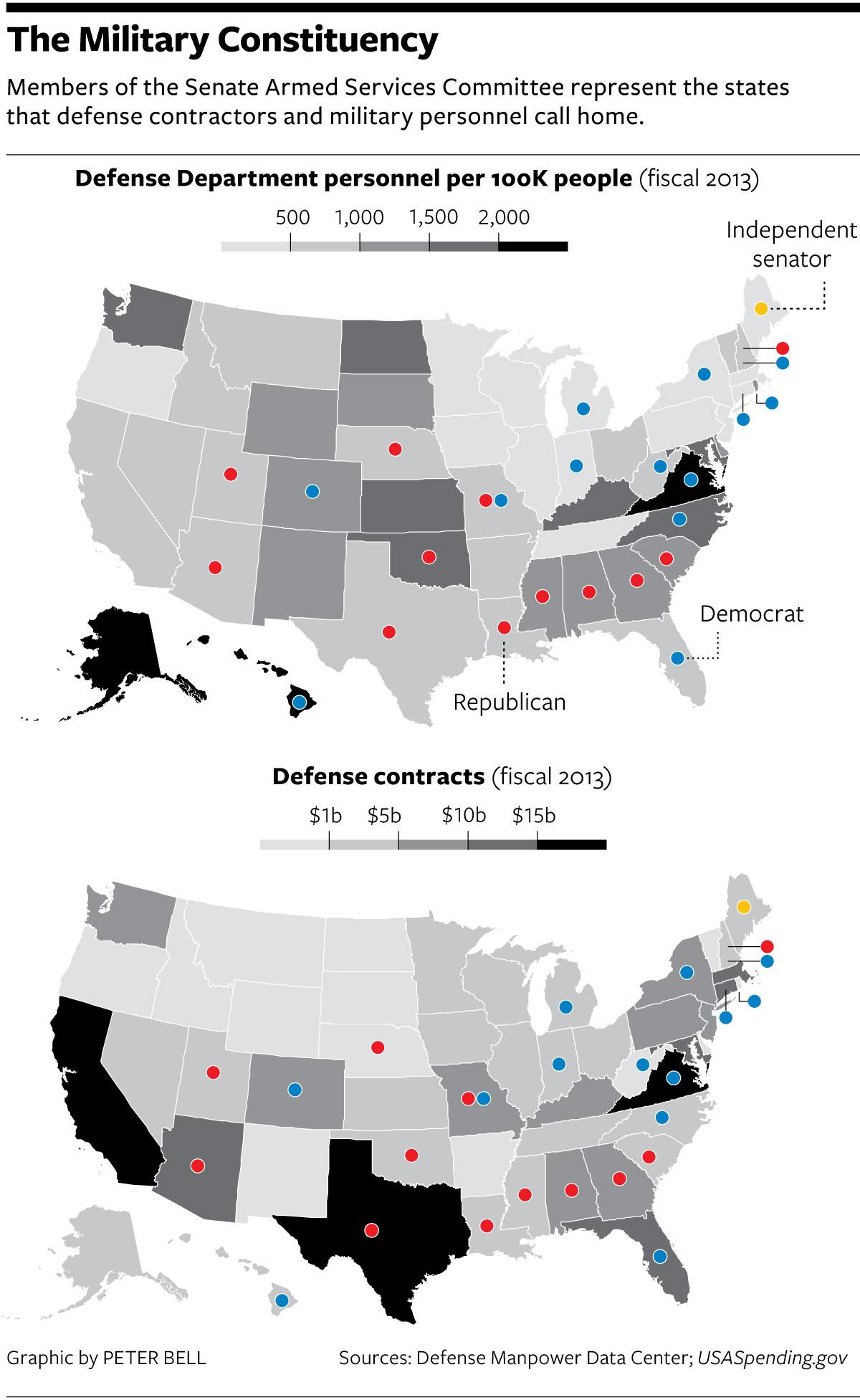 In­deed, the A-10 is far from the only pro­gram where the Pentagon already finds it­self at odds with a home-state sen­at­or. If the Pentagon wants to cut back on sea­far­ing car­ri­ers, it will be over the ob­jec­tions of Vir­gin­ia Demo­crat Tim Kaine, whose state hosts the New­port News nav­al shipyard — which claims $4 bil­lion in rev­en­ues and em­ploys 23,400 work­ers. Con­necti­c­ut Demo­crat Richard Blu­menth­al is fo­cused on sub­mar­ines — New Lon­don is home to the primary East Coast sub­mar­ine base — and on the Pentagon's plans for those F-35s, which are ex­pec­ted to gen­er­ate thou­sands of man­u­fac­tur­ing jobs in Con­necti­c­ut. And Re­pub­lic­an Jeff Ses­sions of Alabama, where the U.S. Army Space and Mis­sile De­fense Com­mand is headquartered, says he is fo­cused on se­cur­ing dol­lars for mis­sile de­fense. In all of these cases, the line between na­tion­al in­terest and home-state eco­nom­ics is a blurry one; law­makers' pet de­fense pro­grams nearly al­ways have some na­tion­al se­cur­ity be­ne­fits, which makes it risky for the com­mit­tee to dis­miss them as pure pork.
To make mat­ters more dif­fi­cult for the pan­el, pa­ro­chi­al­ism is not a dis­ease unique to Con­gress: The Pentagon is home to plenty of pro­grams that con­tin­ue to ex­ist mainly be­cause they are backed by in­tern­al fac­tions in­ter­ested in keep­ing them around — be­cause they provide jobs with­in a par­tic­u­lar branch of the mil­it­ary; be­cause they rep­res­ent money and power with­in a giv­en de­part­ment; be­cause they are bound up with someone's ca­reer am­bi­tions or prestige; or be­cause they are im­port­ant to ma­jor con­tract­ors.
On top of all that, what ex­actly the mil­it­ary of the fu­ture should look like is an open — and con­ten­tious — ques­tion, and the chal­lenges fa­cing the coun­try are myri­ad and con­tinu­ally shift­ing, leav­ing the com­mit­tee with the un­en­vi­able task of try­ing to lay out a mil­it­ary budget by way of a crys­tal ball.
Take Afgh­anistan. The Obama ad­min­is­tra­tion is still ham­mer­ing out what its fu­ture pres­ence in the coun­try will look like. A run­off pres­id­en­tial elec­tion there will not take place un­til June, and after new lead­er­ship is in­stalled it could still take months to reach a fi­nal bi­lat­er­al se­cur­ity agree­ment. In the mean­time, U.S. com­mand­ers are un­sure wheth­er they will be pulling out all troops or leav­ing in place a force of 10,000 to as­sist the Afghan mil­it­ary and to con­duct coun­terter­ror­ism op­er­a­tions in the re­gion.
The situ­ation in Syr­ia also re­mains un­stable. More than eight months since the ad­min­is­tra­tion sought Con­gress's au­thor­iz­a­tion for the use of force to pun­ish Bashar al-As­sad, dip­lo­mat­ic pro­gress has hit a wall. The re­mov­al of Syr­ia's chem­ic­al weapons has stalled over a dis­pute about the fate of the na­tion's weapons-stor­age fa­cil­it­ies. At the same time, in­ter­na­tion­al weapons in­spect­ors are in­vest­ig­at­ing fresh claims that the As­sad re­gime re­cently launched a chem­ic­al-weapons at­tack against its own people us­ing chlor­ine.
Rus­sia's ag­gres­sion to­ward Ukraine has heightened ten­sions with — and un­cer­tainty about — the former Cold War foe. U.S. troops have been sent to Latvia, Lithuania, and Es­to­nia, and De­fense Sec­ret­ary Chuck Hagel has urged NATO lead­ers to in­crease their de­fense spend­ing to en­sure that they can re­spond to any po­ten­tial chal­lenges posed by Rus­sia. Hagel also re­mains on guard against Chinese cyberes­pi­on­age, and he has said that Beijing's de­clar­a­tion of an air-de­fense zone in the East China Sea could even­tu­ally lead to a "dan­ger­ous con­flict." And, of course, there's Ir­aq, to which the U.S. is send­ing more in­tel­li­gence of­ficers due to es­cal­at­ing vi­ol­ence in the re­gion.
There are also policy chal­lenges at home — in­clud­ing is­sues that go bey­ond dol­lars and cents. Chief among them: the mil­it­ary's pro­ced­ure for hand­ling ac­cus­a­tions of rape and sexu­al as­sault. Con­gress thor­oughly de­bated le­gis­la­tion aimed at ad­dress­ing the prob­lem for much of the past year, and while sev­er­al pro­pos­als have be­come law, many crit­ics say there is more work to do.
In short, the Sen­ate Armed Ser­vices Com­mit­tee will be charged with guid­ing the budget for a mil­it­ary that must change in still-un­fore­see­able ways to face emer­ging chal­lenges around the globe — and to do it without cut­ting any­thing that will hurt na­tion­al se­cur­ity, an­ger or sub­mar­ine an im­port­ant law­maker, af­flict troops or vet­er­ans, or ali­en­ate deep-pock­eted de­fense con­tract­ors.
Well, nobody prom­ised it was go­ing to be fun.