New Mex­ico wants to end fed­er­al breaches of re­port­ing rules for dan­ger­ous sub­stances at a nuc­le­ar dump near Carls­bad, the Al­buquerque Journ­al re­ports.
The state's en­vir­on­ment­al agency this week form­ally ordered the En­ergy De­part­ment to ex­plain how it will fall back in line with rules re­quir­ing weekly de­clar­a­tions on levels of meth­ane, hy­dro­gen and oth­er haz­ard­ous sub­stances at the Waste Isol­a­tion Pi­lot Plant, the news­pa­per re­por­ted on Thursday. Fed­er­al of­fi­cials began run­ning afoul of the re­quire­ments after an es­cape of ra­dio­act­ive con­tam­in­ants forced work­ers to va­cate un­der­ground por­tions of the site in Feb­ru­ary.
A New Mex­ico En­vir­on­ment De­part­ment man­date also de­mands that more ex­tens­ive sup­ple­ment­ary as­sess­ments be is­sued on a bi­weekly basis. The state's ac­tion ap­plies to the En­ergy De­part­ment as well as the buri­al site's man­aging con­tract­or, Nuc­le­ar Waste Part­ner­ship.
At a pub­lic meet­ing last week, a top state over­sight of­fi­cial re­spon­ded an­grily to a site ad­min­is­trat­or for de­flect­ing a journ­al­ist's in­quiry about waste casks sus­pec­ted of hav­ing caused the Feb­ru­ary con­tam­in­a­tion in­cid­ent. New Mex­ico En­vir­on­ment Sec­ret­ary Ry­an Flynn called the move "a really good ex­ample … of some of the frus­tra­tion that I've had since I was no­ti­fied about this event."
"If you have in­form­a­tion, you need to dis­close that in­form­a­tion to the pub­lic im­me­di­ately," Flynn said.
An­oth­er New Mex­ico of­fi­cial said the nuc­le­ar dump's man­age­ment stepped up con­tacts with the state as a probe on the ra­di­ation in­cid­ent un­fol­ded.
Now, though, "we know on the re­cord, in an en­force­able or­der, we're go­ing to get this in­form­a­tion reg­u­larly," said Jeff Kend­all, gen­er­al coun­sel for the state's en­vir­on­ment­al agency. "Non­com­pli­ance with the or­der has cer­tain con­sequences."
Ac­cord­ing to the En­ergy De­part­ment's Carls­bad out­post, the new state man­date sub­jects sub­ter­ranean areas of the fa­cil­ity to rules already in force at its sur­face.
What We're Following See More »
STAFF PICKS
Bannon Still Collecting Royalties from 'Seinfeld'
44 minutes ago
WHY WE CARE
The Hollywood Reporter takes a look at a little-known intersection of politics and entertainment, in which Trump campaign CEO Steve Bannon is still raking in residuals from Seinfeld. Here's the digest version: When Seinfeld was in its infancy, Ted Turner was in the process of acquiring its production company, Castle Rock, but he was under-capitalized. Bannon's fledgling media company put up the remaining funds, and he agreed to "participation rights" instead of a fee. "Seinfeld has reaped more than $3 billion in its post-network afterlife through syndication deals." Meanwhile, Bannon is "still cashing checks from Seinfeld, and observers say he has made nearly 25 times more off the Castle Rock deal than he had anticipated."
IT'S ALL CLINTON
Reliable Poll Data Coming in RE: Debate #1
1 hours ago
WHY WE CARE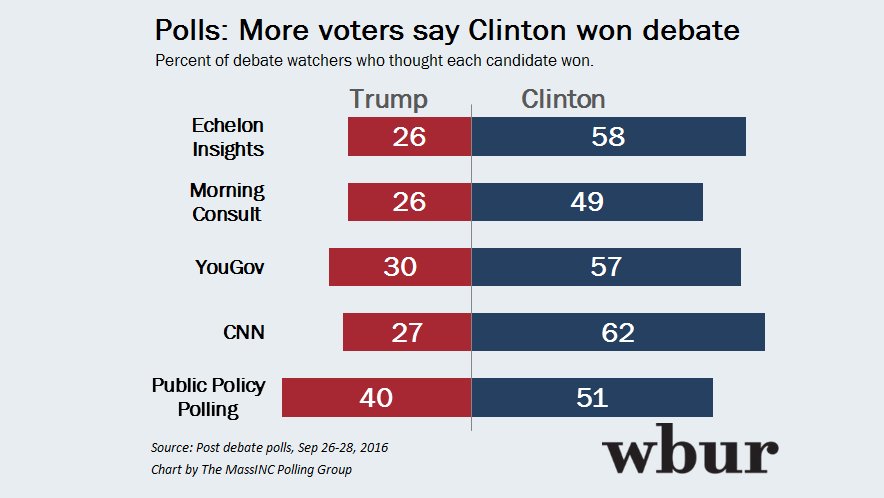 NEXT THURSDAY
Trump Transition Team Meeting with Silicon Valley VIPs
3 hours ago
THE DETAILS
Donald Trump's "transition team will meet next week with representatives of the tech industry, multiple sources confirmed, even as their candidate largely has been largely shunned by Silicon Valley. The meeting, scheduled for next Thursday at the offices of law and lobbying firm BakerHostetler, will include trade groups like the Information Technology Industry Council and the Internet Association that represent major Silicon Valley companies."
WHAT WILL PASS?
McConnell Doubts Criminal Justice Reform Can Pass This Year
3 hours ago
ALSO FIRED UNATTRACTIVE WAITRESSES
Trump Did Business with Cuba
4 hours ago
THE LATEST
Today in bad news for Donald Trump:
Newsweek found that a company he controlled did business with Cuba under Fidel Castro "despite strict American trade bans that made such undertakings illegal, according to interviews with former Trump executives, internal company records and court filings." In 1998, he spent at least $68,000 there, which was funneled through a consluting company "to make it appear legal."
The Los Angeles Times reports that at a golf club he owns in California, Trump ordered that unattractive female staff be fired and replaced with prettier women.