Add to Briefcase
May 19, 2014, 9:12 a.m.
How's this for a shock­ing stat­ist­ic: Al­most 40 per­cent of Afric­an-Amer­ic­ans and more than one-third of Lati­nos have no fin­an­cial as­sets at all. No money in the bank, no re­tire­ment sav­ings, no stock-mar­ket in­vest­ments — noth­ing. Whites are more likely to pos­sess (and pos­sess more of) every kind of as­set, in­clud­ing homes.
French eco­nom­ist Thomas Piketty re­cently made head­lines by ar­guing that in­her­ited wealth will drive in­equal­ity over the long term. A new re­port from the Cen­ter for Glob­al Policy Solu­tions, a Wash­ing­ton non­profit, and uni­versity re­search part­ners finds that in­her­it­ance also ex­plains much of the ra­cial wealth gap.
"The fact of the mat­ter is, yes, in­come mat­ters. But it doesn't ex­plain the en­tirety of the story," says Re­becca Tip­pett, dir­ect­or of Car­o­lina Demo­graphy at the Car­o­lina Pop­u­la­tion Cen­ter at UNC-Chapel Hill. Even when minor­it­ies and whites bring home sim­il­ar paychecks, minor­it­ies have lower net worth.
Some policy pre­scrip­tions for help­ing low-in­come fam­il­ies get ahead — such as en­cour­aging people to earn cre­den­tials that lead to bet­ter pay­ing jobs — may not do much to ad­dress the ra­cial wealth gap. Black, col­lege-edu­cated heads of house­holds have lower net worth than white heads of house­holds who dropped out of high school, says Dar­rick Hamilton, as­so­ci­ate pro­fess­or at Mil­ano — The New School for In­ter­na­tion­al Af­fairs, Man­age­ment, and Urb­an Policy. Both Tip­pett and Hamilton worked on the re­port.
The re­search team ana­lyzed 2005, 2009, and 2011 data from the U.S. Census Bur­eau's Sur­vey of In­come and Pro­gram Par­ti­cip­a­tion (a huge na­tion­al sample) to fig­ure out the net worth held by dif­fer­ent ra­cial and eth­nic groups.
They found that the wealth gap ac­tu­ally gets wider the less in­come fam­il­ies earn (see chart be­low). Among the one-fifth of house­holds with the highest in­comes, black house­holds have 43 per­cent of the net worth of white house­holds, and Lati­nos have 34 per­cent. But among the one-fifth of house­holds with the low­est in­comes, black house­holds have less than 1 per­cent of the net worth of white house­holds, and Lati­nos have 7 per­cent.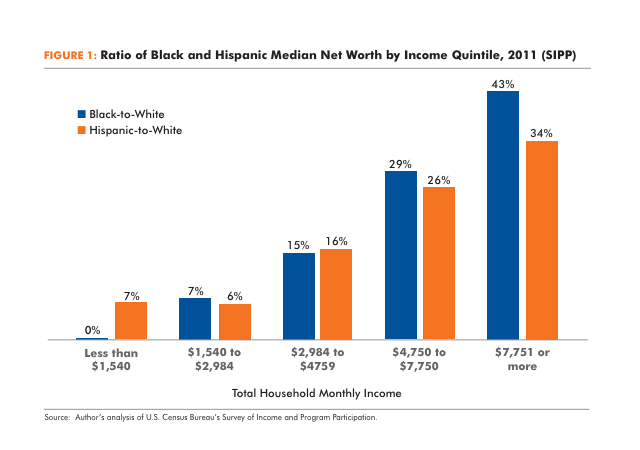 (Cen­ter for Glob­al Policy Solu­tions)So what's go­ing on? It's not that white fam­il­ies are bet­ter at sav­ing more of the in­come they earn, Hamilton says — al­though white fam­il­ies are more likely to have sav­ings ac­counts.
"It's ac­tu­ally own­er­ship of an as­set at a key point in life — an as­set that's go­ing to ap­pre­ci­ate, and is go­ing to lead to some sort of forced sav­ings," Hamilton says. Of­ten, as­sets young people re­ceive from fam­ily mem­bers be­come power­ful sources of fu­ture wealth. Think of par­ents pay­ing the down pay­ment on their daugh­ter's condo, or grand­par­ents cre­at­ing an in­vest­ment ac­count for their grand­son. Think of the kind of as­sets that slowly and auto­mat­ic­ally in­crease in value for the rest of a per­son's life.
White fam­il­ies, even those liv­ing on very low in­comes, are more likely to have as­sets oth­er than their paychecks to turn to in­to an emer­gency. They're also more likely to have a di­verse mix of as­sets, so they're more cush­ioned from eco­nom­ic shocks. The hous­ing col­lapse pro­foundly af­fected minor­it­ies, partly be­cause home equity rep­res­ents a much great­er share of minor­ity fam­il­ies' net worth.
"People don't like this term, but there has to be some type of re­dis­tributive mech­an­ism in place to really ad­dress these huge dis­par­it­ies," says Wil­li­am Dar­ity, pro­fess­or at Duke San­ford School of Pub­lic Policy and an­oth­er coau­thor of the re­port.
Cash trans­fers from the gov­ern­ment, like food stamps and hous­ing as­sist­ance, can help keep fam­il­ies out of ab­ject poverty, but they don't help grow wealth. To ad­dress the wealth gap, Dar­ity thinks the gov­ern­ment should cre­ate a per­son­al trust fund for every child that he or she would be able to ac­cess upon reach­ing adult­hood. Ba­bies born to wealth­i­er fam­il­ies would get less money in their ac­counts.
Wash­ing­ton is cur­rently more fo­cused on reign­ing in en­ti­tle­ment spend­ing than on start­ing new in­vest­ment pro­grams. But the Cen­ter for Glob­al Policy Solu­tions wants to make sure law­makers are at least aware of the wealth-gap stat­ist­ics. At the very least, they help ex­plain why eco­nom­ic down­turns are so dis­pro­por­tion­ately hard on cer­tain minor­ity groups. Con­sider that as of 2011, the me­di­an Afric­an Amer­ic­an held only $200 in as­sets that could reg­u­larly be con­ver­ted in­to cash. Lati­nos held $340, Asi­ans $19,500, and whites $23,000.