Add to Briefcase
May 19, 2014, 4:46 p.m.
FRANK­FORT, Ky. — The headquar­ters of the Re­pub­lic­an Party of Ken­tucky oc­cu­pies the corner of a leafy neigh­bor­hood about a half-dozen blocks north of the Cap­it­ol. There are two signs out front. One, in gold let­ter­ing, iden­ti­fies the fa­cil­ity as the party headquar­ters. The oth­er reads: "MITCH Mc­CON­NELL BUILD­ING."
And so it has been. For three dec­ades, Mitch Mc­Con­nell, the Sen­ate minor­ity lead­er and the state's seni­or sen­at­or, has been the face, heart, and brains of Ken­tucky Re­pub­lic­an­ism. And al­though he is ex­pec­ted to dis­patch his tea-party primary op­pon­ent, Matt Bev­in, with ease on Tues­day, the cam­paign has put on dis­play a simple fact: Mc­Con­nell is no longer the sin­gu­lar force here he once was.
"There's a change of the guard tak­ing place now in Ken­tucky," said James Comer, the state ag­ri­cul­ture com­mis­sion­er and front-run­ner — though he is still tech­nic­ally un­declared — for the GOP gubernat­ori­al nom­in­a­tion in 2015. "It's still Mc­Con­nell's Re­pub­lic­an Party, but it's edging to­ward be­ing Rand's Re­pub­lic­an Party."
The shift has been, lit­er­ally, broad­cast for all to see in the last week. As the primary date has ap­proached, one of Mc­Con­nell's clos­ing tele­vi­sion ads fea­tured a testi­mo­ni­al from the state's ju­ni­or sen­at­or, Rand Paul.
"It is clear," said Al Cross, a long­time ob­serv­er of Ken­tucky polit­ics and the dir­ect­or of the In­sti­tute for Rur­al Journ­al­ism and Com­munity Is­sues at the Uni­versity of Ken­tucky, "who car­ries the stick in that ad."
The ad is all the more not­able giv­en that only four years ago it was Mc­Con­nell in the star­ring and en­dors­ing role in the fi­nal ad of the Sen­ate GOP primary. "I need Trey Grayson in Wash­ing­ton," Mc­Con­nell said of the can­did­ate he picked to run against Paul. The voters dis­agreed. Paul trounced Grayson by 23 points. The polit­ic­al winds have been shift­ing ever since.
The cur­rent passing of the torch is oc­cur­ring even as Mc­Con­nell re­mains one of the most power­ful Re­pub­lic­ans in Wash­ing­ton, a man with a ser­i­ous shot to be­come Sen­ate ma­jor­ity lead­er next year. Yet Paul, the feisty first-term sen­at­or with a liber­tari­an streak and his eyes on the White House, has ec­lipsed him as the pree­m­in­ent and most pop­u­lar GOP pol in the Bluegrass State.
It's not so much that Mc­Con­nell, 72, isn't still feared and power­ful. It's just that he isn't as feared or as power­ful.
"To use a cor­por­ate ana­logy, he used to be the ma­jor­ity share­hold­er," Cross said. "Now he's only the plur­al­ity share­hold­er."
The Paul ad tells only part of the story. Ever since Paul's up­start win in 2010, Mc­Con­nell has cour­ted him and his tea-party base. As he plot­ted his own reelec­tion this year, Mc­Con­nell tapped his ju­ni­or's 2010 cam­paign man­ager, Jesse Benton, as his own. When an au­dio re­cord­ing later leaked of Benton say­ing he was "sort of hold­ing my nose" to do the job, be­cause it would "be a big be­ne­fit to Rand in '16," Mc­Con­nell grinned and had to bear it. Benton kept his job. And they posed to­geth­er for a pic­ture on Face­book as Benton held his nose.
Mc­Con­nell stayed si­lent, too, when Paul ex­plained to con­ser­vat­ive talk-show host Glenn Beck in Feb­ru­ary that he backed Mc­Con­nell "be­cause he asked me. He asked me when there was nobody else in the race. And I said yes."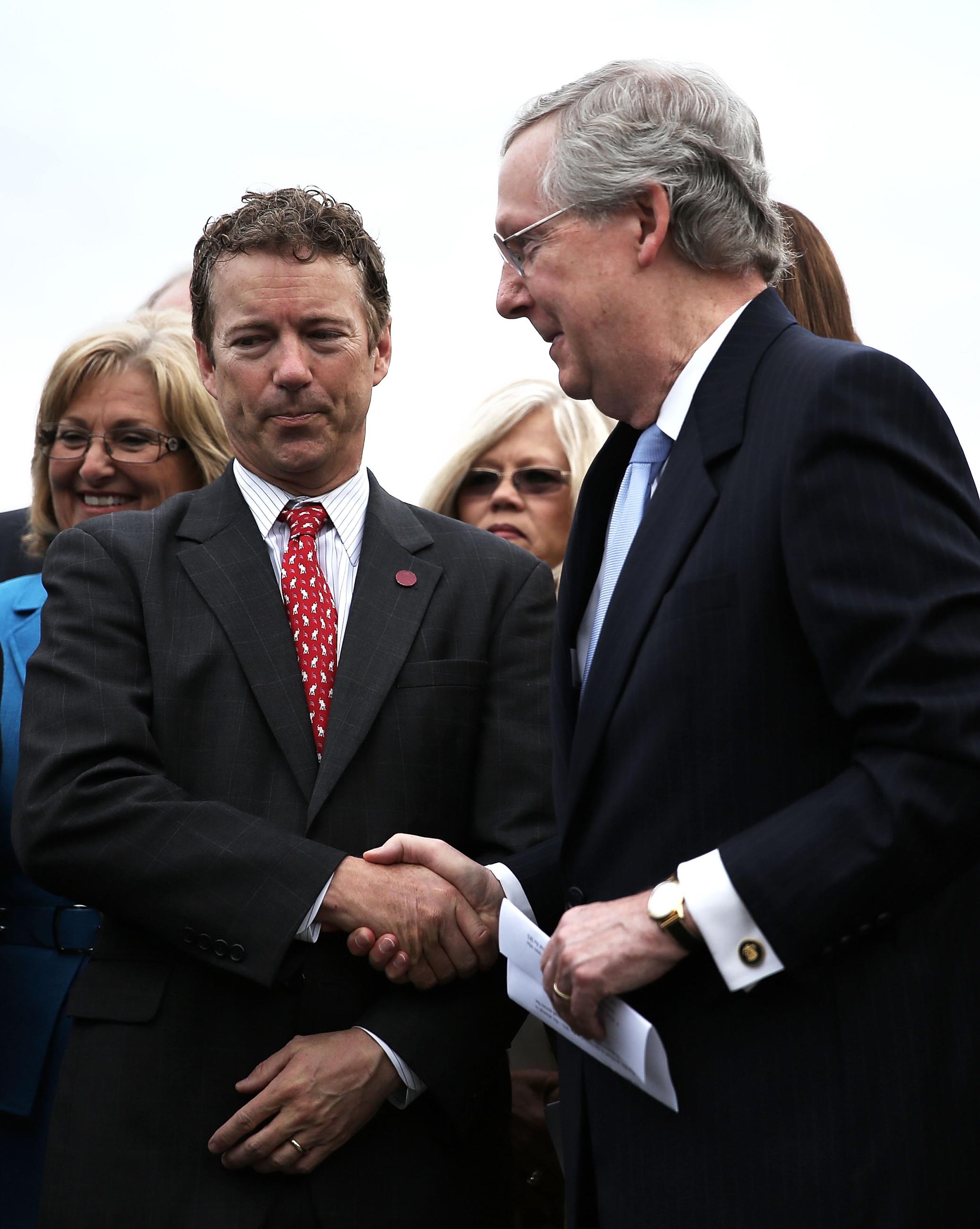 People close to Mc­Con­nell say he is sin­gu­larly fo­cused on win­ning; em­bra­cing Paul simply smoothed the path to primary vic­tory, whatever hit his repu­ta­tion took. "His ego nev­er gets in his way of do­ing what he needs to do in a cam­paign," said Ted Jack­son, a vet­er­an GOP strategist in Ken­tucky. Sen­ate Minor­ity Lead­er Sen Mitch Mc­Con­nell shakes hands with Sen. Rand Paul. (Alex Wong/Getty Im­ages)
Still, the primary has left a linger­ing im­pres­sion. As Joe Sonka, a Mc­Con­nell ant­ag­on­ist and news ed­it­or at Louis­ville's LEO Weekly, re­cently told Rolling Stone, "This is a once-proud man, re­duced to beg­ging."
There is a reas­on the Ken­tucky GOP headquar­ters is named after Mc­Con­nell. He, as much as any in­di­vidu­al, is re­spons­ible for the con­ver­sion of Ken­tucky from a solidly Demo­crat­ic state to a deep-red Re­pub­lic­an one, at least at the fed­er­al level. Demo­crats used to dom­in­ate the con­gres­sion­al del­eg­a­tion; now they are re­leg­ated to a single House seat. Re­pub­lic­ans took over the state Sen­ate a dec­ade ago, un­der Mc­Con­nell's watch, and hope to add the state House this year.
"He's cer­tainly been the ar­chi­tect of the mod­ern Re­pub­lic­an Party in Ken­tucky, without ques­tion," said Steve Robertson, the party chair­man since 2007.
The state GOP has grown faster than ever dur­ing the Obama ad­min­is­tra­tion, adding tens of thou­sands of new voters to its rolls. The party has taken a not­able right­ward turn. Ken­tucky Re­pub­lic­ans have sent not only Paul to Wash­ing­ton but also re­cently Rep. Thomas Massie, one of most liber­tari­an mem­bers of the House.
Former Ken­tucky Gov. Ju­li­an Car­roll, now a Demo­crat­ic state sen­at­or, said Mc­Con­nell still "pulls a lot of strings be­hind the scenes, but I don't think he's as re­spec­ted by the mem­bers of his party as in years past. Quite frankly, most of the lead­er­ship of the Re­pub­lic­an Party that I know con­sider him too lib­er­al."
If any­thing, Robertson sug­ges­ted, Mc­Con­nell is a vic­tim of his own suc­cess. "When you're grow­ing, that means you have more people in­volved," he said. "Mitch Mc­Con­nell has not di­min­ished, but there are just more people who are also provid­ing lead­er­ship in the party."
Josh Holmes, who has served as Mc­Con­nell's chief of staff and is cur­rently a seni­or ad­viser on his cam­paign, put it this way: "The fact that he can share the stage be­cause it's a lar­ger stage is what he en­vi­sioned all along."
The bat­on has not been fully passed, in part be­cause Paul doesn't seem in­ter­ested, Ken­tucky GOP strategists and of­fi­cials said. In­stead, he ap­pears more fo­cused on Des Moines, say, than Frank­fort.
"The in­ter­est­ing dy­nam­ic there is, Mitch wants it to be Mitch Mc­Con­nell's party, and Rand doesn't really care," said Dav­id Adams, who man­aged Paul's 2010 primary cam­paign. "As soon as Rand de­cides he wants con­trol of the party, it's his. He's not com­plet­ing that circle."
Comer, who was the only state law­maker to en­dorse Paul in his 2010 primary, agreed. "If Rand wanted it to be his, it would prob­ably be," Comer said, "but he's been very sup­port­ive of Sen­at­or Mc­Con­nell, very gra­cious to him."
Of course, Paul now has ad­ded in­cent­ive to reen­gage at the state level. He wants the Le­gis­lature to pass a bill that would al­low him to sim­ul­tan­eously run for the White House and the Sen­ate in 2016. The prob­lem: Demo­crats still con­trol the state's lower cham­ber. Re­pub­lic­ans hope to change that come Novem­ber.
The mar­quee match­up this fall, though, will be Mc­Con­nell versus Demo­crat­ic Sec­ret­ary of State Al­is­on Lun­der­gan Grimes, who, at 35, casts her­self as the next gen­er­a­tion of lead­er­ship. Polls show a tight race. Mc­Con­nell is vul­ner­able, mostly be­cause of an ap­prov­al rat­ing that has sagged as low as the low 30s. "Chris­ti­an Laettner of Duke ac­tu­ally has a bet­ter ap­prov­al rat­ing in the com­mon­wealth than Mitch Mc­Con­nell does," Grimes said in an in­ter­view. On the trail, she calls him "the sen­at­or of yes­ter­day."
A Bluegrass poll last week showed that 38 per­cent of Re­pub­lic­ans agreed that Mc­Con­nell "been in of­fice too long and it's time for him to go."
In the com­ing weeks, Mc­Con­nell will have to lean on Paul to re­unite the party and bring those dis­af­fected Re­pub­lic­ans back in­to the fold. It is the same role Mc­Con­nell played four years ago, when he or­gan­ized a unity rally after Paul's primary win left the party di­vided.
It is, in oth­er words, ex­actly the kind of job that falls to a party's lead­er.