In 2008, a con­spir­acy the­ory about Sarah Pal­in — then a can­did­ate for vice pres­id­ent — was born. The the­ory: Pal­in was not in fact the moth­er of her then-in­fant son, Trig — her daugh­ter Bris­tol was. The blog­ger An­drew Sul­li­van fed in­to the the­ory, and it was re­sur­rec­ted in an aca­dem­ic pa­per by a Ken­tucky journ­al­ism pro­fess­or in 2011. (Salon has since thor­oughly de­bunked the Trig Pal­in con­spir­acy the­ory.)
Now, Hil­lary Clin­ton is on the re­ceiv­ing end of her own health-re­lated cov­er-up con­spir­acy the­ory — and Pal­in is us­ing the story to skew­er the me­dia and il­lus­trate what she sees as a double stand­ard for how Demo­crat­ic and Re­pub­lic­an fe­male can­did­ates get covered.
Some back­ground: In Decem­ber 2012, Clin­ton was treated for a blood clot on her brain after suf­fer­ing a con­cus­sion. Clin­ton re­covered and was giv­en a clean bill of health, but Karl Rove re­mained skep­tic­al.
"Thirty days in the hos­pit­al? And when she re­appears, she's wear­ing glasses that are only for people who have trau­mat­ic brain in­jury? We need to know what's up with that," Rove al­legedly said at a con­fer­ence in Los Angeles.
After cries of "Sex­ism!" from me­dia out­lets, Rove walked back his state­ment, but he was not alone in his think­ing. Re­ince Priebus, the chair­man of the Re­pub­lic­an Na­tion­al Com­mit­tee, de­fen­ded Rove's com­ments and said the health ques­tion is "fair game."
Like it or not, Clin­ton will have to deal with these kinds of ques­tions for the next two years, at a min­im­um. And judging by Pal­in's re­sponse, the pain doesn't fade over time. In a highly sar­cast­ic Face­book post Monday night, Pal­in poin­ted out me­dia hy­po­crisy for de­fend­ing Clin­ton against Rove's com­ments.
"Demo­crats are right — scour­ing re­cords of a fe­male can­did­ate is just polit­ics of per­son­al de­struc­tion, and for the me­dia to en­gage in it would be un­fair, un­eth­ic­al, and ab­so­lutely UN­PRE­CED­EN­TED. You can't probe a wo­man like that be­cause, well, it's a war on wo­men!" Pal­in wrote.
"Amer­ica, you de­serve fair and con­sist­ent cov­er­age of rel­ev­ant is­sues be­fore de­cid­ing a Pres­id­en­tial/Vice Pres­id­en­tial tick­et, so have faith the agenda-less me­dia will re­fuse to push whis­pers and wildly in­ac­cur­ate in­form­a­tion about a par­tis­an politi­cian's body part," she con­tin­ued.
It's less likely that Pal­in is de­fend­ing Hil­lary Clin­ton against per­ceived sex­ist com­ments, and much more likely that she's just tak­ing an­oth­er pot­shot at the Lamestream Me­dia. Of course, some polit­ic­al journ­al­ists did re­buke the Trig the­ory — namely BuzzFeed Ed­it­or-in-Chief Ben Smith, who was at Politico at the time, along with Salon's Justin El­li­ott.
But un­like with the Trig The­ory, nearly every re­port­er cov­er­ing the 2008 cam­paign bought in­to an­oth­er nar­rat­ive — one about Pal­in's men­tal fac­ulties. Pal­in was por­trayed, from Katie Cour­ic to Sat­urday Night Live,  as a clue­less bimbo, and that im­age lives on in Ju­li­anne Moore's (ex­cel­lent) por­tray­al of Pal­in in HBO's Game Change. 
Was it fair to por­tray Pal­in as in­ex­per­i­enced and un­fit for of­fice? Yes. But that's far dif­fer­ent from the im­age the me­dia cul­tiv­ated. Cov­er­ing Pal­in as a bimbo was an un­ques­tioned giv­en. One is a val­id point, the oth­er is a ca­ri­ca­ture.
Of course, Hil­lary Clin­ton has suffered her fair share of sex­ist cov­er­age. After Bill Clin­ton's af­fair with Mon­ica Lew­in­sky came to light, pun­dits spec­u­lated that Hil­lary — that fri­gid harpy! — had driv­en her hus­band to in­fi­del­ity. More re­cently, the idea that Chelsea Clin­ton be­came preg­nant to boost her moth­er's fa­vor­ab­il­ity was al­most laugh­ably sex­ist. Pal­in and Clin­ton can sym­path­ize on that point.
The ques­tion Rove raised was a seem­ingly in­no­cent one — does Hil­lary have the men­tal stam­ina to be pres­id­ent? Mean­while, Sul­li­van's the­ory about Trig Pal­in's true par­ent­age was more of a sug­ges­tion that Pal­in was will­ing to go to despic­able lengths to main­tain her pub­lic im­age as a whole­some folk lead­er. Rove was con­cern trolling; Sul­li­van was just plain trolling.
Now, in a dar­ing feat of Nar­rat­ive Re­appro­pri­ation, Pal­in is call­ing Hil­lary Clin­ton dumb while ad­mon­ish­ing the me­dia for do­ing the same thing to her in 2008. "Ap­par­ently, Demo­crats de­mand their next chosen one's brain must be ab­sent," she wrote in her Face­book post.
It's the type of quick-change polit­ic­al man­euv­er­ing that takes a healthy sense of irony to un­der­stand.
What We're Following See More »
NEVER TRUMP
USA Today Weighs in on Presidential Race for First Time Ever
12 hours ago
THE DETAILS
"By all means vote, just not for Donald Trump." That's the message from USA Today editors, who are making the first recommendation on a presidential race in the paper's 34-year history. It's not exactly an endorsement; they make clear that the editorial board "does not have a consensus for a Clinton endorsement." But they state flatly that Donald Trump is, by "unanimous consensus of the editorial board, unfit for the presidency."
UNTIL DEC. 9, ANYWAY
Obama Signs Bill to Fund Government
18 hours ago
IT'S ALL CLINTON
Reliable Poll Data Coming in RE: Debate #1
20 hours ago
WHY WE CARE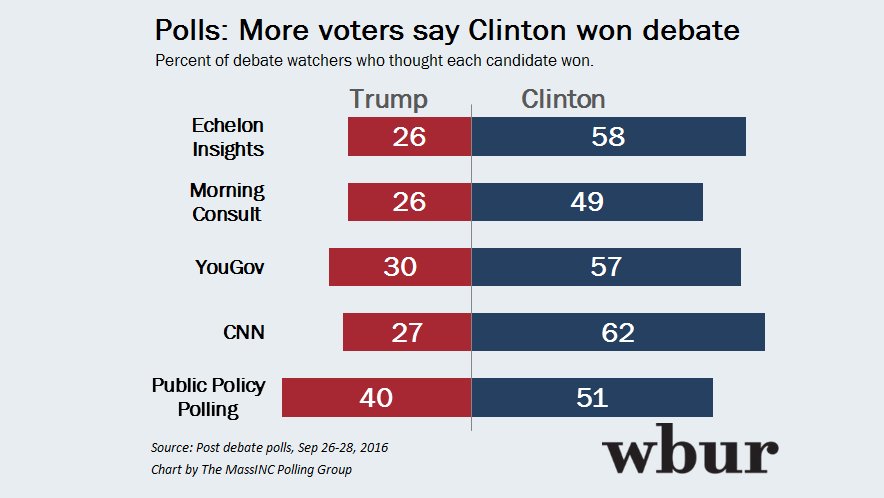 WHAT WILL PASS?
McConnell Doubts Criminal Justice Reform Can Pass This Year
22 hours ago
ALSO FIRED UNATTRACTIVE WAITRESSES
Trump Did Business with Cuba
23 hours ago
THE LATEST
Today in bad news for Donald Trump:
Newsweek found that a company he controlled did business with Cuba under Fidel Castro "despite strict American trade bans that made such undertakings illegal, according to interviews with former Trump executives, internal company records and court filings." In 1998, he spent at least $68,000 there, which was funneled through a consluting company "to make it appear legal."
The Los Angeles Times reports that at a golf club he owns in California, Trump ordered that unattractive female staff be fired and replaced with prettier women.