Long be­fore Ed­ward Snowden ex­posed how the gov­ern­ment ex­ploits per­son­al data culled by In­ter­net com­pan­ies, pri­vacy ad­voc­ates feared that Google's meth­ods of min­ing email con­tent was a dis­aster in the mak­ing.
Back in 2004, former Cali­for­nia state Sen. Liz Figueroa wanted to ad­vance le­gis­la­tion that would have al­lowed people the right to opt out of the tar­geted ad­vert­ising Google used in its then-new email ser­vice, Gmail.
No­ti­cing her skep­ti­cism, Google founders Sergey Brin and Larry Page sat down with Figueroa to dis­cuss her con­cerns about how com­pany bots read emails.
"All of a sud­den, Sergey star­ted talk­ing to me," Figueroa re­counts in the second in­stall­ment of PBS's new Front­line doc­u­ment­ary, United States of Secrets. "He said, 'Sen­at­or, how would you feel if a ro­bot went in­to your home and read your di­ary and read your fin­an­cial re­cords, read your love let­ters, read everything. But be­fore leav­ing the house, it im­ploded.' "
Brin pro­ceeded to tell Figueroa that such a ro­bot, like Gmail, didn't vi­ol­ate pri­vacy be­cause "noth­ing's kept, nobody knows about it." (Start the clip above at 2:05 to watch the full ex­change.)
Figueroa was shocked by the strange com­par­is­on — and en­tirely un­con­vinced.
"Does that ro­bot know if I'm sad or if I'm feel­ing fear or what's hap­pen­ing?" she asked Brin. "And he looked and me and said, 'Oh, no. That ro­bot knows a lot more than that.' "
Figueroa ul­ti­mately amended her bill, be­liev­ing that Google would not keep the per­son­al in­form­a­tion it col­lec­ted. "Un­be­knownst to me, ul­ti­mately they were go­ing to store the in­form­a­tion," she ex­plains in the doc­u­ment­ary.
Ten years later, it's al­most im­possible to es­cape the type of ad-tar­get­ing that Google pop­ular­ized with Gmail, no mat­ter where you go on the In­ter­net. Face­book tracks user be­ha­vi­or to tar­get ads to its more than 1 bil­lion users.
Com­pan­ies like Google for years de­fen­ded their data-col­lec­tion prac­tices and said that it was bey­ond the reach of gov­ern­ment au­thor­it­ies. But leaks sup­plied by Snowden and pub­lished by The Wash­ing­ton Post last Decem­ber re­vealed that the Na­tion­al Se­cur­ity Agency has ex­ploited a type of Google "cook­ie" used to track In­ter­net activ­ity for the pur­poses of its own sur­veil­lance. The Snowden files have also ex­posed an NSA pro­gram that secretly broke in­to the serv­ers of nine U.S. In­ter­net com­pan­ies, in­clud­ing Google.
"Gmail was a pri­vacy dis­aster," Chris Hoofnagle, the dir­ect­or of Berke­ley Cen­ter for Law & Tech­no­logy, told Front­line.
What We're Following See More »
ABSENT FROM LIST: GENNIFER FLOWERS
Most Trump Guests Have Military Ties
2 hours ago
TOP OF MIND
Trending on Google: 'Why Should Trump Not Be President'
2 hours ago
THE DETAILS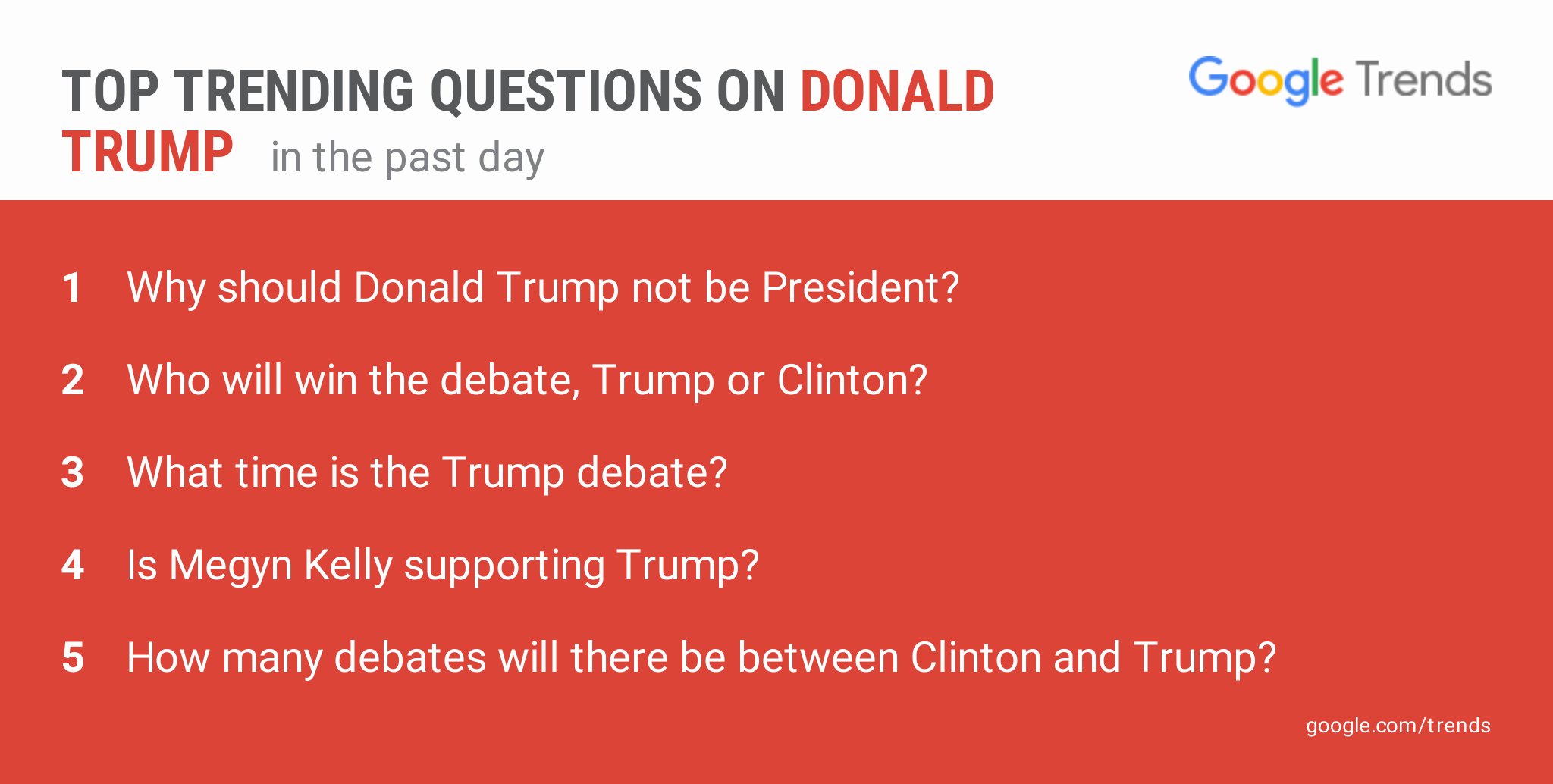 WHO PLAYED THE DONALD?
Longtime Clinton Aide Played Trump in Mock Debates
5 hours ago
THE DETAILS
After keeping the information private for most of the lead-up to the debate on Monday, it has been revealed that longtime Clinton aide Philippe Reines has been playing the role of Donald Trump in her debate prep. Reines knows Clinton better than most, able to identify both her strengths and weaknesses, and his selection for a sparring partner shows that Clinton is preparing for the brash and confrontational Donald Trump many have come to expect.
WEEKEND POLLING ROUNDUP
New Polls Still Show Razor-Thin Margins
5 hours ago
THE QUESTION
How Many Times Has the Trump Campaign Emailed Ted Cruz's Supporters?
5 hours ago
THE ANSWER
More than 30 times, in the case of some donors. Long before Cruz endorsed Trump—and before he even snubbed the nominee at the Republican National Convention—"the senator quietly began renting his vast donor email file to his former rival, pocketing at least tens of thousands of dollars, and more likely hundreds of thousands, that can be used to bankroll the Texan's own political future."