At 91, Ral­ph Hall is the old­est law­maker to ever serve in the U.S. House and the last World War II vet­er­an seek­ing reelec­tion. But by Tues­day night, he might carry an­oth­er dis­tinc­tion as the first in­cum­bent to lose this primary sea­son.
Not a single mem­ber of the Sen­ate or House has lost a primary so far in 2014 des­pite na­tion­al polling that un­der­scores the un­pop­ular­ity of Con­gress. But in the north­east corner of the Lone Star State, in 18 counties along its bor­ders with Ok­lahoma, Arkan­sas, and Louisi­ana, from the Dal­las sub­urbs to Tex­arkana, Hall is in real danger of fail­ing in his bid for an 18th term in Con­gress.
John Ratcliffe, 48, a former U.S. At­tor­ney for the East­ern Dis­trict of Texas and a former may­or of Heath, got tired of wait­ing for Hall to re­tire. After stand­ing by as the long-time law­maker prom­ised in every cycle for the past eight years that this one would be his last, Ratcliffe launched an ag­gress­ive cam­paign to take the job away. And he's un­abashedly try­ing to define the race as a ref­er­en­dum on Hall's age.
"John got tired of wait­ing for him, wait­ing in the wings," said Tony Fisk, the Rock­wall County GOP chair­man.
From the start of his cam­paign, in an ini­tial field of five GOP primary chal­lengers, Ratcliffe de­scribed his can­did­acy as a "new gen­er­a­tion of Re­pub­lic­an lead­er­ship" and ques­tioned the length of Hall's 34-year ten­ure. It was a mes­sage that would gain some mo­mentum.
When the con­gress­man failed, sur­pris­ingly, to gain 50 per­cent of the vote (46 per­cent) in the six-way March primary, it was Ratcliffe who se­cured the second run­off spot with 29 per­cent of the primary vote. Three of the oth­er chal­lengers then en­dorsed Ratcliffe, and one backed Hall. Ratcliff also grabbed the en­dorse­ment of The Dal­las Morn­ing News, which ap­plauded Hall's long ser­vice but also said, "There comes a time when new ideas and fresh en­ergy are needed."
And just like that, the tone for the rest of the cam­paign was set, with Hall's age dom­in­at­ing Ratcliffe's cam­paign mes­saging. For in­stance, Ratcliffe said dur­ing a May 22 ap­pear­ance on MS­N­BC that Hall's age is something that is a fair is­sue for voters to con­sider. He even went as far as to say, "I think it's something that the voters are con­cerned about."
Hall hasn't helped per­cep­tions by re­fus­ing to de­bate Ratcliffe, ar­gued Wal­ter Ca­sey, a polit­ic­al sci­ent­ist at Texas A&M Uni­versity at Tex­arkana. But Ca­sey cau­tioned that Ratcliffe might have taken this strategy too far. "It's come off like he is anti-age. It's not just that he's im­plied that Ral­ph Hall was too old, but also was that he is not think­ing straight — or that voters should worry about that," Ca­sey said.
In­deed, the race has be­come so dom­in­ated by Hall's age that some Texas Re­pub­lic­ans are warn­ing against read­ing any deep­er mean­ing in­to Tues­day night's res­ults. Fisk said that any­one try­ing to use this race as a gauge for un­der­stand­ing voters' sup­port of tea-party can­did­ates over the Re­pub­lic­an es­tab­lish­ment is miss­ing the mark.
It is true that Hall was one of the last so-called Yel­low Dog Demo­crats in Con­gress, a liv­ing vestige of the evol­u­tion of Texas polit­ics in the late 20th cen­tury. But Hall had a con­ser­vat­ive vot­ing re­cord even be­fore he form­ally switched parties to the GOP in 2003, as a mat­ter of polit­ic­al sur­viv­al fol­low­ing re­dis­trict­ing in 2001. And he has con­tinu­ally main­tained that re­cord.
In ad­di­tion, both men have back­ing from vari­ous tea-party or con­ser­vat­ive politi­cians and or­gan­iz­a­tions. Ratcliffe has grabbed the en­dorse­ments of the Club for Growth and the Madis­on Pro­ject, as well as the Tea Party Ex­press. But Hall is backed by Rep. Michele Bach­mann, Rep. Trey Gowdy, former Rep. Ron Paul, former Speak­er Newt Gin­grich, and former Arkan­sas Gov. Mike Hucka­bee.
Neither can­did­ate has held an over­whelm­ing ad­vant­age in cam­paign money. Both have raised about $1 mil­lion. But Ratcliffe was aided by a $575,300 loan he's giv­en his own cam­paign. Hall has giv­en his cam­paign a $130,000 loan.
Some re­cent pub­lic polling has shown double-di­git leads for Ratcliffe. But ex­perts in the dis­trict see that as de­ceiv­ing be­cause ac­tu­al voter turnout is ex­pec­ted to be ex­tremely low — as low as 10 per­cent of all en­rolled dis­trict Re­pub­lic­ans. And, Ca­sey pre­dicts, "If the Ral­ph Hall base shows up en­er­gized — voters who are 55 and up — Ral­ph wins."
Hall's cam­paign de­clined to com­ment or provide the House mem­ber for an in­ter­view.
But in re­cent days, his cam­paign de­cided he needed to ad­dress the sug­ges­tion that he is too old in a sprightly and spir­ited com­mer­cial.
"When you battle Nancy Pelosi as much as I have, you're bound to get a few wrinkles," jokes Hall in the ad, re­fer­ring to the House Demo­crat­ic lead­er. He points to wrinkles in his face. "And, by gosh," says Hall, "I've got room for a few more wrinkles."
What We're Following See More »
UNTIL DEC. 9, ANYWAY
Obama Signs Bill to Fund Government
4 hours ago
REDSKINS IMPLICATIONS
SCOTUS to Hear Case on Offensive Trademarks
4 hours ago
WHY WE CARE
"The Supreme Court is taking up a First Amendment clash over the government's refusal to register offensive trademarks, a case that could affect the Washington Redskins in their legal fight over the team name. The justices agreed Thursday to hear a dispute involving an Asian-American rock band called the Slants, but they did not act on a separate request to hear the higher-profile Redskins case at the same time." Still, any precedent set by the case could have ramifications for the Washington football team.
STAFF PICKS
Bannon Still Collecting Royalties from 'Seinfeld'
5 hours ago
WHY WE CARE
The Hollywood Reporter takes a look at a little-known intersection of politics and entertainment, in which Trump campaign CEO Steve Bannon is still raking in residuals from Seinfeld. Here's the digest version: When Seinfeld was in its infancy, Ted Turner was in the process of acquiring its production company, Castle Rock, but he was under-capitalized. Bannon's fledgling media company put up the remaining funds, and he agreed to "participation rights" instead of a fee. "Seinfeld has reaped more than $3 billion in its post-network afterlife through syndication deals." Meanwhile, Bannon is "still cashing checks from Seinfeld, and observers say he has made nearly 25 times more off the Castle Rock deal than he had anticipated."
IT'S ALL CLINTON
Reliable Poll Data Coming in RE: Debate #1
6 hours ago
WHY WE CARE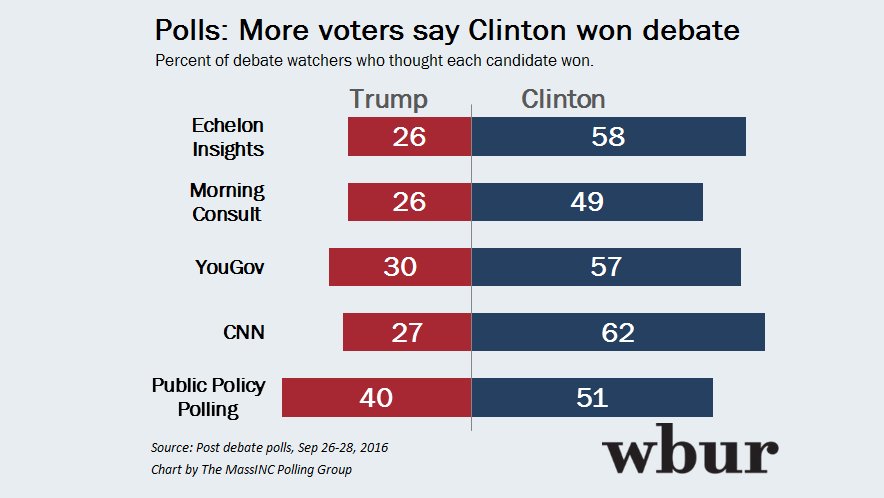 NEXT THURSDAY
Trump Transition Team Meeting with Silicon Valley VIPs
8 hours ago
THE DETAILS
Donald Trump's "transition team will meet next week with representatives of the tech industry, multiple sources confirmed, even as their candidate largely has been largely shunned by Silicon Valley. The meeting, scheduled for next Thursday at the offices of law and lobbying firm BakerHostetler, will include trade groups like the Information Technology Industry Council and the Internet Association that represent major Silicon Valley companies."