We know that be­ing poor can make you sick. New re­search provides more evid­ence of this dis­mal link spe­cific­ally for can­cer: Liv­ing in poverty, it seems, is as­so­ci­ated with a high­er risk of con­tract­ing the kind of tu­mors that will kill you.
That's the con­clu­sion of sci­ent­ists who've in­vest­ig­ated al­most 3 mil­lion ma­lig­nant tu­mors dia­gnosed in 16 states as well as the Los Angeles area "" what they as­sert is the "most com­pre­hens­ive as­sess­ment of the re­la­tion­ship between SES (so­cioeco­nom­ic status) and can­cer in­cid­ence for the United States." Over­all, they found no cor­rel­a­tion between how poor or rich you are and how likely you are to get can­cer. But drilling down in­to the census tracts with high­er poverty rates, they no­ticed a pre­val­ence of can­cers with low in­cid­ence and high mor­tal­ity rates. Wealth­i­er neigh­bor­hoods were marked by can­cers of high in­cid­ence, but low mor­tal­ity rates. As the lead re­search­er, Fran­cis Bos­coe at the New York State Can­cer Re­gistry, ex­plains: "When it comes to can­cer, the poor are more likely to die of the dis­ease while the af­flu­ent are more likely to die with the dis­ease."
Out of 39 types of can­cer, 14 showed a pos­it­ive as­so­ci­ation with poverty, the re­search­ers said in their study (which was partly sup­por­ted by the Cen­ters for Dis­ease Con­trol and Pre­ven­tion). Poor neigh­bor­hoods were more likely to see can­cers of the larynx, cer­vix, liv­er, and penis, as well as Ka­posi sar­coma. They were also tied to an up­tick in can­cers re­lated to to­bacco use and hu­man papil­lo­mavir­us. Rich­er areas, mean­while, suffered more from melan­oma and oth­er skin af­flic­tions, and can­cers of the thyroid and testes.
What's to ac­count for these dif­fer­ences? Though race might play a part in the grand scheme of can­cer, it's not ap­plic­able to what the re­search­ers meas­ured in this ex­per­i­ment. "The SES ef­fects we re­port are in­de­pend­ent of race, as race was ad­jus­ted for in the ana­lys­is," they say. Rather, there could be be­ha­vi­or­al and eco­nom­ic things at play here, such as sub­stance use and ac­cess to med­ic­al care, ac­cord­ing to the study:
In gen­er­al, can­cer sites as­so­ci­ated with be­ha­vi­or­al risk factors such as to­bacco, al­co­hol and in­tra­ven­ous drug use, sexu­al trans­mis­sion, and poor diet tend to be as­so­ci­ated with high­er poverty. In con­trast, can­cer sites as­so­ci­ated with over­dia­gnos­is are as­so­ci­ated with lower poverty, not­ably skin, thyroid, and pro­state. Over­dia­gnos­is refers to the clin­ic­al de­tec­tion of asymp­to­mat­ic tu­mors, of­ten through ad­vanced med­ic­al tech­no­logy, that would oth­er­wise re­main un­detec­ted and un­coun­ted.
For a break­down of the can­cers that are dia­gnosed in poor and rich neigh­bor­hoods, have a look at this graph the re­search­ers made for four poverty levels us­ing data from the 2005-2009 Amer­ic­an Com­munity Sur­vey. The af­flic­tions that strike in high­er-poverty areas are loc­ated to­ward the right, and can­cers dis­covered more in rich­er 'hoods are shown to­ward left:
What We're Following See More »
SAUDI ARABIA BILL
Veto Override Scheduled for Wednesday in Senate
14 minutes ago
THE LATEST
Senate Majority Leader Mitch McConnell said this afternoon that the Senate on Wednesday will take up an override of President Obama's veto of legislation that would allow the families of 9/11 victims to sue the government of Saudi Arabia. "The vote is expected garner the two-thirds majority necessary to override the veto."
MEDIA SHOULD HOLD TRUMP RESPONSIBLE
Reid Devotes Senate Floor Speech to Trump's 'Racism'
58 minutes ago
THE LATEST
"Donald Trump is a racist," announced Senate Minority Leader Harry Reid from the Senate floor this afternoon. Reid said all of us are occasionally politically incorrect, but "I don't know of anyone that when that happens doesn't acknowledge it and, if necessary, apologize quickly." But Trump, he added, says things with "full intent to demean and to denigrate." Reid argued that the media isn't holding Trump to account, and should explicitly call him a racist.
ABSENT FROM LIST: GENNIFER FLOWERS
Most Trump Guests Have Military Ties
4 hours ago
TOP OF MIND
Trending on Google: 'Why Should Trump Not Be President'
4 hours ago
THE DETAILS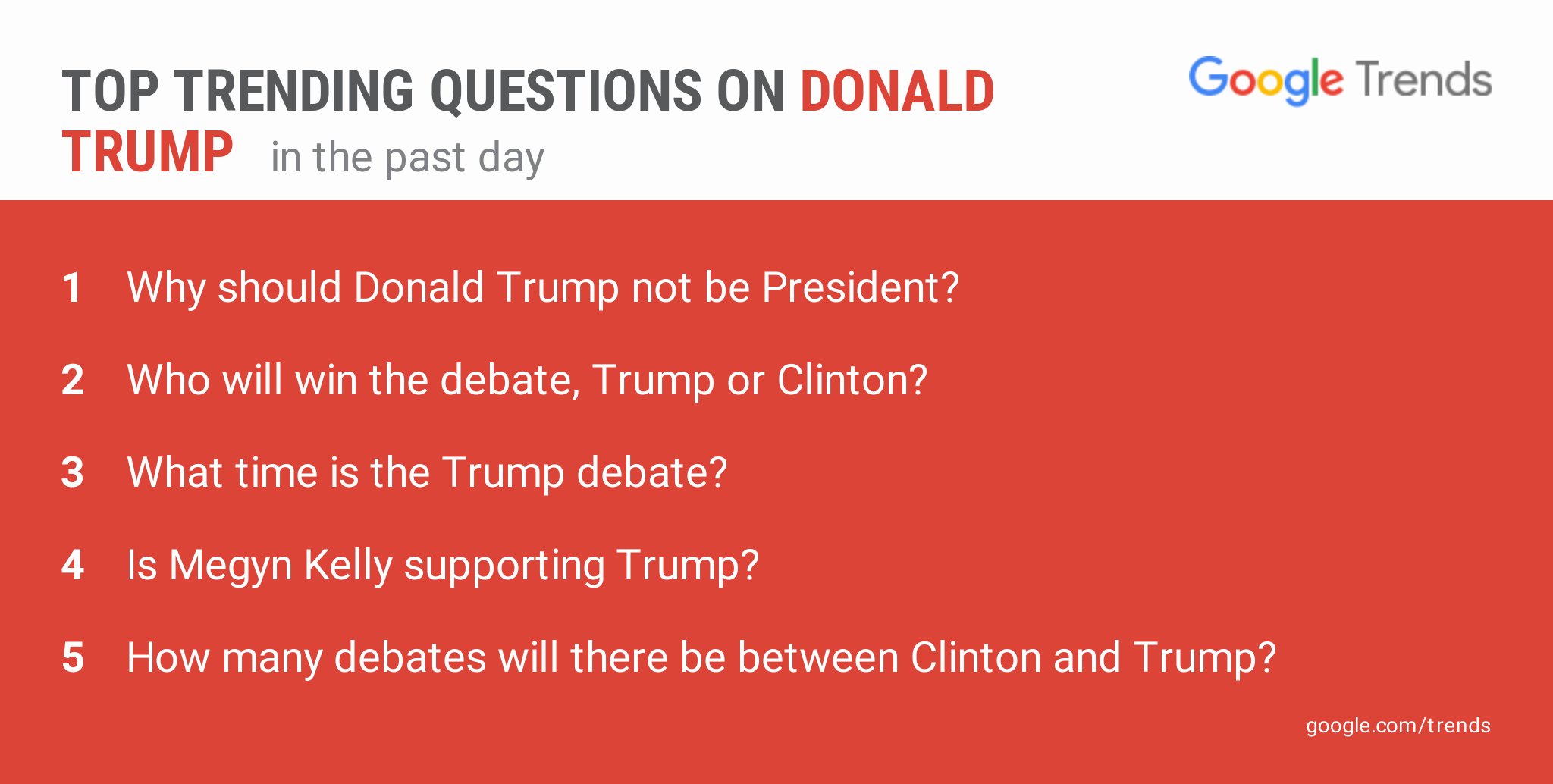 WHO PLAYED THE DONALD?
Longtime Clinton Aide Played Trump in Mock Debates
7 hours ago
THE DETAILS
After keeping the information private for most of the lead-up to the debate on Monday, it has been revealed that longtime Clinton aide Philippe Reines has been playing the role of Donald Trump in her debate prep. Reines knows Clinton better than most, able to identify both her strengths and weaknesses, and his selection for a sparring partner shows that Clinton is preparing for the brash and confrontational Donald Trump many have come to expect.