Im­mig­ra­tion act­iv­ists and Eric Can­tor agree on something: He's re­spons­ible for block­ing com­pre­hens­ive im­mig­ra­tion re­form in the House.
The ma­jor­ity lead­er, who faces tea-party act­iv­ist and Ran­dolph-Ma­con Col­lege pro­fess­or Dav­id Brat in a June 10 Vir­gin­ia primary, has been beat­ing back claims by his op­pon­ent that say he's soft on is­sues ran­ging from Obama­care to im­mig­ra­tion. Last week, Can­tor's cam­paign sent out a mail­er, which de­clares Can­tor is "stop­ping the Obama-Re­id plan to give il­leg­al ali­ens am­nesty."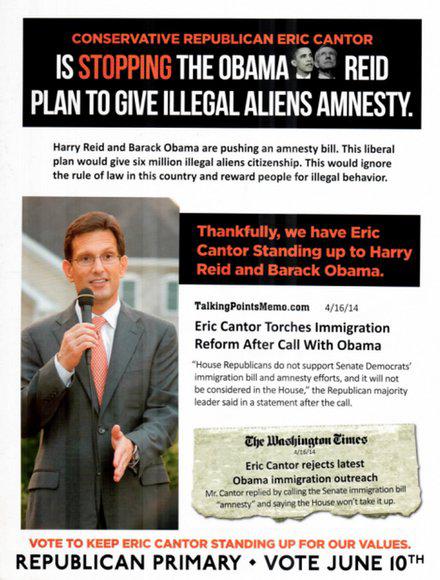 It's the sort of harsh rhet­or­ic that ap­pears to be at odds, at least in tone, with Can­tor's re­cent state­ments on im­mig­ra­tion. Just as Can­tor's cam­paign was send­ing tens of thou­sands of these mail­ers in his Vir­gin­ia dis­trict, he was cla­ri­fy­ing to mul­tiple out­lets that he sup­ports the policy of a bill that would grant leg­al status to un­doc­u­mented im­mig­rants who en­list in the mil­it­ary.
House Re­pub­lic­an lead­er­ship pre­ven­ted that bill, called the En­list Act, from reach­ing the House floor as part of the de­bate on a must-pass de­fense bill. The Na­tion­al De­fense Au­thor­iz­a­tion Act "is not the ap­pro­pri­ate place for this, but I sup­port the prin­ciple," Can­tor said.
Can­tor's cam­paign in­sists that there is no in­con­sist­ency with his po­s­i­tion on im­mig­ra­tion re­form and the mail­er that de­cries grant­ing "six mil­lion il­leg­al ali­ens cit­izen­ship." The mail­er util­izes lan­guage that na­tion­al Re­pub­lic­ans have been try­ing to shy away from, namely re­fer­ring to un­doc­u­mented im­mig­rants as "il­leg­al ali­ens." (It also calls the Sen­ate bill, which passed with the help of 14 Re­pub­lic­ans, the "Re­id-Obama" plan.)
"In the real world, we all know that the sys­tem is broken and what Eric has said is he is not for these blanket am­nesty plans," said Can­tor cam­paign spokes­man Ray Al­len. "He has also said we should be able to reach a con­sensus on some of these oth­er is­sues: bor­der se­cur­ity, e-Veri­fy, and what we do about chil­dren. That's called lead­er­ship."
But sup­port­ing the prin­ciple of the En­list Act while also block­ing it isn't enough for im­mig­ra­tion ad­voc­ates, who have been tar­get­ing Can­tor as a main obstacle to com­pre­hens­ive re­form.
Over Me­mori­al Day week­end, im­mig­ra­tion act­iv­ists stormed his D.C.-area condo, where they chanted about "the one man block­ing im­mig­ra­tion re­form." And on Wed­nes­day, Demo­crat­ic Rep. Lu­is Gu­ti­er­rez, a pro-re­form lead­er in the House, spoke at the Vir­gin­ia Cap­it­ol in Rich­mond about Can­tor's role in block­ing re­form.
Do such at­tacks from the left help high­light the po­s­i­tion Can­tor's cam­paign is try­ing to make? Al­len wouldn't com­ment on that, but he did say, "At least they have a le­git­im­ate beef be­cause Eric has stopped com­pre­hens­ive re­form, and he is stand­ing against the im­mig­ra­tion [bill], so the cri­ti­cism from the left makes a cer­tain amount of sense."
House Re­pub­lic­an lead­er­ship has in­sisted the House will take a "step-by-step" ap­proach to re­form, but haven't com­mit­ted to a timetable. They also em­phas­ize that the main obstacle to re­form is the lack of trust Re­pub­lic­ans have in the Obama ad­min­is­tra­tion to en­force new im­mig­ra­tion laws.
Can­tor isn't con­sidered vul­ner­able in the race, though Brat's chal­lenge has picked up some na­tion­al at­ten­tion. Can­tor has more than $2 mil­lion cash on hand, while Brat has only $42,418.
Still, Brat's at­tacks on Can­tor's im­mig­ra­tion re­cord were enough to spur his cam­paign to cla­ri­fy the re­cord, as they put it. Mean­while, it's that same re­cord that has re­form ad­voc­ates so up­set.