U.S. reg­u­lat­ors have op­ted against or­der­ing the ex­ped­ited trans­fer of spent atom­ic fuel from above-ground pools to dry casks, the As­so­ci­ated Press re­ports.
The Nuc­le­ar Reg­u­lat­ory Com­mis­sion de­cided to abide by an in­tern­al ad­vise­ment to cease ex­plor­ing the idea of re­quir­ing atom­ic en­ergy plants to speed up the re­mov­al of used fuel from stor­age pools to met­al and con­crete con­tain­ers, ac­cord­ing to a Fri­day com­mis­sion memo.
"The com­mis­sion has ap­proved the staff's re­com­mend­a­tion that this … activ­ity be closed and that no fur­ther gen­er­ic as­sess­ments be pur­sued re­lated to pos­sible reg­u­lat­ory ac­tions to re­quire the ex­ped­ited trans­fer of spent fuel to dry cask stor­age," states the memo by Rochelle Ba­vol, act­ing com­mis­sion sec­ret­ary.
A num­ber of U.S. law­makers and act­iv­ists have cri­ti­cized the nuc­le­ar en­ergy in­dustry's long­stand­ing prac­tice of keep­ing large quant­it­ies of highly ra­dio­act­ive atom­ic ma­ter­i­al in lightly pro­tec­ted stor­age pools. Their con­cern is that wa­ter sur­round­ing the used fuel could es­cape its con­tain­er and lead to the dis­pers­al of harm­ful ra­di­ation in­to the en­vir­on­ment in the event of an earth­quake, flood or ter­ror­ist at­tack.
Last year, com­mis­sion staff con­cluded that mov­ing spent fuel to dry cask stor­age would not res­ult in safety im­prove­ments great enough to war­rant the ex­tra fin­an­cial cost that would come with im­ple­ment­ing the meas­ure.
Bill Dean, Nuc­le­ar Reg­u­lat­ory Com­mis­sion north­east re­gion­al ad­min­is­trat­or, in an in­ter­view said the reg­u­lat­or had de­term­ined that both dry casks and pools were "ad­equate stor­age pro­cesses for spent fuel, and there is not a sig­ni­fic­ant safety be­ne­fit to re­quir­ing full trans­fer to dry cask stor­age."
U.S. Sen­at­or Bernie Sanders (I-Vt.) was one of five sen­at­ors to write to the com­mis­sion's head in re­cent weeks to warn against eas­ing safety and se­cur­ity reg­u­la­tions for moth­balled ci­vil­ian re­act­ors.
"We are one nat­ur­al dis­aster, mech­an­ic­al fail­ure or ter­ror­ist at­tack away from a dis­aster," Sanders said in a Tues­day state­ment. "If the NRC will not change the rules, I will con­tin­ue to work with my col­leagues to change the rules through le­gis­la­tion."
Cla­ri­fic­a­tion: This art­icle was mod­i­fied after pub­lic­a­tion to cla­ri­fy the po­ten­tial for ra­di­ation leaks.
What We're Following See More »
NEVER TRUMP
USA Today Weighs in on Presidential Race for First Time Ever
12 hours ago
THE DETAILS
"By all means vote, just not for Donald Trump." That's the message from USA Today editors, who are making the first recommendation on a presidential race in the paper's 34-year history. It's not exactly an endorsement; they make clear that the editorial board "does not have a consensus for a Clinton endorsement." But they state flatly that Donald Trump is, by "unanimous consensus of the editorial board, unfit for the presidency."
UNTIL DEC. 9, ANYWAY
Obama Signs Bill to Fund Government
18 hours ago
IT'S ALL CLINTON
Reliable Poll Data Coming in RE: Debate #1
20 hours ago
WHY WE CARE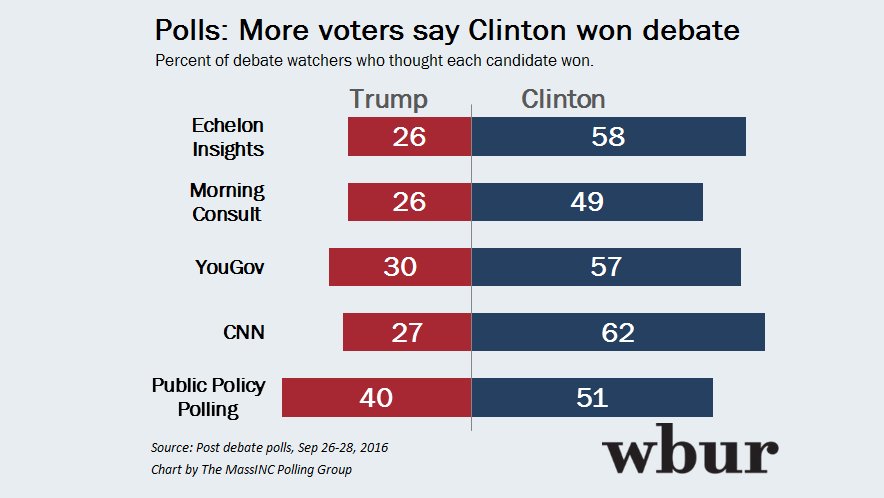 WHAT WILL PASS?
McConnell Doubts Criminal Justice Reform Can Pass This Year
22 hours ago
ALSO FIRED UNATTRACTIVE WAITRESSES
Trump Did Business with Cuba
23 hours ago
THE LATEST
Today in bad news for Donald Trump:
Newsweek found that a company he controlled did business with Cuba under Fidel Castro "despite strict American trade bans that made such undertakings illegal, according to interviews with former Trump executives, internal company records and court filings." In 1998, he spent at least $68,000 there, which was funneled through a consluting company "to make it appear legal."
The Los Angeles Times reports that at a golf club he owns in California, Trump ordered that unattractive female staff be fired and replaced with prettier women.