Ready for Hil­lary is any­thing but a tra­di­tion­al polit­ic­al group. But it's now look­ing to in­flu­ence elec­tions the old-fash­ioned way — by writ­ing checks to can­did­ates.
The su­per PAC, which has been build­ing sup­port for a po­ten­tial Hil­lary Clin­ton 2016 pres­id­en­tial bid since early last year, es­tab­lished a new ac­count Wed­nes­day that will al­low it to make dir­ect con­tri­bu­tions to can­did­ates and oth­er polit­ic­al com­mit­tees, provid­ing the group with an­oth­er av­en­ue to aide Demo­crats in the 2014 midterms.
As a hy­brid PAC, Ready for Hil­lary will now main­tain two sep­ar­ate ac­counts: One that can raise un­lim­ited amounts of cash for in­de­pend­ent ex­pendit­ures, but may not dir­ectly donate to can­did­ates, and an­oth­er that can ac­cept capped dona­tions, but may send hard money to can­did­ates' cam­paigns.
"Ready for Hil­lary and our more than 2 mil­lion sup­port­ers are not only ex­cited about en­cour­aging Hil­lary to run in 2016, but also ex­cited to be work­ing to elect Demo­crats in 2014," spokes­man Seth Bring­man said. "This is an­oth­er tool that we now have avail­able to us to help in that ef­fort."
The group hasn't signaled which can­did­ates in par­tic­u­lar it will sup­port this year. But Ready for Hil­lary staff has met with 2014 cam­paign staffs in key states, in­clud­ing New Hamp­shire. While they can't co­ordin­ate, the group's rep­res­ent­at­ives can re­peat state­ments they've made in pub­lic about want­ing to help midterm can­did­ates in any way they can.
In ad­di­tion, Ready for Hil­lary plans to dir­ect donors to make dona­tions in $20.16 in­cre­ments to midterm can­did­ates, so the cam­paigns will know the money came at the be­hest of the pro-Clin­ton group.
Pre­vi­ously, the group has helped with get-out-the-vote ef­forts in a loc­al Ex­ec­ut­ive Coun­cil race in the Gran­ite State last March, as it did in the 2013 Vir­gin­ia gubernat­ori­al and New York City may­or­al races.
As Ready for Hil­lary pre­pares to take on a new role in the midterms, a hand­ful of big Demo­crat­ic names should help it bring in plenty of cash over the next few weeks. Sen. Dick Durbin of Illinois, Chica­go May­or Rahm Emanuel, Sen. Bar­bara Box­er of Cali­for­nia, and Sen. Richard Blu­menth­al of Con­necti­c­ut are all slated to head­line fun­draisers for the group in June. Ready for Hil­lary raised $1.7 mil­lion in the first three months of the year and ended March with more than $850,000 in the bank.
What We're Following See More »
ABSENT FROM LIST: GENNIFER FLOWERS
Most Trump Guests Have Military Ties
2 hours ago
TOP OF MIND
Trending on Google: 'Why Should Trump Not Be President'
2 hours ago
THE DETAILS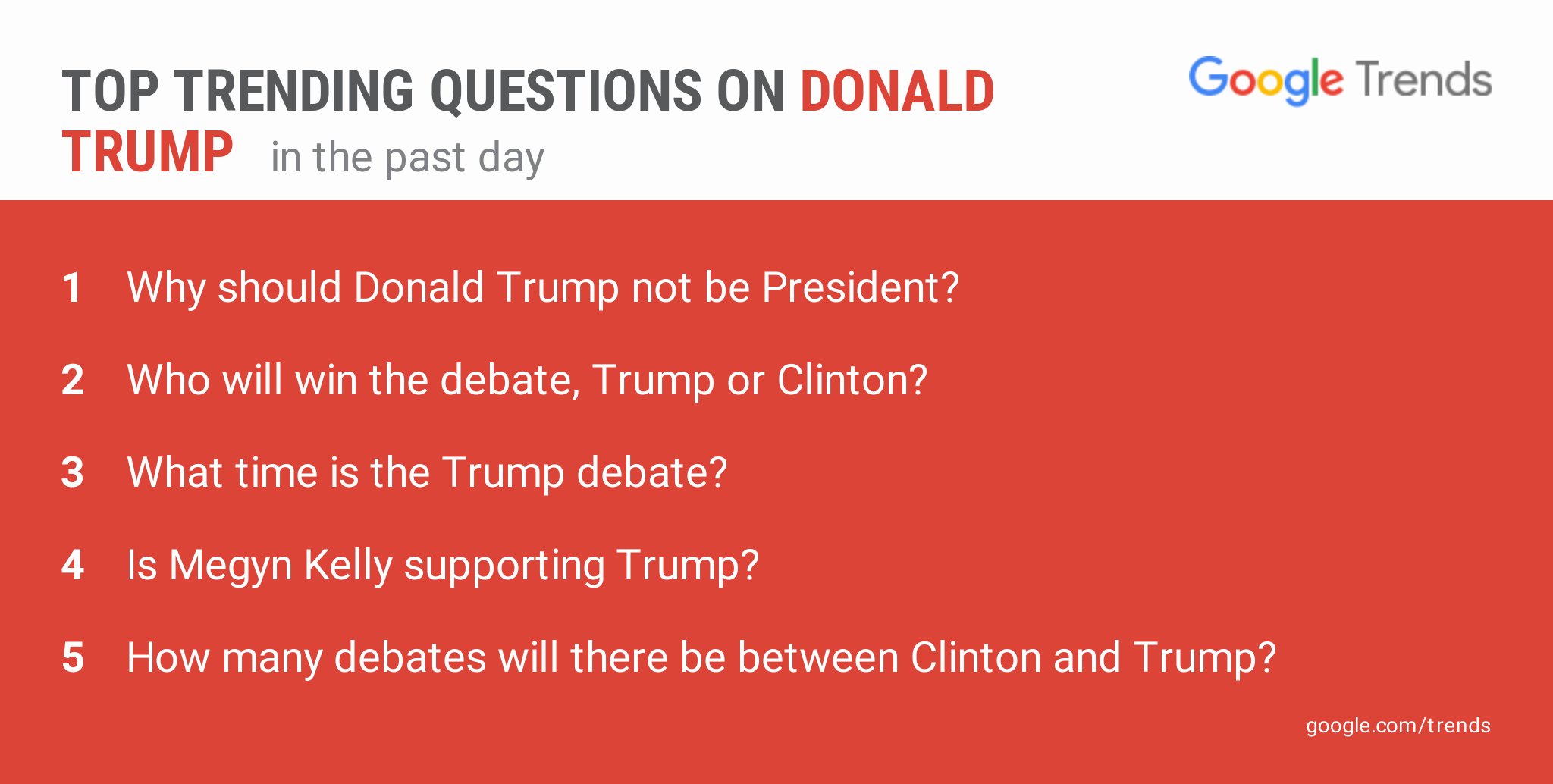 WHO PLAYED THE DONALD?
Longtime Clinton Aide Played Trump in Mock Debates
5 hours ago
THE DETAILS
After keeping the information private for most of the lead-up to the debate on Monday, it has been revealed that longtime Clinton aide Philippe Reines has been playing the role of Donald Trump in her debate prep. Reines knows Clinton better than most, able to identify both her strengths and weaknesses, and his selection for a sparring partner shows that Clinton is preparing for the brash and confrontational Donald Trump many have come to expect.
WEEKEND POLLING ROUNDUP
New Polls Still Show Razor-Thin Margins
5 hours ago
THE QUESTION
How Many Times Has the Trump Campaign Emailed Ted Cruz's Supporters?
5 hours ago
THE ANSWER
More than 30 times, in the case of some donors. Long before Cruz endorsed Trump—and before he even snubbed the nominee at the Republican National Convention—"the senator quietly began renting his vast donor email file to his former rival, pocketing at least tens of thousands of dollars, and more likely hundreds of thousands, that can be used to bankroll the Texan's own political future."