Yes, Eric Shin­seki had to go, and he prob­ably knew it him­self once the hor­ror stor­ies sur­faced. As the re­tired four-star gen­er­al learned at West Point, the com­mand­er is ul­ti­mately re­spons­ible. While the Vet­er­ans Ad­min­is­tra­tion has been a ma­na­geri­al bleed­ing sore for years, the chaos and per­haps crimin­al­ity at sub­or­din­ate ech­el­ons of the VA on Shin­seki's watch made his sur­viv­al im­possible.
But let's not for­get that Ric Shin­seki is not just a highly dec­or­ated com­mand­er and wounded war­ri­or, los­ing part of his foot in Vi­et­nam and claw­ing his way back onto act­ive duty against the wishes of Army brass. He's a truth-tell­er of the first rank — and that dis­play of char­ac­ter so en­raged the George W. Bush de­fense team that he en­countered some of the shab­bi­est treat­ment an of­ficer and a gen­tle­man has ever en­countered dur­ing my 46 years serving in and hanging around the Pentagon.
It didn't help his case with the Bush­ies that Bill Clin­ton had ap­poin­ted him Army chief of staff. Moreover, De­fense Sec­ret­ary Don­ald Rums­feld, who didn't en­joy be­ing chal­lenged, quickly took a dis­like to Shin­seki after sev­er­al policy and strategy dis­agree­ments.
Rummy was so in­tent on pun­ish­ing Shin­seki out, in fact, that he dir­ec­ted one of his flack-shop aco­lytes to leak word of his re­place­ment to The New York Times — 15 months be­fore Shin­seki's four-year term was up.
This had the in­stant ef­fect of ren­der­ing Shin­seki a lame duck with­in the E-ring, the Pentagon's power cor­ridor. It was cheesy, petty, shame­ful, and totally un­war­ran­ted be­ha­vi­or. The Rums­feld crowd loved them­selves for it.
When Shin­seki re­tired in June of 2003, Rums­feld and Deputy De­fense Sec­ret­ary Paul Wolfow­itz were not­able by their ab­sence at his Fort My­er send-off — an­oth­er gra­tu­it­ous, small-bore move.
Even then, they were still fum­ing over Shin­seki's testi­mony be­fore the Sen­ate Armed Ser­vices Com­mit­tee four months earli­er. Asked how many troops would be needed to keep the peace in a post­war Ir­aq, Shin­seki pre­dicted "sev­er­al hun­dred thou­sand."
Rums­feld went bal­list­ic; that was far more than the low-ball fig­ure he'd been us­ing on Cap­it­ol Hill. Wolfow­itz blas­ted Shin­seki pub­licly, call­ing his es­tim­ate "wildly off the mark." The sub-rosa snip­ing es­cal­ated from there; sud­denly it wasn't hard at all for re­port­ers to find someone in the Rums­feld or­bit eager to dump all over the Army chief.  
Of course, his­tory has shown that Shin­seki's prin­cipled testi­mony about Ir­aq was on the mark, and the Rums­feld/Cheney/Wolfow­itz war hawks were wrong.
Still, Obama was right to in­sist on Shin­seki's resig­na­tion from the VA. But he was also right to sa­lute Shin­seki as "a very good man; I don't just mean he's an ac­com­plished man "¦ [and] an out­stand­ing sol­dier.  He's a good per­son who's done ex­em­plary work on our be­half."
In the polit­ic­al game, there's of­ten a dif­fer­ence between need­ing to go and de­serving to go. Not for the first time in a stor­ied ca­reer, Ric Shin­seki de­served bet­ter.
What We're Following See More »
NEVER TRUMP
USA Today Weighs in on Presidential Race for First Time Ever
12 hours ago
THE DETAILS
"By all means vote, just not for Donald Trump." That's the message from USA Today editors, who are making the first recommendation on a presidential race in the paper's 34-year history. It's not exactly an endorsement; they make clear that the editorial board "does not have a consensus for a Clinton endorsement." But they state flatly that Donald Trump is, by "unanimous consensus of the editorial board, unfit for the presidency."
UNTIL DEC. 9, ANYWAY
Obama Signs Bill to Fund Government
17 hours ago
IT'S ALL CLINTON
Reliable Poll Data Coming in RE: Debate #1
20 hours ago
WHY WE CARE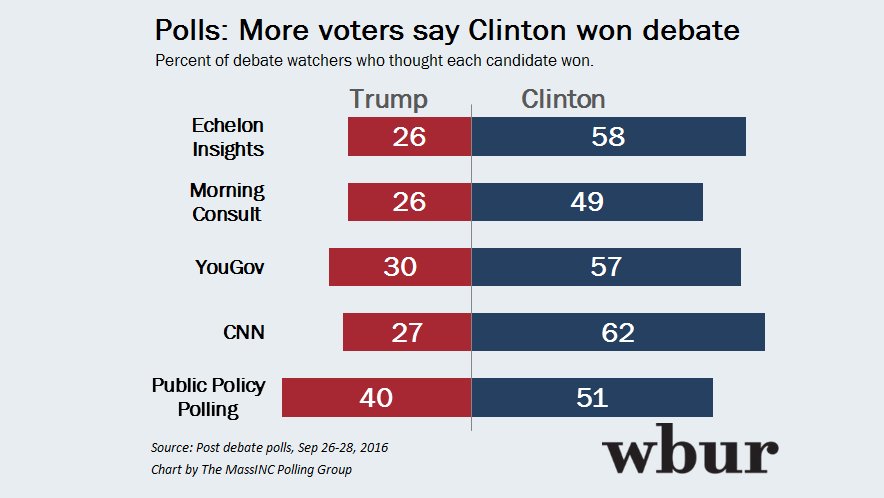 WHAT WILL PASS?
McConnell Doubts Criminal Justice Reform Can Pass This Year
22 hours ago
ALSO FIRED UNATTRACTIVE WAITRESSES
Trump Did Business with Cuba
22 hours ago
THE LATEST
Today in bad news for Donald Trump:
Newsweek found that a company he controlled did business with Cuba under Fidel Castro "despite strict American trade bans that made such undertakings illegal, according to interviews with former Trump executives, internal company records and court filings." In 1998, he spent at least $68,000 there, which was funneled through a consluting company "to make it appear legal."
The Los Angeles Times reports that at a golf club he owns in California, Trump ordered that unattractive female staff be fired and replaced with prettier women.