Tues­day's primary res­ults are in "" well, sort of any­way. We're still await­ing a fi­nal count on the much-hyped Mis­sis­sippi battle between Sen. Thad Co­chran (R) and Chris McDaniel (R), but most oth­er mar­quee res­ults are com­plete. Here's what we found in­ter­est­ing:
— It's a run-off in Mis­sis­sippi. Bar­ring some wholly un­ex­pec­ted late re­turns, McDaniel and Co­chran will square off again in three weeks after neither earned a ma­jor­ity of the vote (though both got very close). It's ob­vi­ously not the worst-case scen­ario for the six-term sen­at­or, but the res­ult should non­ethe­less deeply worry Co­chran sup­port­ers. Long­time in­cum­bents aren't dragged to a run-off un­less voters have ser­i­ous ques­tions about their cam­paign. It's hard to con­sider McDaniel (who will also be­ne­fit as the state's strange blog­ger scan­dal fades from head­lines) any­thing oth­er than a fa­vor­ite the next three weeks, es­pe­cially if the me­dia be­gins ag­gress­ively ques­tion­ing Co­chran's aptitude after a re­veal­ing, hard-hit­ting At­lantic story about the sen­at­or sug­ges­ted he has a weak grasp on his own agenda.
— State Sen. Joni Ernst (R) was ex­pec­ted to fin­ish first in the Sen­ate Re­pub­lic­an primary in Iowa, but nobody pre­dicted she'd end up well north of 50 per­cent. That's a big boost of mo­mentum for a can­did­ate who "" while cer­tainly vi­able "" still prompts a few private doubts among Re­pub­lic­an op­er­at­ives about her read­i­ness. Still, Iowa is a purple state with an open seat in a tough na­tion­al cli­mate for Demo­crats. It's clearly a pick-up op­por­tun­ity for the GOP, in the same cat­egory of oth­er second-tier op­por­tun­it­ies like Col­or­ado and New Hamp­shire.
— Oth­er than per­haps Allyson Schwartz (D), the year's most dis­ap­point­ing can­did­ate might be mil­lion­aire busi­ness­man Mark Jac­obs (R) in Iowa. Des­pite a big cash ad­vant­age, he some­how man­aged to fin­ish be­low even un­der­fun­ded ra­dio talk show host Sam Clo­vis (R). What's es­pe­cially strange is polit­ic­al neo­phytes with a big wal­let "" Tom Wolf (D) in Pennsylvania, Dav­id Per­due (R) in Geor­gia, and most re­cently an­oth­er Tues­day primary win­ner Tom Ma­cAr­thur (R) in New Jer­sey "" have oth­er­wise had a strong start to 2014.
One quick note on House races: Demo­crats ap­pear to have qual­i­fied a can­did­ate for the gen­er­al elec­tion in lib­er­al-lean­ing CA-31 in Pete Aguilar  (D), something they couldn't man­age in 2012. (This is a dis­trict Obama car­ried twice.) But the fact that dis­aster nearly struck again, even though the DCCC and oth­er groups were pain­fully aware of the dangers, sug­gest that Cali­for­nia's top-two primar­ies will con­tin­ue caus­ing trouble for Demo­crats un­less they ad­just their strategy in situ­ations like this — per­haps to in­clude massive spend­ing like Demo­crat­ic out­side groups did on Ju­lia Brown­ley's (D) be­half in CA-26 two springs ago.

— Alex Roarty and Jack Fitzpatrick

What We're Following See More »
UNTIL DEC. 9, ANYWAY
Obama Signs Bill to Fund Government
4 hours ago
REDSKINS IMPLICATIONS
SCOTUS to Hear Case on Offensive Trademarks
4 hours ago
WHY WE CARE
"The Supreme Court is taking up a First Amendment clash over the government's refusal to register offensive trademarks, a case that could affect the Washington Redskins in their legal fight over the team name. The justices agreed Thursday to hear a dispute involving an Asian-American rock band called the Slants, but they did not act on a separate request to hear the higher-profile Redskins case at the same time." Still, any precedent set by the case could have ramifications for the Washington football team.
STAFF PICKS
Bannon Still Collecting Royalties from 'Seinfeld'
6 hours ago
WHY WE CARE
The Hollywood Reporter takes a look at a little-known intersection of politics and entertainment, in which Trump campaign CEO Steve Bannon is still raking in residuals from Seinfeld. Here's the digest version: When Seinfeld was in its infancy, Ted Turner was in the process of acquiring its production company, Castle Rock, but he was under-capitalized. Bannon's fledgling media company put up the remaining funds, and he agreed to "participation rights" instead of a fee. "Seinfeld has reaped more than $3 billion in its post-network afterlife through syndication deals." Meanwhile, Bannon is "still cashing checks from Seinfeld, and observers say he has made nearly 25 times more off the Castle Rock deal than he had anticipated."
IT'S ALL CLINTON
Reliable Poll Data Coming in RE: Debate #1
6 hours ago
WHY WE CARE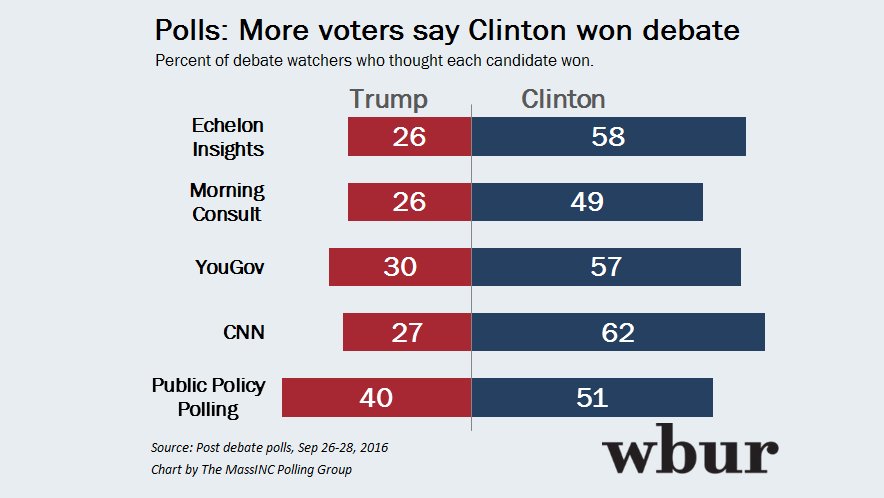 NEXT THURSDAY
Trump Transition Team Meeting with Silicon Valley VIPs
8 hours ago
THE DETAILS
Donald Trump's "transition team will meet next week with representatives of the tech industry, multiple sources confirmed, even as their candidate largely has been largely shunned by Silicon Valley. The meeting, scheduled for next Thursday at the offices of law and lobbying firm BakerHostetler, will include trade groups like the Information Technology Industry Council and the Internet Association that represent major Silicon Valley companies."