Pro-marijuana forces in San Jose, Cal­if., had an idea to flex their polit­ic­al muscles: Of­fer free and dis­coun­ted weed to med­ic­al-marijuana users in ex­change for vot­ing. Surely, scores of people would turn out to cast bal­lots in Tues­day's primary, right?
Doesn't look that way. Turnout in San Jose's primary race, where five City Coun­cil seats and the may­or's post were on the bal­lot, was abysmally low. This, des­pite Sil­ic­on Val­ley Can­nabis Co­ali­tion's "Weed for Votes" cam­paign, in which par­ti­cip­at­ing can­nabis clubs offered free and dis­coun­ted marijuana to people with an "I Voted" stick­er. From San Jose Mer­cury News:
Dur­ing rush hour at one San Jose polling place, only a dozen voters cast their bal­lots in the first hour and a half this morn­ing. Barely three dozen at an­oth­er. But pre­cinct in­spect­or Bart Con­nally, at his Rose Garden pre­cinct with 1,400 re­gistered voters, said "it's not many, but for a primary, it's not too bad."

The of­fer of free or dis­coun­ted marijuana at some San Jose dis­pens­ar­ies for all cus­tom­ers show­ing their "I Voted" stick­er or bal­lot stub didn't seem to bring a rush to the polling places by mid­morn­ing. By late morn­ing Papadon's Col­lect­ive on Lin­coln Av­en­ue in Wil­low Glen re­ceived just a few calls about the of­fer.
In a city of 415,000 re­gistered voters — one of Cali­for­nia's largest cit­ies — only about 85,000 bal­lots were cast in a wide open race for may­or. And voter turnout county-wide is around 20 per­cent.
Also on the primary bal­lot: Gov. Jerry Brown. Santa Clara County turnout dur­ing the last gubernat­ori­al primary peaked at 43 per­cent. In 2006, the last time there was an open race for San Jose may­or, it came in at 37 per­cent.
It's not all bad news for marijuana pro­ponents: Some of the can­nabis co­ali­tion's pre­ferred can­did­ates tri­umphed Tues­day, such as Santa Clara County Su­per­visor Dave Cortese, who will face San Jose Coun­cil­man Sam Lic­cardo in the Novem­ber run­off for may­or of the city.
About 80 per­cent of votes cast in San Jose were ex­pec­ted to come via mail any­way, but the low turnout is not all that sur­pris­ing; ex­perts were pre­dict­ing a 20-year-low turnout in Santa Clara County. And if free weed isn't enough to re­verse that tide, then what is?
What We're Following See More »
SAUDI ARABIA BILL
Veto Override Scheduled for Wednesday in Senate
9 minutes ago
THE LATEST
Senate Majority Leader Mitch McConnell said this afternoon that the Senate on Wednesday will take up an override of President Obama's veto of legislation that would allow the families of 9/11 victims to sue the government of Saudi Arabia. "The vote is expected garner the two-thirds majority necessary to override the veto."
MEDIA SHOULD HOLD TRUMP RESPONSIBLE
Reid Devotes Senate Floor Speech to Trump's 'Racism'
53 minutes ago
THE LATEST
"Donald Trump is a racist," announced Senate Minority Leader Harry Reid from the Senate floor this afternoon. Reid said all of us are occasionally politically incorrect, but "I don't know of anyone that when that happens doesn't acknowledge it and, if necessary, apologize quickly." But Trump, he added, says things with "full intent to demean and to denigrate." Reid argued that the media isn't holding Trump to account, and should explicitly call him a racist.
ABSENT FROM LIST: GENNIFER FLOWERS
Most Trump Guests Have Military Ties
4 hours ago
TOP OF MIND
Trending on Google: 'Why Should Trump Not Be President'
4 hours ago
THE DETAILS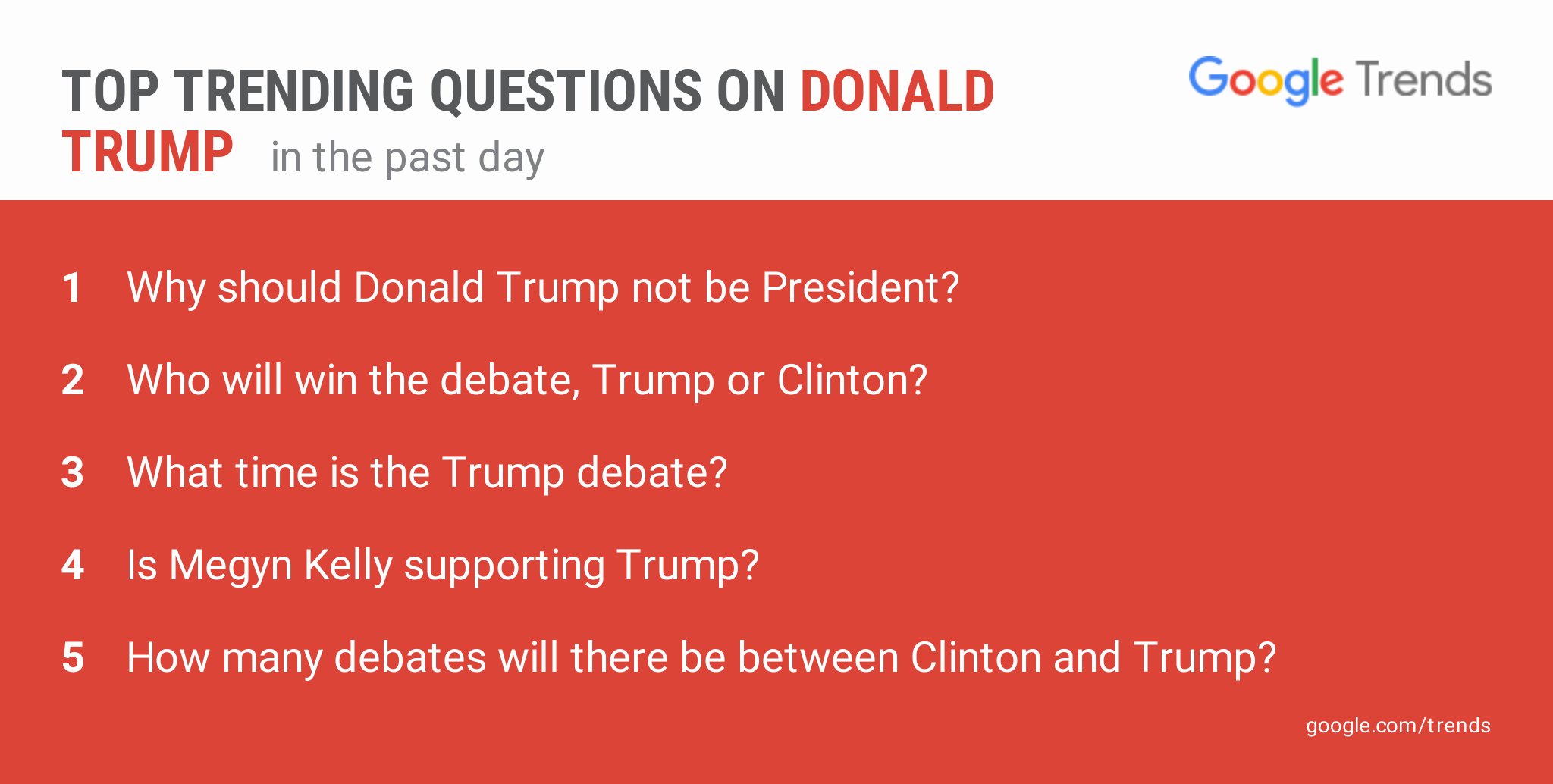 WHO PLAYED THE DONALD?
Longtime Clinton Aide Played Trump in Mock Debates
6 hours ago
THE DETAILS
After keeping the information private for most of the lead-up to the debate on Monday, it has been revealed that longtime Clinton aide Philippe Reines has been playing the role of Donald Trump in her debate prep. Reines knows Clinton better than most, able to identify both her strengths and weaknesses, and his selection for a sparring partner shows that Clinton is preparing for the brash and confrontational Donald Trump many have come to expect.