The mo­ments after Ma­jor­ity Lead­er Eric Can­tor's shock­ing primary de­feat are sort of like the polit­ic­al equi­val­ent of a post-Apo­ca­lyptic event that no one thought would ac­tu­ally hap­pen. And now when the fig­ur­at­ive dust settles and every­one wraps their minds around this "new nor­mal," im­mig­ra­tion-re­form back­ers will have to beat back the per­cep­tion that sup­port for im­mig­ra­tion pro­pos­als is what brought down one of the most power­ful men in Wash­ing­ton.
Im­mig­ra­tion was a cent­ral fo­cus of Can­tor's primary cam­paign, as the new-Re­pub­lic­an can­did­ate for Vir­gin­ia's 7th Dis­trict seat, Dav­id Brat, ac­cused Can­tor of push­ing "am­nesty." Can­tor's re­tort was that he blocked the "Obama-Re­id plan to give il­leg­al ali­ens am­nesty."
In real­ity, Can­tor was no friend to the most vo­cal im­mig­ra­tion-re­form ad­voc­ates — there were reg­u­lar protests at his D.C.-area condo, and im­mig­ra­tion act­iv­ists even crashed his somber postelec­tion "party" Tues­day, chant­ing "What do we want? Im­mig­ra­tion re­form! When do we want it? Now!" He was viewed as stand­ing in the way of mov­ing re­form through the House.
But at the same time, ad­voc­ates re­mained some­what hope­ful as Can­tor has ex­pressed sup­port for a path­way to cit­izen­ship for un­doc­u­mented chil­dren and those en­list­ing in the mil­it­ary. He backed the House GOP im­mig­ra­tion prin­ciples, re­leased earli­er this year, which in­cluded leg­al­iz­a­tion.
Now that Can­tor has been de­feated hand­ily, many will worry about the chilling ef­fect on oth­er Re­pub­lic­ans who are open to mod­est re­form but are oth­er­wise weary of the polit­ic­al con­sequences.
There are plenty of reas­ons not to pin Can­tor's loss en­tirely on his sup­port for par­tic­u­lar im­mig­ra­tion pro­pos­als (his ab­sence from his newly re­drawn dis­trict, tak­ing Brat's chal­lenge ser­i­ously too late, etc.). But there's a dif­fer­ence between what led to Can­tor's de­feat and what les­sons will be drawn from his very high-pro­file loss. Im­mig­ra­tion re­form, an already fraught is­sue that has di­vided the GOP, will take cen­ter stage.
"Im­mig­ra­tion re­form is toast. Again," said former RNC Com­mu­nic­a­tions Dir­ect­or and strategist Lisa Cam­ooso Miller. "Can­tor offered a com­mon­sense pro­pos­al that made good sense for the coun­try. As a res­ult, the rad­ic­al right wing of the Re­pub­lic­an Party has taken him down."
But pro­spects for re­form were already pretty ter­rible for the re­mainder of the year. Pres­id­ent Obama is hold­ing off on ex­ec­ut­ive ac­tions re­lated to de­port­a­tion policy un­til after Au­gust, in the hopes that the House will do something once primary sea­son con­cludes but be­fore the gen­er­als heat up. And GOP ad­voc­ates have quietly been gauging sup­port for do­ing something this sum­mer. But House lead­er­ship aides this week signaled that the status of re­form re­mains the same as it did months ago, and lead­er­ship hadn't changed its tone, either.
Nat­ur­ally, back­ers of re­form in the House aren't ready to con­cede de­feat quite yet. Re­pub­lic­an Rep. Ileana Ros-Le­htin­en, for one, has in­sisted that im­mig­ra­tion re­form is not dead in light of Can­tor's loss.
And it's not like Can­tor's loss was Tues­day night's only not­able polit­ic­al event. While Can­tor fell to Brat, mo­sey fur­ther on down to South Car­o­lina, where Sen. Lind­sey Gra­ham eas­ily coas­ted in his primary, beat­ing back six — yes, six — tea-party chal­lengers and avoided a run­off.
Gra­ham, as you re­call, was one of the ar­chi­tects of the Sen­ate's com­pre­hens­ive im­mig­ra­tion bill. He's been a vo­cal pro­ponent of im­mig­ra­tion re­form and backs a path­way to cit­izen­ship (not just for dream­ers). And Gra­ham's vic­tory is be­ing held up by ad­voc­ates as a reas­on to whole­heartedly em­brace re­form.
"To­night's elec­tion shows the Re­pub­lic­an Party has two paths it can take on im­mig­ra­tion," Demo­crat­ic Sen. Chuck Schu­mer, who helped write the Sen­ate's im­mig­ra­tion bill, said in a state­ment. "The Gra­ham path of show­ing lead­er­ship and solv­ing a prob­lem in a main­stream way, which leads to vic­tory. Or the Can­tor path of try­ing to play both sides, which is a path to de­feat."
Demo­crats will at­tempt to pin the loss as a re­jec­tion of Can­tor him­self, rather than of im­mig­ra­tion re­form. A new poll to be re­leased Wed­nes­day by left-learn­ing Pub­lic Policy Polling will show that 72 per­cent of voters in his dis­trict sup­port im­mig­ra­tion re­form, in­clud­ing a ma­jor­ity of Re­pub­lic­ans. At the same time, voters largely dis­ap­proved of Can­tor and Re­pub­lic­an House lead­er­ship.
"Can­tor didn't lose be­cause of im­mig­ra­tion," PPP dir­ect­or Tom Jensen said in a memo. "He lost be­cause of the deep un­pop­ular­ity of both him­self per­son­ally and of the Re­pub­lic­an House lead­er­ship."
Or take Rep. Ren­ee Ellmers's North Car­o­lina primary vic­tory last month; she had also at­trac­ted an un­der­fun­ded chal­lenger from the right, who fo­cused on her sup­port for an im­mig­ra­tion pro­pos­al to of­fer leg­al­iz­a­tion to un­doc­u­mented minors. That race had wor­ried ad­voc­ates for re­form that her loss would like­wise hurt their cause.
"There are a lot of mem­bers who have been afraid [to back re­form], but there have also been mem­bers who have suc­ceeded in their primar­ies," Bi­par­tis­an Policy Cen­ter's Theresa Car­din­al Brown said shortly after Can­tor's de­feat. "It's kind of un­clear. It may be too soon to tell."
Nearly all of polit­ic­al Wash­ing­ton, not just im­mig­ra­tion watch­ers, was caught off-guard by Can­tor's de­feat. And now every­one is try­ing to fig­ure it out.
What We're Following See More »
UNTIL DEC. 9, ANYWAY
Obama Signs Bill to Fund Government
4 hours ago
REDSKINS IMPLICATIONS
SCOTUS to Hear Case on Offensive Trademarks
4 hours ago
WHY WE CARE
"The Supreme Court is taking up a First Amendment clash over the government's refusal to register offensive trademarks, a case that could affect the Washington Redskins in their legal fight over the team name. The justices agreed Thursday to hear a dispute involving an Asian-American rock band called the Slants, but they did not act on a separate request to hear the higher-profile Redskins case at the same time." Still, any precedent set by the case could have ramifications for the Washington football team.
STAFF PICKS
Bannon Still Collecting Royalties from 'Seinfeld'
5 hours ago
WHY WE CARE
The Hollywood Reporter takes a look at a little-known intersection of politics and entertainment, in which Trump campaign CEO Steve Bannon is still raking in residuals from Seinfeld. Here's the digest version: When Seinfeld was in its infancy, Ted Turner was in the process of acquiring its production company, Castle Rock, but he was under-capitalized. Bannon's fledgling media company put up the remaining funds, and he agreed to "participation rights" instead of a fee. "Seinfeld has reaped more than $3 billion in its post-network afterlife through syndication deals." Meanwhile, Bannon is "still cashing checks from Seinfeld, and observers say he has made nearly 25 times more off the Castle Rock deal than he had anticipated."
IT'S ALL CLINTON
Reliable Poll Data Coming in RE: Debate #1
6 hours ago
WHY WE CARE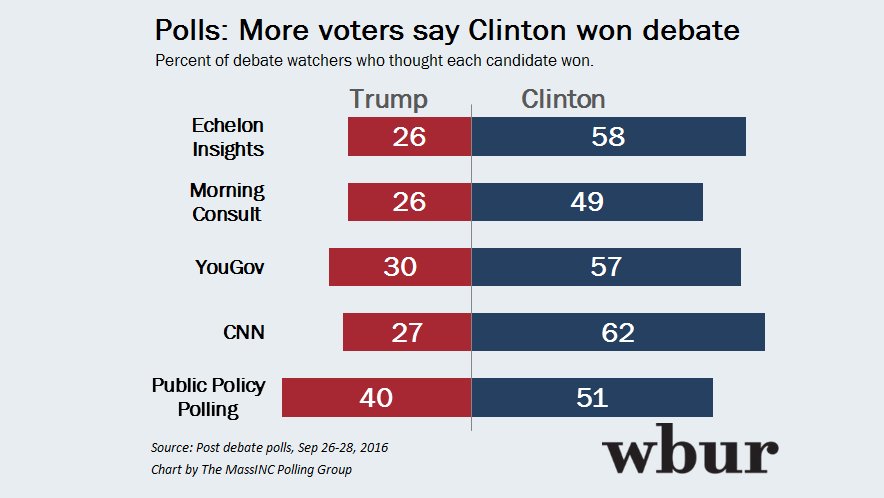 NEXT THURSDAY
Trump Transition Team Meeting with Silicon Valley VIPs
8 hours ago
THE DETAILS
Donald Trump's "transition team will meet next week with representatives of the tech industry, multiple sources confirmed, even as their candidate largely has been largely shunned by Silicon Valley. The meeting, scheduled for next Thursday at the offices of law and lobbying firm BakerHostetler, will include trade groups like the Information Technology Industry Council and the Internet Association that represent major Silicon Valley companies."