June 17, 2014, 10:25 a.m.
An ex­trem­ist mil­it­ant group has taken over num­ber of ma­jor Ir­aqi cit­ies at break­neck speed, but the threat it poses to Ir­aq and the world are un­like any ter­ror­ist threat we've seen be­fore.
The White House refers to the Is­lam­ic State of Ir­aq and Syr­ia as a ter­ror­ist or­gan­iz­a­tion. The group's name, however, re­veals more about the nature of its as­pir­a­tions. To reach its goal of es­tab­lish­ing a ca­liphate in Ir­aq and Syr­ia, IS­IS has built it­self to re­semble a gov­ern­ment, com­plete with a mil­it­ary, a po­lice force, and pub­lic-works pro­jects.
Rather than us­ing tar­geted at­tacks to fur­ther spe­cif­ic goals, IS­IS is wa­ging full-out war on the Ir­aqi gov­ern­ment in a cam­paign to cap­ture ter­rit­ory, then gov­ern­ing those ter­rit­or­ies in an or­gan­ized fash­ion.
IS­IS is already lay­ing down new laws in Ir­aq. Last week, the group handed out a "Con­tract of the City" to res­id­ents of the north­ern Niniveh province, where Mo­sul, Ir­aq's second-largest city, is loc­ated. The Wash­ing­ton Post trans­lated the con­tract's 16 main points, in which IS­IS threatens to pun­ish thieves by am­pu­ta­tion, prom­ises to sen­tence non­be­liev­ers to death, and urges wo­men to stay in­doors un­less ab­so­lutely ne­ces­sary.
In The At­lantic, Aaron Zelin looks to the al-Raqqa state of Syr­ia for a hint of how IS­IS might gov­ern in Ir­aq. In al-Raqqa, where IS­IS has been in charge since 2013, the group provides poli­cing, many pub­lic works, re­li­gious edu­ca­tion, and health and wel­fare pro­grams.
IS­IS also has a strong pub­lic-re­la­tions arm that trum­pets the group's suc­cesses and trawls for new re­cruits. It main­tains an act­ive pres­ence on Twit­ter and You­Tube — ap­par­ently a must for any ter­ror­ist in this day and age — and used so­cial me­dia to pub­li­cize claims of a 1,700-per­son mas­sacre in Tikrit over the week­end. Res­id­ents in Riy­adh, Saudi Ar­a­bia, a city far re­moved from the con­flicts in Ir­aq and Syr­ia, found pro­pa­ganda leaf­lets stuffed in­to their car door handles and wind­shields last month.
Just last week, a Twit­ter ac­count called "Sup­port­ers of the Is­lam­ic State" tweeted a car­toon of IS­IS fight­ers fly­ing the black ji­hadist flag on the road to the Ir­aqi cap­it­al. An ac­count named "IS­IS Me­dia Hub" retweeted the car­toon, shown be­low.
IS­IS even re­leases an­nu­al re­ports that de­tail the group's tac­tics, ob­ject­ives, and pro­gress in its cam­paign to es­tab­lish an Is­lam­ic state. Alex Bil­ger of the In­sti­tute for the Study of War ex­amined the group's second an­nu­al re­port, re­leased in March. The doc­u­ment is filled with more than 400 pages of de­tailed stat­ist­ics and tac­tic­al notes. Not­ing the group's or­gan­ized op­er­at­ing struc­ture and soph­ist­ic­ated strategy, he con­cluded that IS­IS is "func­tion­ing as a mil­it­ary rather than as a ter­ror­ist net­work."
And the re­port is not meant only for in­tern­al con­sump­tion. A well-de­signed cov­er and an in­fograph­ic that breaks down at­tack num­bers by type sug­gest that IS­IS wanted the doc­u­ment to see the light of day.
"This is not a ter­ror­ism prob­lem any­more. This is an army on the move in Ir­aq and Syr­ia, and they are tak­ing ter­rain," Jes­sica Lewis, an IS­IS ex­pert at the In­sti­tute for the Study of War, told Time. "They have shad­ow gov­ern­ments in and around Bagh­dad, and they have an as­pir­a­tion­al goal to gov­ern."
As IS­IS con­tin­ues to ex­pand its con­trol of Ir­aqi ter­rit­ory and make good on its prom­ise to erase the bound­ary between Ir­aq and Syr­ia, the war it is fight­ing against the Ir­aqi army is look­ing less like a battle between gov­ern­ment and ter­ror­ists and more like a clash between two mil­it­ar­ies with com­pet­ing vis­ions of how to rule their coun­try. IS­IS is in­deed a ter­ror­ist or­gan­iz­a­tion, but with an un­pre­ced­en­ted em­phas­is on "or­gan­iz­a­tion." To think of it as any­thing but the state that it as­pires to be is to mis­un­der­stand the threat it presents.
What We're Following See More »
UNTIL DEC. 9, ANYWAY
Obama Signs Bill to Fund Government
2 hours ago
REDSKINS IMPLICATIONS
SCOTUS to Hear Case on Offensive Trademarks
3 hours ago
WHY WE CARE
"The Supreme Court is taking up a First Amendment clash over the government's refusal to register offensive trademarks, a case that could affect the Washington Redskins in their legal fight over the team name. The justices agreed Thursday to hear a dispute involving an Asian-American rock band called the Slants, but they did not act on a separate request to hear the higher-profile Redskins case at the same time." Still, any precedent set by the case could have ramifications for the Washington football team.
STAFF PICKS
Bannon Still Collecting Royalties from 'Seinfeld'
4 hours ago
WHY WE CARE
The Hollywood Reporter takes a look at a little-known intersection of politics and entertainment, in which Trump campaign CEO Steve Bannon is still raking in residuals from Seinfeld. Here's the digest version: When Seinfeld was in its infancy, Ted Turner was in the process of acquiring its production company, Castle Rock, but he was under-capitalized. Bannon's fledgling media company put up the remaining funds, and he agreed to "participation rights" instead of a fee. "Seinfeld has reaped more than $3 billion in its post-network afterlife through syndication deals." Meanwhile, Bannon is "still cashing checks from Seinfeld, and observers say he has made nearly 25 times more off the Castle Rock deal than he had anticipated."
IT'S ALL CLINTON
Reliable Poll Data Coming in RE: Debate #1
4 hours ago
WHY WE CARE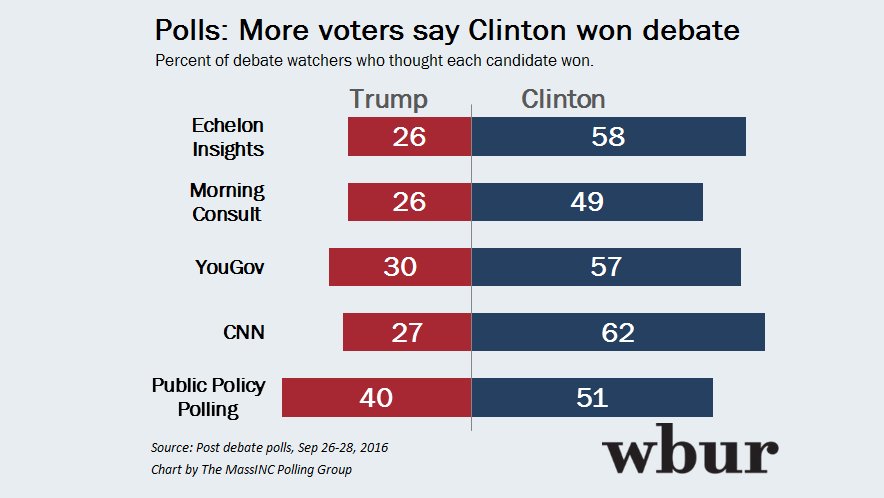 NEXT THURSDAY
Trump Transition Team Meeting with Silicon Valley VIPs
6 hours ago
THE DETAILS
Donald Trump's "transition team will meet next week with representatives of the tech industry, multiple sources confirmed, even as their candidate largely has been largely shunned by Silicon Valley. The meeting, scheduled for next Thursday at the offices of law and lobbying firm BakerHostetler, will include trade groups like the Information Technology Industry Council and the Internet Association that represent major Silicon Valley companies."