June 17, 2014, 12:11 p.m.
AT&T's chief thinks a push for a Sprint/T-Mo­bile mer­ger would meet the same fate as AT&T's own failed bid for the "mo­bile mav­er­ick."
Even though the mer­ger hasn't been of­fi­cially pro­posed yet, AT&T Chair­man and CEO Ran­dall Steph­en­son said Tues­day it is a "stretch" to see how it would get reg­u­lat­ors' nod of ap­prov­al, be­cause it would re­duce com­pet­i­tion in the wire­less in­dustry from four ma­jor car­ri­ers to three.
He's not just bit­ter about AT&T's ex­pens­ive break­up with T-Mo­bile after reg­u­lat­ors blocked its $39 bil­lion deal in 2011. Ac­cord­ing to Steph­en­son, reg­u­lat­ors made their reas­ons for block­ing the AT&T/T-Mo­bile in 2011 crys­tal clear: The mer­ger would re­duce com­pet­i­tion.
"There were not oth­er ma­jor is­sues. That was the is­sue, and that's what they came after," he said dur­ing an in­ter­view with Dav­id Ruben­stein, CEO of the Carlyle Group, for an event hos­ted by the Busi­ness Roundtable. "As you think about Sprint and T-Mo­bile com­bin­ing, I struggle to see how that is not four go­ing to three."
T-Mo­bile has ar­gu­ably be­come more of a "mo­bile mav­er­ick" un­der the lead­er­ship of CEO John Legere, who joined the com­pany in 2012. Legere's ag­gress­ive price-slash­ing strategy has re­ver­ber­ated throughout the wire­less mar­ket.
"[Reg­u­lat­ors] won't want to see that to go away," Steph­en­son said.
But AT&T's chief doesn't ne­ces­sar­ily think the mer­ger shouldn't pass.
"Ob­vi­ously, if I thought they should ap­prove ours, it would be hard for me to sug­gest that they shouldn't ap­prove that one," he said.
Break­ing up with T-Mo­bile cost AT&T a cool $3 bil­lion in cash and $1 bil­lion in spec­trum, and a failed mer­ger would also cost Sprint a pretty penny. If the Sprint/T-Mo­bile mer­ger fails, Sprint is rumored to have agreed to pay T-Mo­bile at least a $1 bil­lion break­up fee, ac­cord­ing to re­cent re­ports of a tent­at­ive $32 bil­lion mer­ger agree­ment between the third- and fourth-largest mo­bile car­ri­ers.
"It's a pretty good busi­ness mod­el," Steph­en­son quipped.
Al­though Sprint sued to block the AT&T/T-Mo­bile mer­ger in 2011 be­cause it would mean "high­er prices and less in­nov­a­tion" for con­sumers, the com­pany and its own­er, the Ja­pan­ese tele­com Soft­bank, are ar­guing that a Sprint/T-Mo­bile mer­ger is dif­fer­ent be­cause it would help the two smal­ler car­ri­ers ac­tu­ally com­pete against Ve­r­i­zon and AT&T.
COR­REC­TION: A pre­vi­ous ver­sion of this art­icle mis­stated the amount that AT&T paid T-Mo­bile after their 2011 mer­ger failed. 
What We're Following See More »
ABSENT FROM LIST: GENNIFER FLOWERS
Most Trump Guests Have Military Ties
2 hours ago
TOP OF MIND
Trending on Google: 'Why Should Trump Not Be President'
2 hours ago
THE DETAILS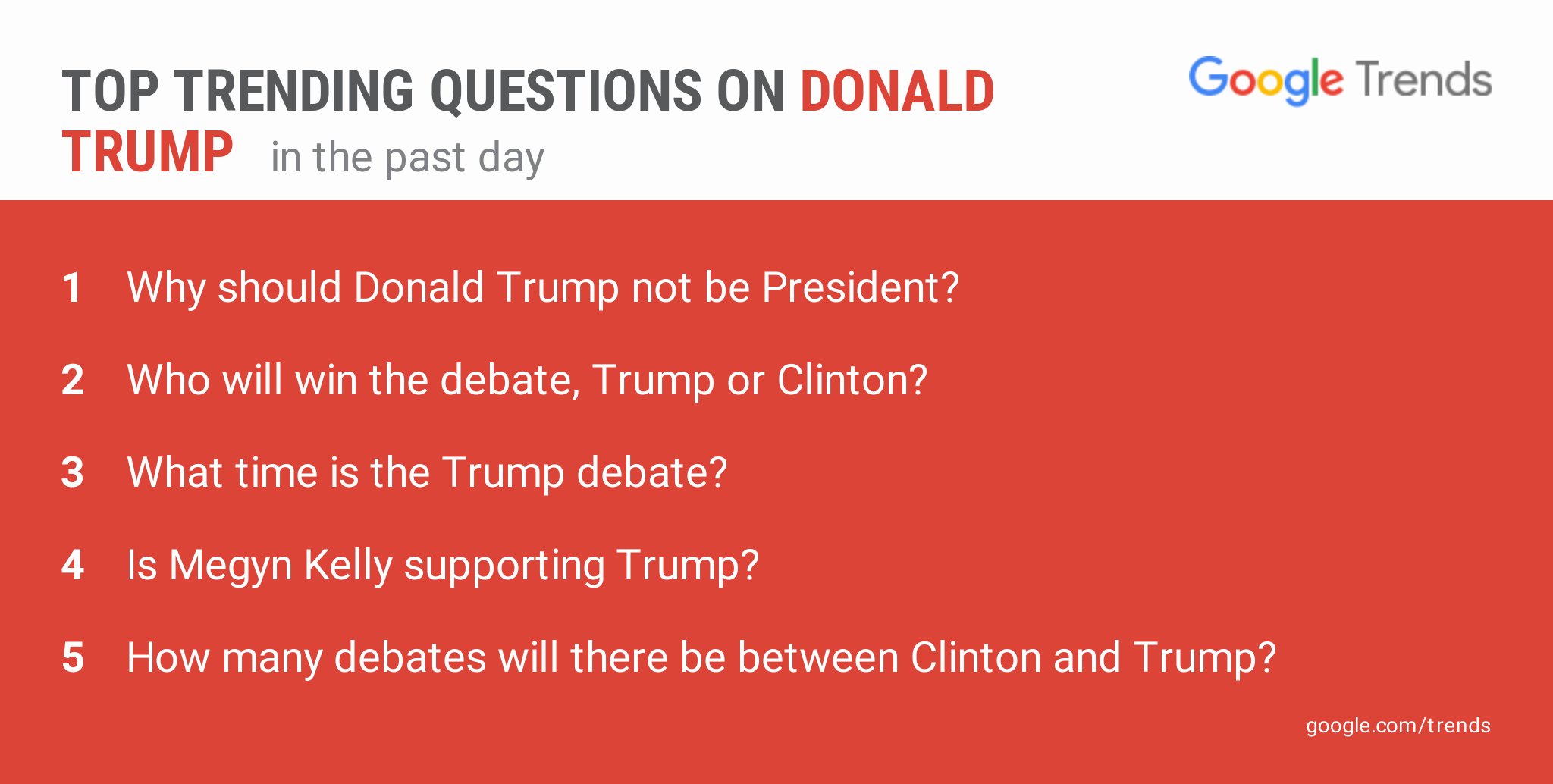 WHO PLAYED THE DONALD?
Longtime Clinton Aide Played Trump in Mock Debates
5 hours ago
THE DETAILS
After keeping the information private for most of the lead-up to the debate on Monday, it has been revealed that longtime Clinton aide Philippe Reines has been playing the role of Donald Trump in her debate prep. Reines knows Clinton better than most, able to identify both her strengths and weaknesses, and his selection for a sparring partner shows that Clinton is preparing for the brash and confrontational Donald Trump many have come to expect.
WEEKEND POLLING ROUNDUP
New Polls Still Show Razor-Thin Margins
5 hours ago
THE QUESTION
How Many Times Has the Trump Campaign Emailed Ted Cruz's Supporters?
5 hours ago
THE ANSWER
More than 30 times, in the case of some donors. Long before Cruz endorsed Trump—and before he even snubbed the nominee at the Republican National Convention—"the senator quietly began renting his vast donor email file to his former rival, pocketing at least tens of thousands of dollars, and more likely hundreds of thousands, that can be used to bankroll the Texan's own political future."