Jan. 27, 2011, 12:27 p.m.
The con­flu­ence of a weak eco­nomy, years of budget cuts, and mount­ing fisc­al pres­sure has caught up with the na­tion's gov­ernors, for­cing them to make life-or-death de­cisions over their state budgets. Lit­er­ally.
In Oc­to­ber, Ari­zona ended Medi­caid cov­er­age for heart, lung, liv­er, bone-mar­row, and pan­creas trans­plants. Since then, two Ari­zon­ans have died after be­ing denied po­ten­tially life-sav­ing or­gans, the res­ult of steep budget cuts to a Medi­caid pro­gram that is in dire fisc­al straits. In­stead of re­ceiv­ing the care they needed to stay alive, the two were en­snared in the state's ef­fort to cut $2 bil­lion from Medi­caid spend­ing this year and next. All told, 100 people have been forced to cede their spots on the state's or­gan-trans­plants list.
Even be­fore the deaths, Gov. Jan Brew­er and state law­makers had scrambled to re­store fund­ing and sal­vage the pro­gram, but it will be dif­fi­cult: In a severe fisc­al cli­mate, shield­ing Medi­caid is not uni­ver­sally pop­u­lar with voters. Ari­zona faces es­tim­ated budget de­fi­cits of $763 mil­lion in the cur­rent fisc­al year and $1.15 bil­lion in fisc­al 2012. This week, the gov­ernor asked Wash­ing­ton for lee­way un­der the fed­er­al re­quire­ment that pre­vents states from drop­ping in­di­vidu­als from their Medi­caid pro­grams.
Brew­er is not alone. Gov­ernors from Maine to Cali­for­nia are draft­ing budgets that would cut Medi­caid ser­vices at a time when more people are seek­ing cov­er­age. State of­fi­cials say they ex­pect a 6 per­cent in­crease in en­roll­ment na­tion­wide in the cur­rent fisc­al year, ac­cord­ing to the Kais­er Com­mis­sion on Medi­caid and the Un­in­sured. A deep­er-than-ex­pec­ted re­ces­sion, which pummeled state budgets des­pite bil­lions of dol­lars in fed­er­al as­sist­ance, has dialed back most eco­nom­ists' es­tim­ates for fu­ture state rev­en­ue growth. What's more, come Ju­ly 1, state budget­eers will no longer have the $16.1 bil­lion in en­hanced fed­er­al dol­lars — a carry­over from the stim­u­lus pack­age — that helped them de­fray Medi­caid costs this year. And three years from now, states will over­see a mam­moth ex­pan­sion of Medi­caid when the health ex­changes cre­ated by the fed­er­al health re­form le­gis­la­tion kick in.
The pro­gram's link to the fed­er­al budget is what makes state-level over­haul so dif­fi­cult. At its core, Medi­caid provides poor chil­dren and adults with health in­sur­ance cov­er­age, and poor seni­ors with long-term care; it also cov­ers med­ic­al ser­vices for the dis­abled. Today, the fisc­al pres­sure on Medi­caid is so strong that gov­ernors are mov­ing bey­ond their cus­tom­ary re­sponse to lean times — cut­ting pro­vider pay­ments — and call­ing for a fun­da­ment­al trans­form­a­tion of the pro­gram. The col­li­sion of needs and costs puts health care re­form — and the re­spect­ive roles of the state and fed­er­al gov­ern­ments — back on the table.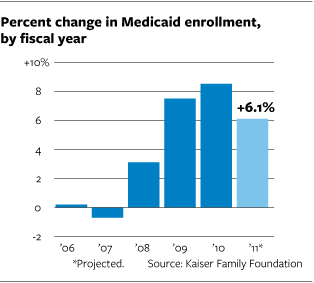 In one of his first moves, Ohio Gov. John Kasich cre­ated the Of­fice of Health Trans­form­a­tion. Headed by Greg Moody, a con­sult­ant fa­mil­i­ar with the in­tric­a­cies of Medi­caid, the agency will seek ways to con­trol costs in the state's strug­gling health care pro­grams. Moody's job is to bring to­geth­er Ohio's half-dozen or so health agen­cies and mod­ern­ize their op­er­a­tions.
"You have to change the un­der­ly­ing sys­tem," said Matt Salo, dir­ect­or of the Health and Hu­man Ser­vices Com­mit­tee at the Na­tion­al Gov­ernors As­so­ci­ation. "Fun­da­ment­ally, you're try­ing to re­struc­ture the health care de­liv­ery sys­tem, the health care pay­ment sys­tem, the whole nature of spe­cial­ists, and those lower-tier levels of care that are avail­able."
One of the most far-reach­ing re­as­sess­ments could come in New York. Gov. An­drew Cuomo, des­pite im­pec­cable lib­er­al cre­den­tials, in­tends to drastic­ally re­design his state's Medi­caid pro­gram. When he made that pledge, you could have heard a pin drop in Al­bany. But Cuomo has little choice: New York is pro­jec­ted to spend more than $50 bil­lion this fisc­al year on Medi­caid, and the new gov­ernor has cre­ated a Medi­caid task force charged with find­ing sav­ings. He told law­makers that the goal was not just to cut the pro­gram but also to find "ef­fi­cien­cies "¦ so we ac­tu­ally provide a bet­ter ser­vice for less money." It's a tall or­der, but it worked in Wis­con­sin, where then-Gov. James Doyle saved $625 mil­lion from its pro­gram. Cuomo tapped Jason Hel­ger­son, Doyle's Medi­caid turn­around ex­pert, to do the same for the Em­pire State.
In Wis­con­sin, Hel­ger­son led a col­lab­or­at­ive ef­fort that brought to­geth­er the state's pro­vider groups, hos­pit­al ex­ec­ut­ives, and Medi­caid dir­ect­ors. The gov­ernor set a tar­get — $400 mil­lion in sav­ings — and let the group de­cide how to achieve it. Some of the res­ult­ing ini­ti­at­ives fit closely with those at the fed­er­al level, in­clud­ing pay­ing doc­tors for res­ults rather than treat­ments. The group re­quired hos­pit­als to re­duce their read­mis­sion rates. Oth­er ini­ti­at­ives, however, were simple cuts. About $200 mil­lion came from re­vised con­tracts with man­aged-care groups. The col­lab­or­at­ors ex­ceeded the sav­ings goal and also man­aged to sidestep the le­gis­lat­ive pro­cess.
In light of the new fed­er­al health care law, many con­ser­vat­ive state le­gis­lat­ors are eye­ing ways to shift costs to Wash­ing­ton, partly just to thumb their noses over a stat­ute that they say will cripple them. States may look to of­f­load their high-cost Medi­caid be­ne­fi­ciar­ies to the new fed­er­al high-risk pools, and they are also ex­amin­ing ways to shift their Medi­care-Medi­caid-eli­gible pop­u­la­tions to the new health in­sur­ance ex­changes that are due to come on­line in 2014. It's still un­clear if the law will al­low this.
In any case, shift­ing the bur­den does not re­duce total costs or solve the un­der­ly­ing prob­lem. Kasich, Cuomo, and oth­er gov­ernors say that the only way to con­trol Medi­caid costs is to reen­gin­eer the pro­gram. That is true, but where does great­er ef­fi­ciency stop and deni­al of es­sen­tial ser­vices to the poor be­gin? Al­most every­where, that sub­ject is still too sens­it­ive to ac­know­ledge, let alone dis­cuss.