March 11, 2011, 12:41 p.m.
An early-warning system that helped residents on the West Coast of the U.S. prepare for Friday's tsunami worked as designed but is vulnerable to proposed budget cuts, experts say.
The 8.9-magnitude earthquake that struck Japan has killed at least 1,000 people, according to Tokyo-based Kyodo News, and triggered a tsunami that devastated some coastal areas of the country and caused damage as far away as California.
A string of 39 buoys operated by the National Oceanic and Atmospheric Administration is an important part of the world's early-warning system for such waves. As recently as last October, a panel of experts at the National Research Council raised concerns that the warning system had weaknesses.
Nevertheless, it worked well in this case, NOAA said. "I think we showed today we were able to successfully get the information out to everyone who needed it," Laura Furgione, the deputy assistant administrator of NOAA's National Weather Service, told reporters in a conference call. 
 "There were no, quote, holes in this situation." 
The National Weather Service Employees Organization has been complaining that proposed budget cuts will damage the service's ability to warn people not only about tsunamis but also about other dangerous events, such as hurricanes, tornadoes, and blizzards.
The union says that Congress's continuing resolution for keeping the federal government funded would cut the Weather Service's budget by 28 percent and damage early-warning efforts.
"What would happen if the continuing resolution passes [is], there will be a dismantling of our nation's early-warning system," Dan Sobien, president of the National Weather Service Employees Organization, said in a telephone interview. "It would result in a roughly 30 percent cut in the budget of the National Weather Service." Sobien said that current plans call for the Weather Service to close individual offices for about a month at a time on a rolling basis.
Sen. Jay Rockefeller, D-W.Va., who chairs the Commerce, Science, and Transportation Committee, said that Friday's events underscore the danger.
"Earthquakes and all weather events happen anywhere, anytime putting everyone at risk," he said in a statement.
"Congress must heed this cruel wake-up call and stop proposed cuts to essential NOAA prediction programs that would endanger lives. We must push to make the smart investments in our greatest minds and resources at NOAA, so that we can better predict severe weather events and be prepared for the worst."
Martha Grabowski of Le Moyne College in Syracuse, N.Y., and Rensselaer Polytechnic Institute in Troy, N.Y., helped lead the National Research Council panel that reported on weaknesses in the warning system, which was upgraded considerably in the years after a 2004 quake in Indonesia and a resulting tsunami that killed more than 200,000 people in the Indian Ocean basin.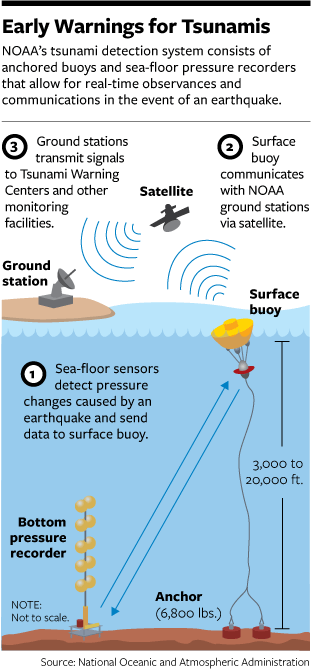 Key to the system is a string of Deep-ocean Assessment and Reporting of Tsunamis (DART) devices, ocean-floor sensors that can detect changes in pressure when a tsunami rolls over and are designed to transmit a signal to a buoy on the surface, which in turn sends a signal to a satellite, which then relays it to a Tsunami Warning Center. 
"Most concerning is the committee's finding that as much as 30 percent of DART stations are inoperable at any given time," the National Research Council, an independent research organization, reported. 
Despite that, "they work well," Grabowski said in a telephone interview. "The system is highly reliable."
But the system is vulnerable to budget cuts, she said.
"I think that in years where budgets are tight, it is easier to focus on areas where disasters don't happen all the time. One of the problems with tsunamis is they happen fairly infrequently," Grabowski said. "It is harder to get the attention of the public and legislators."
NOAA's Furgione said that some of the buoys are currently not working but that the situation did not affect the agency's ability to warn people in plenty of time to evacuate vulnerable coastal areas.
"We do have some DARTs that are down in the Pacific region," she said. Heavy winter seas make it hard to get to some of the devices to service them, Furgione said, but added that the system is set up to account for this.
"We have backup operations for everything that we do," she said.
Furgione acknowledged that the $28 million budget for the DART program is scheduled for cuts. "We'll do the best with what we have," she said.
Contributions by Josh Smith