March 17, 2011, 9:57 a.m.
Up­dated at 8:45 p.m. on March 17 to in­clude White House com­ment.

He doesn't want to ad­mit it, but Pres­id­ent Obama is tak­ing cred­it for something George W. Bush did.
The White House is tout­ing fed­er­al data that shows do­mest­ic oil pro­duc­tion is at its highest level since 2003. In a blog post last week, Obama's top cli­mate and en­ergy aide, Heath­er Zichal, points to En­ergy In­form­a­tion Ad­min­is­tra­tion data that shows oil pro­duc­tion from the Out­er Con­tin­ent­al Shelf (which ba­sic­ally means the Gulf of Mex­ico) has in­creased by more than a third between 2008 and 2010.
EIA Ad­min­is­trat­or Richard Newell says it takes sev­er­al years for any ma­jor fed­er­al policy ac­tion — such as is­su­ing leases — to af­fect do­mest­ic oil pro­duc­tion.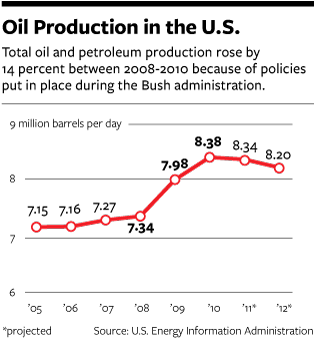 "Even if one has de­vel­op­ment drilling go­ing on, there is about a one- to three-year lag between drilling and pro­duc­tion that one will see," Newell said dur­ing a break in a House Nat­ur­al Re­sources Com­mit­tee hear­ing on Thursday. "If you're on a longer term — for ex­ample, new leases be­ing is­sued in an area — you can be on a sev­er­al-year time frame be­fore you can see a re­la­tion­ship between new leases and pro­duc­tion. So there are sig­ni­fic­ant lags."
While Bush was in of­fice from 2001 to 2009, the oil and gas in­dustry saw many new leases and oth­er ex­pan­ded drilling op­por­tun­it­ies. In March 2010, Obama an­nounced plans to ex­pand off­shore drilling, but he re­treated in the af­ter­math of the BP oil spill.
Ac­cord­ing to EIA's short-term 2011 out­look, re­leased last week, oil pro­duc­tion was sig­ni­fic­antly high­er in 2009 than in the years pri­or. Obama may have been in of­fice for most of that year, but the oil pro­duc­tion num­bers are due to ac­tion taken be­fore he be­came pres­id­ent. In 2010, most if not all of the pro­duc­tion in­crease re­cor­ded is likely due to ac­tion that pred­ates Obama, since Obama didn't take any ma­jor ac­tion ex­pand­ing off­shore drilling his first year in of­fice.
"One can at­trib­ute an up­swing in the Gulf of Mex­ico over the last sev­er­al years to in­creas­ing leases and de­vel­op­ing of deep-wa­ter drilling," said Newell, who de­clined to com­ment spe­cific­ally about wheth­er or not those leases were is­sued un­der Bush's — and not Obama's — watch.
"I haven't eval­u­ated; one would have to go back and look at spe­cif­ic pro­jects com­ing on line at dif­fer­ent points in time," Newell said.
White House spokes­man Clark Stevens noted that EIA's oil pro­duc­tion data was cited as "a mat­ter of fact" as op­posed to tout­ing the in­crease in any way. "As our policy makes clear, this ad­min­is­tra­tion con­tin­ues to en­cour­age do­mest­ic ex­plor­a­tion and pro­duc­tion, and our top pri­or­ity is en­sur­ing that this pro­duc­tion is done safely and re­spons­ibly," Stevens said in an e-mail to Na­tion­al Journ­al Daily.
EIA's short-term out­look pro­jects a de­crease in do­mest­ic oil pro­duc­tion in 2011 and 2012. Newell sees a few reas­ons for that.
A de­cline cor­res­pond­ing to an up­surge in off­shore pro­duc­tion over the past few years would be nat­ur­al, he said: "That's a nat­ur­al de­cline that we would have been fore­cast­ing prob­ably re­gard­less of what happened in off­shore in terms of the morator­i­um and reg­u­la­tion, etc."
The pre­dicted de­crease in gulf pro­duc­tion is due at least partly to the ad­min­is­tra­tion's ac­tions taken after the BP oil spill — an un­for­tu­nate pro­jec­tion for the White House, as it's try­ing to stay on of­fense in the de­bate over gas prices go­ing in­to the 2012 elec­tion cycle.
"A por­tion of that, though, is as­so­ci­ated with the [BP] well blo­wout, morator­i­um and sub­sequent reg­u­lat­ory delays," Newell ad­ded.
That pro­jec­tion bol­sters the po­s­i­tion of Re­pub­lic­ans like Rep. Jeff Landry of Louisi­ana and the Amer­ic­an Pet­ro­leum In­sti­tute. Since Zichal's blog post last week, API and oth­er oil lob­by­ists have ar­gued that the ad­min­is­tra­tion was tak­ing cred­it for ac­tion taken be­fore Obama was in of­fice.
Newell noted that there has not been any ac­tu­al im­pact from the morator­i­um and new reg­u­la­tions.
"We have yet to see a down­ward im­pact on off­shore pro­duc­tion in re­sponse to the Ma­condo well blo­wout, and the sub­sequent morator­i­um and reg­u­lat­ory changes that took place," Newell said. But giv­en his agency's out­look, one is ex­pec­ted.
Later on in the hear­ing, Landry, a mem­ber of the House Nat­ur­al Re­sources Com­mit­tee, grilled Newell on his in­volve­ment of the ad­min­is­tra­tion's po­s­i­tion on EIA's data.
"Did you send that in­form­a­tion to the White House?" Landry asked.
"There is data from that fact sheet that comes from EIA," Newell ac­know­ledged. "I was not in­volved in provid­ing that data."