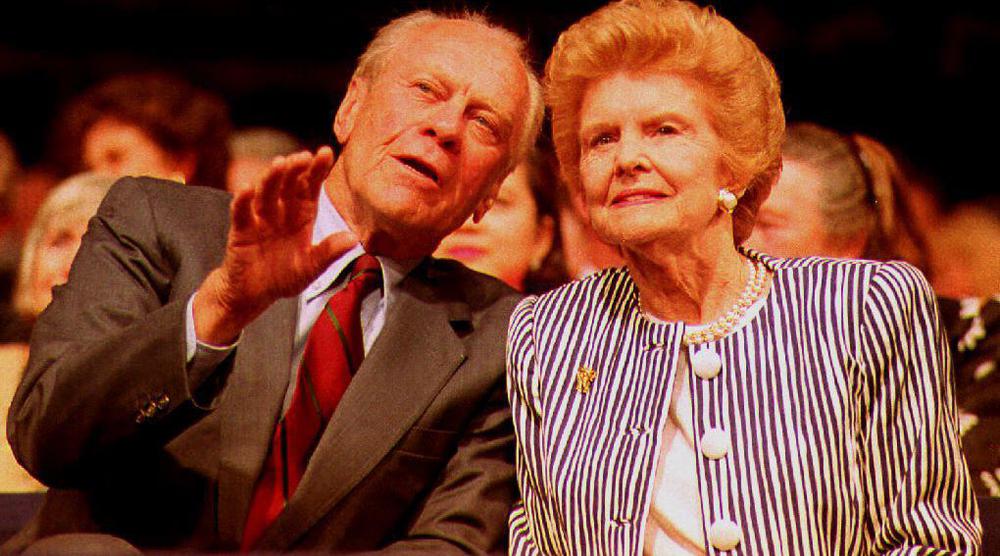 From Na­tion­al Journ­al: PIC­TURES: Not­able Deaths of 2011 PIC­TURES: Betty Ford Through the Years VIDEO: Planned Par­ent­hood Chal­lenged on State Level Shuttle Crew Load­ing Sup­plies onto Space Sta­tion Boehner's Back­ped­al Moves D.C. Closer to the Brink
Here's a fact that should give eco­nom­ists — and maybe Pres­id­ent Obama's polit­ic­al team — heart­burn: Two years after the Great Re­ces­sion of­fi­cially ended, job pro­spects for young Amer­ic­ans re­main his­tor­ic­ally grim. More than 17 per­cent of 16-to-24-year-olds who are look­ing for work can't find a job, a rate that is close to a 30-year high. The em­ploy­ment-to-pop­u­la­tion ra­tio for that demo­graph­ic — the per­cent­age of young people who are work­ing — has plunged to 45 per­cent. That's the low­est level since the Labor De­part­ment began track­ing the data in 1948. Taken to­geth­er, the num­bers sug­gest that the U.S. job mar­ket is strug­gling migh­tily to bring its next gen­er­a­tion of work­ers in­to the fold.
This is a dan­ger­ous pro­pos­i­tion, eco­nom­ic­ally (for the United States as a whole) and polit­ic­ally (for the pres­id­ent).
As The At­lantic's Don Peck wrote last year, cit­ing a lit­any of re­search from Yale Uni­versity's Lisa Kahn, col­lege gradu­ates who enter the labor force dur­ing a re­ces­sion make sig­ni­fic­antly less money — in their first year and over the course of their ca­reers — than grads who walk in­to an eco­nom­ic boom. Work­ers stuck in the un­em­ploy­ment line for an ex­ten­ded peri­od risk watch­ing their skills at­rophy and face in­creas­ing dif­fi­culty find­ing new jobs. That's par­tic­u­larly true, though, for people wait­ing and wait­ing and wait­ing to land their first job. The longer a whole batch of fledgling work­ers sits wait­ing to be hired, the more the eco­nomy risks los­ing young em­ploy­ees with valu­able, high-end skills at a time when glob­al com­pet­i­tion is in­creas­ingly fierce.
Snow­balling youth un­em­ploy­ment feeds so­cial un­rest. Ex­hib­it A is the Middle East. Ex­hib­it B is Europe's peri­phery; in such coun­tries as Spain, Greece, and Croa­tia, more than one in three young people is un­em­ployed, a prob­lem that The Eco­nom­ist magazine warned this week is "as great a chal­lenge for these gov­ern­ments as pro­tect­ing their tot­ter­ing banks and slash­ing their budget de­fi­cits."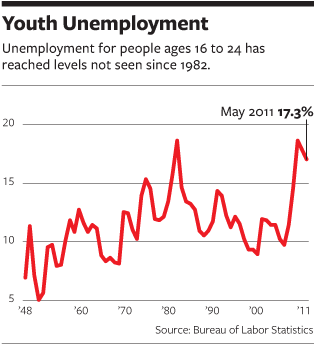 Not sur­pris­ingly, polls sug­gest that Amer­ica's young people have grown more pess­im­ist­ic about the eco­nomy and their own fu­ture for­tunes. Gen­er­a­tion Op­por­tun­ity, a non­par­tis­an, non­profit youth-out­reach group headed by former Bush ad­min­is­tra­tion of­fi­cial Paul Con­way, com­piled polling data this sum­mer show­ing de­cayed eco­nom­ic con­fid­ence among the so-called mil­len­ni­als: More than half say that the United States is ser­i­ously on the wrong track, and a sim­il­ar num­ber say they are not op­tim­ist­ic about the na­tion's eco­nom­ic fu­ture. More than half also as­sert that they're not con­fid­ent that the coun­try will be the glob­al eco­nom­ic lead­er in 10 years. More than three-quar­ters say that, giv­en the cur­rent state of the eco­nomy, they have delayed or will delay buy­ing a home, pay­ing down stu­dent debt, ob­tain­ing more edu­ca­tion, sav­ing for re­tire­ment, chan­ging jobs or cit­ies, get­ting mar­ried, or mak­ing some oth­er ma­jor life de­cision.
Young voters stam­peded to the polls for can­did­ate Obama in 2008, top­ping their 2004 turnout by more than 3 mil­lion and break­ing, 2-to-1, in his fa­vor. A drop in youth par­ti­cip­a­tion, or a shift to­ward a GOP can­did­ate, could com­plic­ate Obama's reelec­tion dra­mat­ic­ally.
Gen­er­a­tion Op­por­tun­ity's poll­ster, Kel­ly­anne Con­way, who has worked for sev­er­al na­tion­al GOP politi­cians in the past, says that young voters will be tough­er on Obama in 2012 than they were in 2008. "The big ques­tion for young people [in 2008] was, "˜How am I go­ing to help you make his­tory?' " says Con­way, who is not re­lated to the group's pres­id­ent. "The big ques­tion from young people today is, "˜How are you go­ing to help me find a good-pay­ing job?' " This time, she adds, "they're look­ing for tan­gibles."
Con­way's polling sug­gests that young voters could sym­path­ize with a Re­pub­lic­an mes­sage on cut­ting fed­er­al spend­ing and the budget de­fi­cit. Three-quar­ters of mil­len­ni­als want to see fed­er­al spend­ing re­duced, she says, and three in five want to re­duce the de­fi­cit through spend­ing cuts rather than tax in­creases. Two-thirds say that So­cial Se­cur­ity dol­lars are safer "un­der your pil­low" than with the gov­ern­ment. Paul Con­way, the group's pres­id­ent, says that's "fair warn­ing" to Obama about how young voters view his policies.
Oth­er polls sug­gest more-fa­vor­able at­ti­tudes to­ward the pres­id­ent. In a late-June Gal­lup sur­vey, 56 per­cent of Amer­ic­ans ages 18 to 29 ap­proved of Obama's per­form­ance, the highest ap­prov­al rat­ing of any age brack­et. Team Obama sounds un­con­cerned about los­ing young voters. Cam­paign of­fi­cials note that thou­sands more of them ap­plied to be sum­mer cam­paign or­gan­izers this year than did in 2008. "In ad­di­tion to what he has already ac­com­plished on is­sues of im­port­ance to them — like es­tab­lish­ing a tax cred­it to provide tu­ition re­lief to stu­dents and ex­tend­ing health in­sur­ance cov­er­age to young adults up to the age of 26 — young Amer­ic­ans have seen the pres­id­ent bring the eco­nomy back from the brink of de­pres­sion and se­cure in­vest­ments in edu­ca­tion, re­search and de­vel­op­ment, and clean en­ergy that are cre­at­ing jobs today that will re­main glob­ally com­pet­it­ive in the fu­ture," cam­paign spokes­man Ben LaBolt said in an e-mail.
Obama and Re­pub­lic­ans alike should pay par­tic­u­lar at­ten­tion to youth op­tim­ism about the dir­ec­tion of the eco­nomy. In 2008, exit polls showed that 54 per­cent of young voters be­lieved that the eco­nomy would im­prove over the next year, com­pared with 47 per­cent of the rest of the elect­or­ate. Obama prob­ably needs mil­len­ni­als to be sim­il­arly up­beat in 2012. In oth­er words, it's all about con­fid­ence — like so much else in the eco­nomy these days.