July 28, 2011, 12:05 p.m.
The re­ces­sion helped slow the growth of U.S. health costs in 2010, but ex­penses will pop up in 2014 when the biggest pro­vi­sions of the health care law take ef­fect, fed­er­al gov­ern­ment re­search­ers re­por­ted on Thursday. After that, however, rising costs should flat­ten out.
Ac­tu­ary Sean Kee­han and col­leagues at the Cen­ters for Medi­care and Medi­caid Ser­vices said that na­tion­al health spend­ing will grow by 5.8 per­cent per year through 2020, 1.1 per­cent more than what is pro­jec­ted for the gross do­mest­ic product.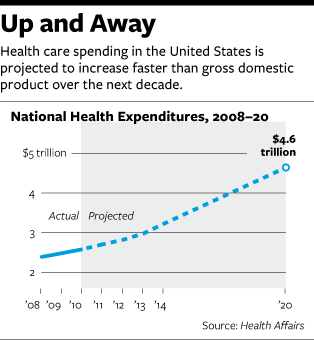 "As a res­ult, the health share of the gross do­mest­ic product is pro­jec­ted to in­crease from 17.6 per­cent in 2009 to 19.8 per­cent by 2020," they write in the journ­al Health Af­fairs. The share was at 17.6 per­cent in 2010, they said.
The re­search­ers also re­vised slightly the of­ten-quoted gov­ern­ment es­tim­ate that 32 mil­lion people will get in­sur­ance be­cause of the law. Kee­han said that 30 mil­lion people will gain cov­er­age by 2020 — nearly 23 mil­lion of them in 2014, when the main pro­vi­sions take ef­fect.
These newly covered people will start see­ing doc­tors and tak­ing drugs, the re­port pro­jects. But they will be young­er and health­i­er than the usu­al Medi­caid pop­u­la­tion, and won't use hos­pit­als as much — something that should slow down rising costs.
"They are pro­jec­ted not to use a lot of care," Kee­han said in a tele­phone in­ter­view. "People that are healthy might see a doc­tor one or two times and noth­ing more. Some people will be re­l­at­ively in­ex­pens­ive to in­sure."
Non­ethe­less, the re­port pre­dicts that state, loc­al, and fed­er­al gov­ern­ment will shoulder more health spend­ing and will pay for just un­der 50 per­cent of all health costs by 2020, up from 44 per­cent in 2009. The fed­er­al share alone of health spend­ing will rise from 27 per­cent in 2009 to 31 per­cent in 2020 as more baby boomers reach 65 and join Medi­care, and as the gov­ern­ment starts to sub­sid­ize in­sur­ance plans.
The health re­form law re­quires all states to set up health in­sur­ance ex­changes, which are a kind of mar­ket­place for buy­ing cov­er­age. These ex­changes will add 22.9 mil­lion new people to in­sur­ance plans, CMS pro­jects, some of them with em­ploy­er-sponsored cov­er­age. But they'll also boost Medi­caid spend­ing by more than 20 per­cent and private health in­sur­ance costs by 9.4 per­cent. That will fuel growth in na­tion­al health spend­ing from 5.5 per­cent in 2013 to 8.3 per­cent in 2014.
"The ex­pan­ded Medi­caid and private in­sur­ance cov­er­age are ex­pec­ted to in­crease de­mand for health care sig­ni­fic­antly, par­tic­u­larly for pre­scrip­tion drugs and phys­i­cian and clin­ic­al ser­vices," the re­port reads.
The re­port es­tim­ates that na­tion­al health spend­ing in 2010 was $2.6 tril­lion. The 3.9 per­cent growth in health spend­ing in 2010 was the low­est ever seen. Health spend­ing grew 4 per­cent in 2009.
The health care law would in­crease the growth in av­er­age health spend­ing by 0.1 per­cent­age point over 10 years, ac­cord­ing to the re­port — a piece of news the White House latched onto.
"The bot­tom line from the re­port is clear: More Amer­ic­ans will get cov­er­age and save money, and health ex­pendit­ure growth will re­main vir­tu­ally the same. But the re­port doesn't tell the whole story," White House Deputy Chief of Staff Nancy-Ann De­Parle wrote on a White House blog post.
De­Parle said that some of the health re­form law's changes, such as the pro­posed ac­count­able care or­gan­iz­a­tions that aim to get doc­tors and hos­pit­als to co­ordin­ate care, are not in­cluded in po­ten­tial cost sav­ings.
"We know these new pro­vi­sions will save money for the health care sys­tem, even if today's re­port doesn't cred­it these strategies with re­du­cing costs," De­Parle wrote.
Re­pub­lic­an lead­ers, not sur­pris­ingly, take a dif­fer­ent view. "The cent­ral prom­ise of the White House's par­tis­an health law was that it would re­duce health care costs, but un­for­tu­nately, as the re­port shows, this law is only mak­ing things worse," Sen. Or­rin Hatch, R-Utah, said in a state­ment.
"The re­port by CMS' chief ac­tu­ary found the new health law will double the size of health care en­ti­tle­ments to $2.3 tril­lion by 2020; in­crease private health in­sur­ance premi­ums by 9.4 per­cent in 2014 (4.4 per­cent­age points high­er than without the health law)," ad­ded the state­ment from Hatch, rank­ing mem­ber of the Sen­ate Fin­ance Com­mit­tee.
The re­port pre­dicts spend­ing on pre­scrip­tion drugs will rise more than 5 per­cent­age points, to 10.7 per­cent in 2014, the re­port says. Health ex­perts who sup­port the health care law say this will even­tu­ally hold down health costs. People who take drugs as pre­scribed to con­trol blood pres­sure, cho­les­ter­ol, blood sug­ar, and oth­er symp­toms are less likely to have heart at­tacks, strokes, and oth­er ex­pens­ive emer­gen­cies.