Texas Gov. Rick Perry kicked off his pres­id­en­tial cam­paign with an ag­gress­ive fun­drais­ing sched­ule that quickly made him a front-run­ner for the Re­pub­lic­an nom­in­a­tion. But re­ports his cam­paign filed with the Fed­er­al Elec­tion Com­mis­sion show that his abil­ity to at­tract big money fell off steeply in Septem­ber — per­haps not co­in­cid­ent­ally — at the same time a series of rocky de­bate per­form­ances threatened his early front-run­ner status.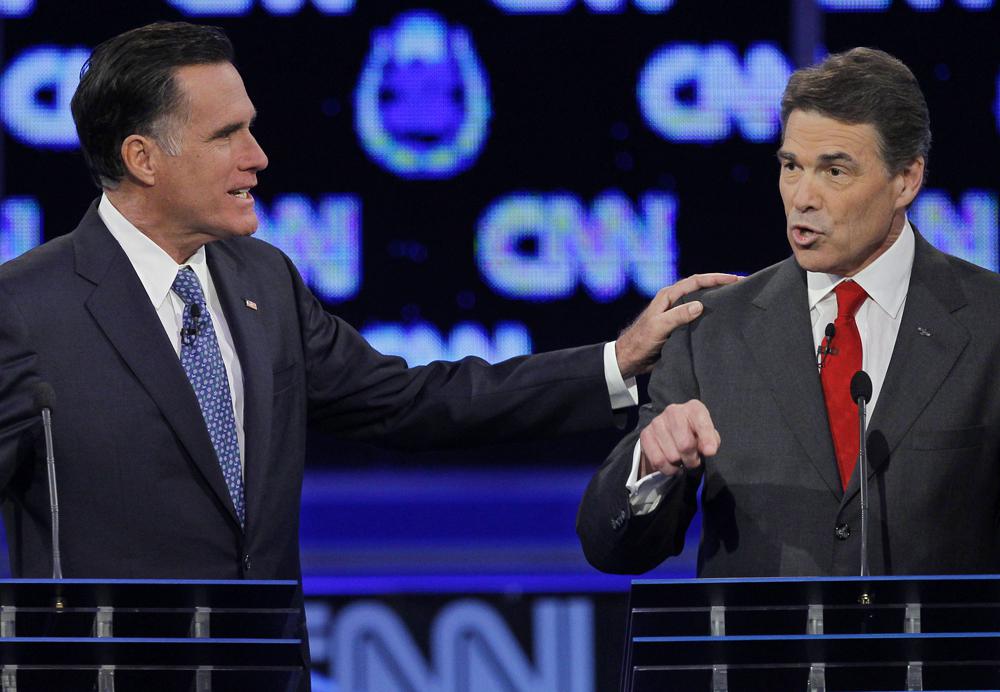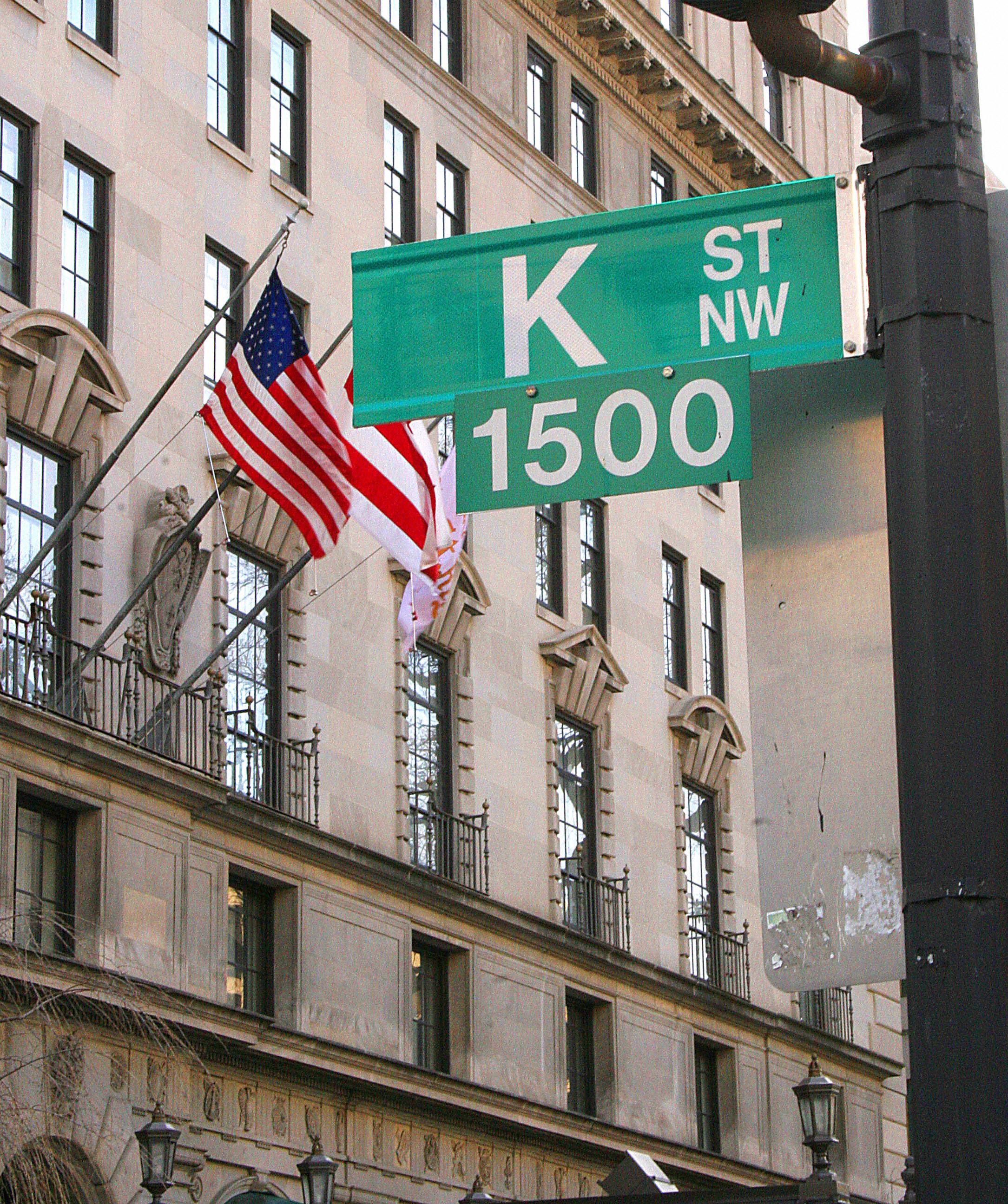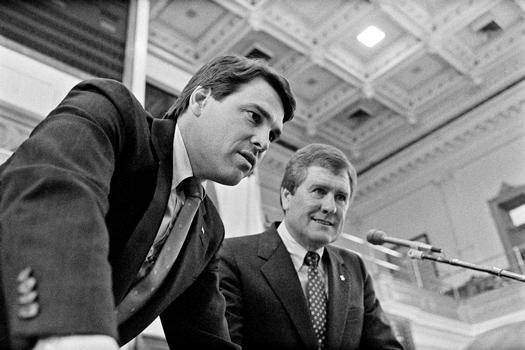 As Perry ar­rives on Fri­day in Wash­ing­ton for a private meet­ing with K Street in­siders, the ques­tion is wheth­er he can con­vince the smart money that his cam­paign is worth an in­vest­ment. After three tor­rid weeks in Au­gust when he raised more than twice as much as his nearest fun­drais­ing rival, Perry has now fallen back in­to a much more com­pet­it­ive fun­drais­ing race with Mitt Rom­ney. That is not good news for a can­did­ate who, be­cause of his late entry in­to the race, has a lot of catch­ing up to do. Rom­ney has raised $32 mil­lion since the be­gin­ning of this cam­paign cycle.
In his first week on the trail, Perry raised more than $1.5 mil­lion from sup­port­ers who donated more than $200 each, the FEC re­ports show. He raised an­oth­er $2 mil­lion the fol­low­ing week and a stag­ger­ing $5.3 mil­lion dur­ing the week of Aug. 28, when buzz around his can­did­acy reached a peak.
Perry's three worst fun­drais­ing weeks co­in­cided with a series of weak de­bate per­form­ances. Perry's halt­ing style, in­ab­il­ity to hit talk­ing points, and ap­par­ent fa­tigue to­ward the end of the de­bates sent his poll num­bers plunging.
His fun­drais­ing fol­lowed suit. Perry raised $858,000 the week of the Sept. 7 de­bate at the Ron­ald Re­agan Pres­id­en­tial Lib­rary in Simi Val­ley, Cal­if. He raised $1.3 mil­lion the fol­low­ing week, when GOP pres­id­en­tial hope­fuls de­bated in Tampa, Fla.
A spokes­wo­man for Perry said the gov­ernor is sat­is­fied with his take. "Gov. Perry is very pleased with his fun­drais­ing ef­forts, rais­ing more than $17 mil­lion in 49 days, a clear sig­nal of the over­whelm­ing sup­port for his con­ser­vat­ive re­cord and vis­ion to get Amer­ica work­ing again," said Cath­er­ine Fra­zi­er in an e-mail to Na­tion­al Journ­al. "The cam­paign ac­tu­ally on av­er­age brought in a high­er amount per day after the de­bates than be­fore."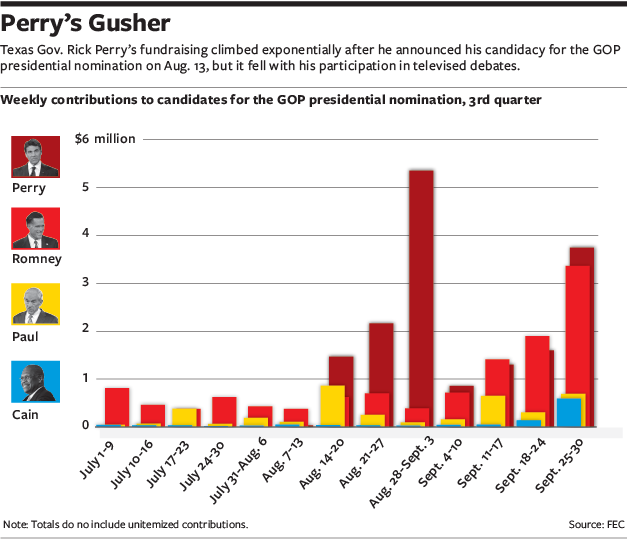 Dur­ing the same peri­od, however, Perry reached, then lost, his brief lead in na­tion­al and early-primary state polls. A CNN/Opin­ion Re­search Corp. sur­vey con­duc­ted Aug. 24-25 among 467 adults showed Perry lead­ing former Mas­sachu­setts Gov. Mitt Rom­ney 27 per­cent to 14 per­cent. An­oth­er CNN/ORC poll Oct. 14-16 showed Rom­ney's sup­port at 26 per­cent with former God­fath­er's Pizza CEO Her­man Cain at 25 per­cent; in that sur­vey, Perry fell to 13 per­cent. Perry has seen sim­il­ar polling leads in Iowa and South Car­o­lina fall as he struggles to find his foot­ing as a can­did­ate.
Back-to-back de­bates put pres­sure on every can­did­ate's fun­drais­ing sched­ule. Rom­ney, Perry, and Cain all raised less dur­ing de­bate weeks than dur­ing off weeks.
But Perry's Septem­ber dropoff was so sud­den and steep it sug­gests oth­er factors were at work. To the Texas gov­ernor, put­ting his cam­paign on the right track is es­sen­tial to at­tract­ing the high-dol­lar donors, upon which he most heav­ily re­lies, to fund his cam­paign. Of the $17 mil­lion he raised in his first full quarter as a can­did­ate, $16.3 mil­lion, or 96 per­cent, came in chunks great­er than $200 — the level at which the FEC re­quires cam­paigns to list the names and oc­cu­pa­tions of donors.
By con­trast, Rom­ney re­ceived about 86 per­cent, or $12.1 mil­lion of the $14.1 mil­lion he raised in the last quarter, from big donors.
Oth­er can­did­ates with few­er ties to the Re­pub­lic­an fin­an­cial es­tab­lish­ment rely more on small-dol­lar con­tri­bu­tions. About half of Texas Rep. Ron Paul's war chest was filled with dona­tions of $200 or less. Cain and Rep. Michele Bach­mann of Min­nesota re­lied mainly on small, grass­roots con­tri­bu­tions; the li­on's share, 72 per­cent, of all Bach­mann's con­tri­bu­tions came in dona­tions of $200 or less.
Rom­ney's big-dol­lar donor pro­gram ramped up as the third quarter came to an end, ac­cord­ing to his FEC re­ports. Rom­ney raised more than $1 mil­lion per week from high-value con­trib­ut­ors dur­ing the last three weeks of Septem­ber, in­clud­ing a whop­ping $3.36 mil­lion dur­ing the fi­nal six days.
And, with the third-quarter clock tick­ing, Perry's fun­drais­ing re­boun­ded as well. He raised $3.7 mil­lion dur­ing the fi­nal week of the quarter, his FEC re­ports show. His chal­lenge now is to keep it up.