Add to Briefcase
Nov. 14, 2011, 6:43 a.m.
Wash­ing­ton is fo­cused on the su­per com­mit­tee, but the rest of the coun­try is pay­ing far less at­ten­tion to the spe­cial pan­el charged with find­ing at least $1.2 tril­lion in de­fi­cit sav­ings by Nov. 23. And that's good news, or at least not bad news, for the eco­nomy. 
The su­per com­mit­tee's in­ab­il­ity to forge a con­sensus won't trig­ger any­thing close to the con­fid­ence slide set off by the sum­mer's debt-ceil­ing de­bate be­cause the pub­lic just isn't pay­ing at­ten­tion, eco­nom­ists and a Na­tion­al Journ­al data ana­lys­is sug­gest.
In­stead, Amer­ic­ans are watch­ing what they per­ceive as even big­ger prob­lems on the ho­ri­zon. 
"The su­per com­mit­tee … is not in the lime­light as much be­cause there's oth­er dark clouds hanging over the U.S. eco­nomy," in­clud­ing the spread­ing fin­an­cial crisis in Europe, said Ry­an Sweet, an eco­nom­ist at Moody's Ana­lyt­ics.
"Most con­sumers real­ize the U.S. has a ser­i­ous fisc­al prob­lem," he said. "But the su­per com­mit­tee doesn't have a dir­ect im­pact on their day-to-day lives."
That wasn't the case with the debt-lim­it de­bate, which raged throughout the sum­mer with es­cal­at­ing in­tens­ity. It dom­in­ated news cov­er­age in the run-up to the Au­gust agree­ment to raise the ceil­ing and avert a pos­sible gov­ern­ment de­fault on its debt ob­lig­a­tions. But the heated ne­go­ti­ations — and just the threat of de­fault — pre­cip­it­ated a down­grad­ing of the United States's AAA cred­it rat­ing by Stand­ard & Poor's, and it un­nerved con­sumers na­tion­wide.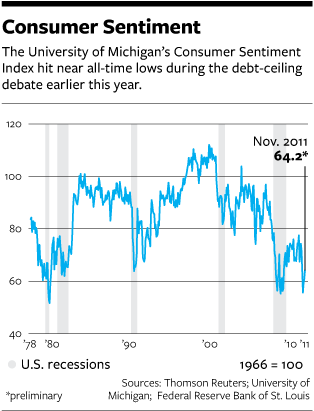 Con­sumer sen­ti­ment dove to re­ces­sion-trough levels, down eight points from 63.7 in Ju­ly to 55.7 in Au­gust, ac­cord­ing to the Thom­son Re­u­ters/Uni­versity of Michigan in­dex. Since then, it has gradu­ally climbed each month, with a pre­lim­in­ary Novem­ber read­ing of 64.2 re­leased on Fri­day. It's an im­prove­ment, but still on par with levels seen dur­ing the re­ces­sion of 2008-2009.
Con­fid­ence is an im­port­ant ba­ro­met­er of eco­nom­ic health, par­tic­u­larly when it drives shop­pers' spend­ing de­cisions. That isn't al­ways the case: The third quarter saw sur­pris­ingly strong con­sumer spend­ing des­pite lackluster con­sumer sen­ti­ment. But over the longer term, con­sumers tend to act how they feel; a pro­longed down­turn in con­sumer sen­ti­ment would catch up with be­ha­vi­or.
"Thank­fully, the re­la­tion­ship between con­fid­ence and spend­ing has weakened in re­cent months. But the low level of con­fid­ence sug­gests that con­sump­tion growth is more likely to weak­en next year than strengthen," Paul Dales, seni­or U.S. eco­nom­ist at Cap­it­al Eco­nom­ics, said in a re­search note.
The fra­gile U.S. re­cov­ery can ill af­ford an­oth­er sen­ti­ment drop like the one that fol­lowed the debt-lim­it de­bate — and Sweet says that would be a dis­tinct pos­sib­il­ity if Amer­ic­ans fo­cus their at­ten­tion on the su­per com­mit­tee, only to see it dead­lock. 
So far, that's not the case. Me­dia at­ten­tion on the su­per com­mit­tee has lagged far be­hind that of the debt-ceil­ing ne­go­ti­ations in the weeks lead­ing up to the Aug. 2 dead­line.
A sur­vey of five of the largest news­pa­pers in the United States by daily cir­cu­la­tion — The Wall Street Journ­al, USA Today, The New York Times, The Los Angeles Times and the San Jose Mer­cury News — re­vealed more than twice as many men­tions of the "debt ceil­ing" in the two months pri­or to Aug. 2 than the "su­per com­mit­tee" or its of­fi­cial name, the "Joint Se­lect Com­mit­tee on De­fi­cit Re­duc­tion," in the two months lead­ing up to Monday.
Na­tion­al Journ­al con­duc­ted the search us­ing Lex­is­Nex­is, a news in­form­a­tion ser­vice, and the Wall Street Journ­al web­site.
Eco­nom­ists say the ef­fects of any su­per-com­mit­tee fail­ure also are likely to be mit­ig­ated by the lower stakes in­volved com­pared to the debt ceil­ing: Com­mit­tee fail­ure would trig­ger auto­mat­ic budget cuts, but not a de­fault.
On the oth­er hand, some eco­nom­ists and con­gres­sion­al lead­ers say, an un­ex­pec­ted suc­cess from the su­per com­mit­tee could help calm con­sumers - even ones who hadn't been pay­ing much at­ten­tion to the com­mit­tee - in the face of glob­al eco­nom­ic un­cer­tainty.
If the European crisis deep­ens, it would be "very im­port­ant for us to re­solve our own debt and de­fi­cit prob­lems," said Sen. Jeanne Shaheen, D-N.H., who chaired a sub­com­mit­tee hear­ing on the European debt crisis earli­er this month. "If there is a res­ol­u­tion from the su­per com­mit­tee, or some­where else, that would send a very power­ful mes­sage to the mar­kets."
Nomura eco­nom­ists wrote in a re­search note on Fri­day that they ex­pect little ef­fect on mar­kets if the su­per com­mit­tee reaches agree­ment on the min­im­um $1.2 tril­lion de­fi­cit re­duc­tion meas­ures, or if it fails and trig­gers cuts. But in the event the com­mit­tee goes big­ger and in­cludes some fisc­al stim­u­lus to shore up the U.S. re­cov­ery in the short run, they wrote, "in­vestor con­fid­ence may get a boost."