The U.S. eco­nomy missed out on cre­at­ing up to a quarter-mil­lion jobs this year be­cause it lacked the in­fra­struc­ture to cap­it­al­ize on a rare di­ver­gence in glob­al oil prices, a Na­tion­al Journ­al ana­lys­is shows.
Simply put, Amer­ic­an con­sumers paid a his­tor­ic­ally high premi­um for their gas­ol­ine. The eco­nomy suffered for it.
The ef­fect ap­pears to be dis­sip­at­ing well be­fore the 2012 elec­tion, when slow growth, a limp­ing job mar­ket, and per­sist­ently high gas prices ap­pear set to weigh heav­ily on the reelec­tion for­tunes of Pres­id­ent Obama and con­gres­sion­al in­cum­bents. But the high premi­um has already in­flic­ted dam­age on the strug­gling U.S. re­cov­ery from re­ces­sion.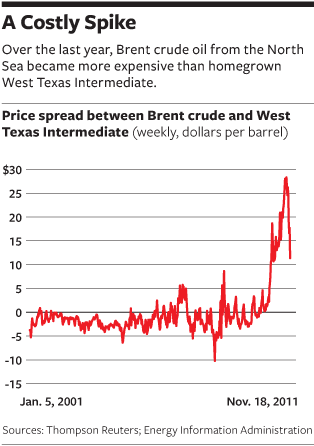 Here's the math: From 2001 through the end of 2010, Amer­ic­ans paid, on av­er­age, about 90 cents more for a gal­lon of gas­ol­ine than they would have paid for a gal­lon of West Texas In­ter­me­di­ate crude, which is the bench­mark for U.S. oil prices. That's the his­tor­ic­al markup, if you will: 90 ex­tra cents for re­fin­ing, taxes, and trans­port­a­tion of oil.
But this year, Amer­ic­ans have paid about $1.30 more for a gal­lon of gas than for a gal­lon of West Texas crude. That's 40 cents above av­er­age per gal­lon and nearly $20 above av­er­age per bar­rel. It's also a de­cent hit to the do­mest­ic eco­nomy.
Eco­nom­ists at IHS Glob­al In­sight pro­ject that for every ex­tra $10 per bar­rel that Amer­ic­ans spend on gas­ol­ine, an­nu­al gross do­mest­ic product growth slows by 0.2 per­cent. Em­ploy­ment falls by 120,000 jobs. So a $20 per bar­rel in­crease over what Amer­ic­ans his­tor­ic­ally have paid for gas­ol­ine, com­pared to crude oil, would cost the eco­nomy 0.4 per­cent growth and 240,000 jobs.
Ian Shep­herd­son, chief U.S. eco­nom­ist at High Fre­quency Eco­nom­ics, reaches a sim­il­ar con­clu­sion with dif­fer­ent cal­cu­la­tions. Based on Amer­ic­ans' total gas­ol­ine con­sump­tion fig­ures from 2010, Shep­herd­son wrote in an e-mail, an ex­tra 40-cent premi­um per gal­lon will prob­ably cost U.S. drivers (and the eco­nomy) $65 bil­lion this year. That's the equi­val­ent of 0.4 per­cent of GDP.
The missed growth flows from a tem­por­ary open­ing of a large price gap between two of the most pop­u­lar types of oil that trade on glob­al mar­kets: West Texas, a light sweet vari­ety that is stock­piled in Ok­lahoma, and Brent crude, a product of the North Sea that traders of­ten use as the proxy for oil prices world­wide.
West Texas and Brent are sim­il­ar in qual­ity. Their prices tracked each oth­er closely un­til late last year, when glob­al oil prices began rising, cul­min­at­ing in the early-2011 spike linked to the Ar­ab Spring. While prices rose world­wide, Brent prices rose sub­stan­tially more than West Texas prices "" be­cause a new glut of West Texas sup­ply was flood­ing the mar­ket, from in­creased pro­duc­tion in Canada and North Dakota.
By this fall, when the gap was widest, a bar­rel of Brent cost $28 more than a bar­rel of West Texas.
That could have been great news for Amer­ic­an mo­tor­ists at a time when gas­ol­ine prices were soar­ing. But U.S. drivers, by and large, didn't be­ne­fit from their coun­try's own cheap­er oil.
Many of them couldn't get it: West Texas crude is re­fined in the Mid­w­est, but there's no suf­fi­cient pipeline or ship­ping route to eas­ily trans­port that oil to the coasts. So drivers in New York and Wash­ing­ton, for ex­ample, kept pump­ing their cars full of gas­ol­ine re­fined from the more ex­pens­ive, im­por­ted Brent crude, while cheap­er West Texas bar­rels piled up on the Plains.
Even Mid­w­est cus­tom­ers, though, paid his­tor­ic­ally high mar­gins for their gas­ol­ine com­pared to the West Texas price. Data from the fed­er­al En­ergy In­form­a­tion Ad­min­is­tra­tion sug­gests gas prices moved in par­al­lel across dif­fer­ent U.S. re­gions this year "" de­liv­er­ing high profits to some re­finer­ies, but at the ex­pense of con­sumers.
"If you can trans­port gas­ol­ine across U.S. states, the re­fined product should sell at a sim­il­ar price as a res­ult of phys­ic­al ar­bit­rage of the gas­ol­ine mar­ket," eco­nom­ist James Hamilton, an oil mar­kets ex­pert at the Uni­versity of Cali­for­nia-San Diego, wrote earli­er this month. "A big ef­fect of the Brent-WTI spread was thus to raise re­finers' mar­gins in the cent­ral U.S., with the price of gas­ol­ine in the U.S. track­ing Brent more closely than WTI since the two prices di­verged."
There's no evid­ence that the oil in­dustry ma­nip­u­lated the price spread to boost re­fin­ing profits; the com­pan­ies just ap­pear to be be­ne­fit­ing from the na­tion's in­ab­il­ity to move cheap­er oil around freely. En­ergy in­dustry groups say ex­pand­ing Amer­ica's pipeline in­fra­struc­ture "" in­clud­ing po­ten­tial Obama ad­min­is­tra­tion ap­prov­al of the Key­stone XL pipeline to carry oil south from Canada "" would min­im­ize the odds of an­oth­er wide price split in the fu­ture.
"Put­ting in that ca­pa­city "" get­ting more se­cure crude from Canada in, and also put­ting an ex­ten­sion (of the pipeline) in down to the Gulf "" would make a pretty good dif­fer­ence," said John Felmy, chief eco­nom­ist at the Amer­ic­an Pet­ro­leum In­sti­tute.
The good news is that the price spread between Brent and West Texas has nar­rowed in re­cent weeks. As Hamilton notes, oil com­pan­ies have stepped up ef­forts to de­liv­er more West Texas crude to the coasts. En­bridge an­nounced this month that it will pay more than $1 bil­lion to con­trol the Sea­way pipeline and be­gin pump­ing oil from Ok­lahoma to the Gulf Coast. Oth­er new pipeline pro­jects may be in the works.
Mar­kets have re­spon­ded to the news already. The spread between West Texas and Brent has fallen in re­cent weeks. The premi­um drivers pay on gas­ol­ine versus West Texas crude is fall­ing along with it, but it's still high­er than av­er­age. Last week, the dif­fer­ence was $1.07.