Add to Briefcase
Feb. 9, 2012, 9 a.m.
Joel Hunter was an un­likely ally of Barack Obama's in the 2008 elec­tion. The Chris­ti­an evan­gel­ic­al, who leads a mega-church in cent­ral Flor­ida, had backed fel­low pas­tor Mike Hucka­bee in the Re­pub­lic­an primary that year. At Obama's in­aug­ur­a­tion, Hunter found him­self sit­ting next to Muhammad Ali in the 12th row.
Obama's out­reach to the faith­ful dur­ing the 2008 cam­paign — un­pre­ced­en­ted for a Demo­crat­ic can­did­ate — paid off. He did 8 per­cent­age points bet­ter than 2004 nom­in­ee John Kerry had among voters who wor­ship weekly or more, al­though he lost reg­u­lar wor­ship­pers over­all to Re­pub­lic­an John Mc­Cain. With strong sup­port from minor­it­ies, Obama beat Mc­Cain by 9 per­cent­age points among Cath­ol­ics (who favored George W. Bush over Kerry by 5 points in 2004) and made smal­ler in­roads among evan­gel­ic­als such as Hunter.
Those gains are now in jeop­ardy, ac­cord­ing to Hunter and oth­er re­li­gious lead­ers fum­ing over the Obama ad­min­is­tra­tion's re­quire­ment that church-af­fil­i­ated in­sti­tu­tions such as hos­pit­als, schools, and char­it­ies cov­er birth con­trol in their em­ploy­ee health in­sur­ance plans.
"The bound­ar­ies of re­li­gious free­dom and iden­tity are be­ing tres­passed," said Hunter, who still writes weekly de­vo­tions for Obama and vis­ited the Oval Of­fice last week; he said he keeps his spir­itu­al guid­ance sep­ar­ate from any policy re­com­mend­a­tions he fun­nels to the pres­id­ent. "I do think this will have polit­ic­al re­per­cus­sions in the re­li­gious com­munity," Hunter ad­ded. "This has the po­ten­tial to be a break­ing point."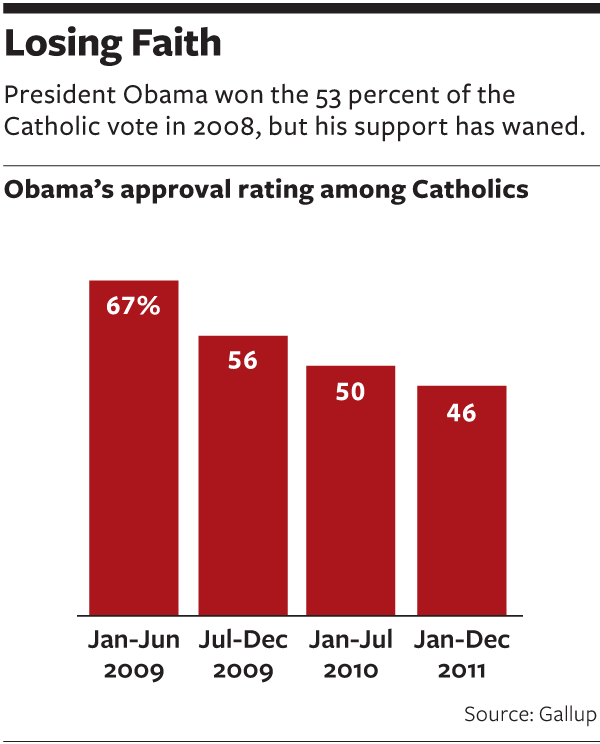 Obama's Re­pub­lic­an chal­lengers cer­tainly hope so. Newt Gin­grich has ac­cused Obama of wa­ging a "war against re­li­gion." Rick San­tor­um, a de­vout Cath­ol­ic who has put is­sues such as abor­tion and mar­riage at the cen­ter of his cam­paign, used his vic­tory speech after the Mis­souri primary to ac­cuse Obama of steam­rolling the First Amend­ment. Cam­paign­ing earli­er this week in Col­or­ado, front-run­ner Mitt Rom­ney, said sharply, "We must have a pres­id­ent who is will­ing to pro­tect Amer­ica's first right, a right to wor­ship God."
The is­sue is po­ten­tially ad­vant­age­ous for Rom­ney, a Mor­mon who once held mod­er­ate po­s­i­tions on abor­tion and gay mar­riage, be­cause it al­lows him to align him­self with the so­cial con­ser­vat­ives who have res­isted his can­did­acy. (Both Gin­grich and Demo­crats, however, have called Rom­ney a hy­po­crite on the birth-con­trol is­sue. As gov­ernor of Mas­sachu­setts, he en­forced a rule re­quir­ing Cath­ol­ic hos­pit­als to provide emer­gency con­tra­cep­tion to rape vic­tims, after the Le­gis­lature over­rode his veto of the meas­ure.)
On Wed­nes­day, House Speak­er John Boehner put the dis­pute at the cen­ter of his party's agenda, tak­ing to the House floor to con­demn "an un­am­bigu­ous at­tack on re­li­gious free­dom in our coun­try." He vowed to over­turn the pro­vi­sion stem­ming from Obama's sweep­ing health care re­form plan. The fight over that le­gis­la­tion has already sorely tested the pres­id­ent's re­la­tion­ship with re­li­gious lead­ers, who feared that it would al­low tax­pay­er dol­lars to cov­er abor­tion.
To the ex­tent that Re­pub­lic­ans suc­ceed in fram­ing the cur­rent de­bate as one over re­li­gious liberty, the con­tro­versy over the so-called con­science clause could dam­age Obama at the polls. A per­ceived threat to re­li­gious free­dom could pull more-cas­u­al church­go­ers, who typ­ic­ally lean Demo­crat­ic, closer to reg­u­lar church­go­ers, who tend to vote Re­pub­lic­an, said John Green, a Uni­versity of Ak­ron polit­ic­al-sci­ence pro­fess­or who spe­cial­izes in the in­ter­sec­tion of re­li­gion and polit­ics.
In 2008, exit polls showed that the more fre­quently white Cath­ol­ic voters went to church, the less likely they were to fa­vor Obama. He got the votes of only 41 per­cent of white Cath­ol­ics who at­ten­ded church weekly or more; 47 per­cent of those who at­ten­ded a few times a month; and 54 per­cent of those who at­ten­ded a few times a year or nev­er.
The re­la­tion­ship of re­li­gion and polit­ics could in­flu­ence the out­come of the 2012 elec­tion in battle­ground states with large Cath­ol­ic com­munit­ies, in­clud­ing Iowa, Michigan, Mis­souri, Ohio, Pennsylvania, and Wis­con­sin, Green ad­ded. "The real prob­lem for the Obama ad­min­is­tra­tion would be if the [birth-con­trol] is­sue moved some of those less re­li­gious Cath­ol­ics," Green said. "The is­sue might also move the reg­u­lar Mass-at­tend­ing Cath­ol­ics to vote even more Re­pub­lic­an."
But if Demo­crats win the mes­sage war and frame the is­sue as a mat­ter of pub­lic policy that in­volves wo­men's health and ac­cess to con­tra­cep­tion, Re­pub­lic­ans may find them­selves on the los­ing side of the ar­gu­ment. In a sur­vey by the Pub­lic Re­li­gion Re­search In­sti­tute, 52 per­cent of Cath­ol­ic voters agreed that em­ploy­ee health plans should cov­er birth con­trol. The Obama ad­min­is­tra­tion is also tout­ing a Guttmach­er In­sti­tute study that found 98 per­cent of Cath­ol­ic wo­men have used birth con­trol.
"Ob­vi­ously, this is not a war against the Cath­ol­ic Church. I'm Cath­ol­ic, and I don't find that there's a war against me at all," said Kath­leen Kennedy Town­send, the former Mary­land lieu­ten­ant gov­ernor and a mem­ber of one of the na­tion's most prom­in­ent Cath­ol­ic fam­il­ies. "This is about wo­men's health and pro­tect­ing the rights of all cit­izens. If Re­pub­lic­ans want to fight about con­tra­cep­tion be­ing avail­able for wo­men, I think they will be on the wrong side of his­tory and the wrong side of wo­men's health."
A Wall Street Journ­al column this week by three Demo­crat­ic sen­at­ors — Jeanne Shee­han of New Hamp­shire, Bar­bara Box­er of Cali­for­nia, and Patty Mur­ray of Wash­ing­ton — tied crit­ics of Obama's policy on con­tra­cept­ive cov­er­age to the de­cision by the Susan G. Ko­men Found­a­tion to cut fund­ing to Planned Par­ent­hood. A massive pub­lic out­cry forced the breast-can­cer char­ity to re­verse it­self. "Once again," the sen­at­ors wrote, "they are try­ing to force their polit­ics on wo­men's per­son­al health care de­cisions."
Young voters, wo­men, and in­de­pend­ents helped to elect Obama in 2008. If Re­pub­lic­ans over­reach on con­tra­cep­tion, those voters will help off­set any sup­port the pres­id­ent loses from re­li­giously de­vout voters, who lean Re­pub­lic­an any­way. But if the GOP suc­ceeds in wrap­ping the is­sue in the mantle of re­li­gious liberty, Obama will struggle to re­build the di­verse co­ali­tion that put him in the
White House.